AFP sharing intelligence with Myanmar police over drug trafficking after coup
The Australian Federal Police has revealed it is continuing to engage with the Myanmar police force since a military coup threw the country into turmoil.
Key points:
AFP says 70 per cent of methamphetamine on Australian streets comes from Myanmar 
Activists say AFP should cut ties with Myanmar police, who have been implicated in atrocities with the junta 
But others say it is important to maintain a back channel to gather intelligence on drug trafficking
The disclosure came during Senate estimates when Greens Senator Jordon Steele-John was grilling the AFP about its dealings with the South-East Asian nation.
Myanmar's democratically-elected leaders were overthrown during a military takeover on February 1 last year.
"There has been ongoing engagement with the Myanmar police," AFP deputy commissioner Ian McCartney said.
"Sorry?" Senator Steele-John responded.
"Not in relation to training and capacity building, but in relation to matters of interest to AFP, particularly in relation to drug trafficking," the deputy commissioner said.
"In terms of context, 70 per cent of the methamphetamine that ends up on the streets of Australia comes from Myanmar.
"So there has been some engagement, it's been restricted. It's been under the auspices of an agreement that we've entered into with DFAT, to ensure that whatever engagement is strictly restricted to those issues."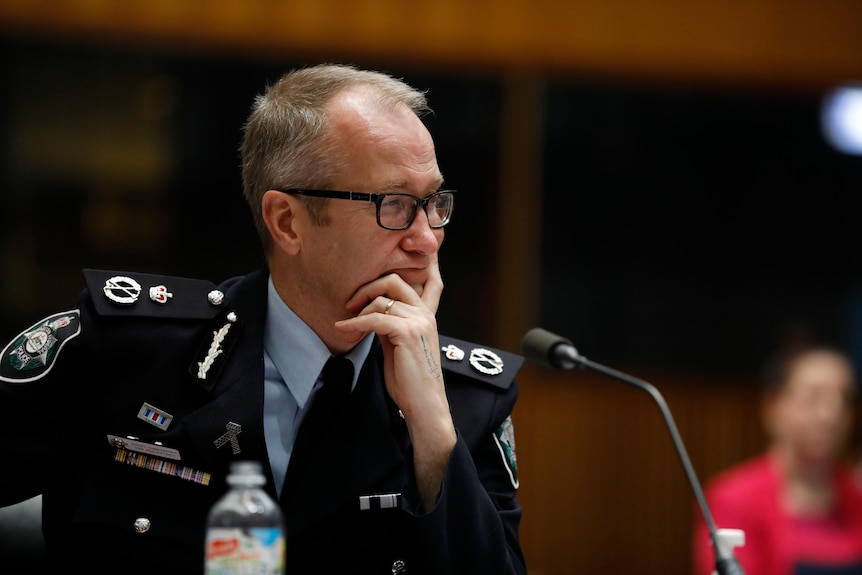 The ABC has approached the Department of Foreign Affairs and Trade for comment.
AFP commissioner Reece Kershaw added the amount of drugs was a national security issue and "that intelligence is critical".
Australia has scaled back its engagement in other fields since the coup – the government suspended military cooperation with the junta in March last year, and downgraded its diplomatic presence in May this year, appointing a Charge d'Affaires instead of an ambassador to Myanmar. 
Since the coup, more than 2,400 people have been killed by the junta according to the Assistance Association of Political Prisoners.
More than 16,000 have been arrested, including Australian economist Sean Turnell, a former advisor to Aung San Suu Kyi who was sentenced to three years in prison.
"Myanmar's police force has been accused of committing vile human rights abuses, including crimes against humanity," Senator Steele-John told the ABC.
"Any ongoing relationship between Australian government and the Myanmar policy force is simply unacceptable.
"The Australian government should be sanctioning Myanmar's military and related entities, not working with them."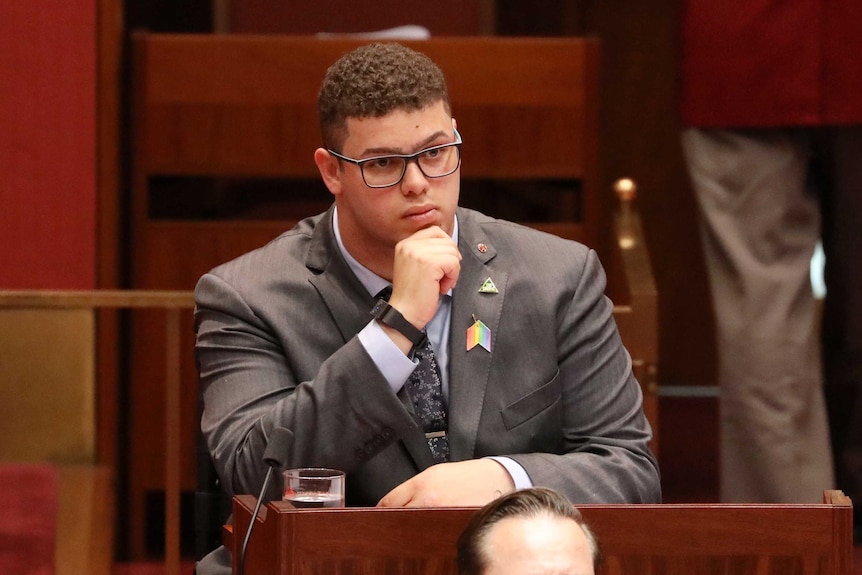 The government has repeatedly said economic sanctions against the military regime are under active consideration, but it has introduced no new sanctions since the coup.
'It's important to have back channels'
The Golden Triangle – the apex of Myanmar, Thailand and Laos – is notorious for drug trafficking.
John Coyne, head of the strategic policing law enforcement program at the Australian Strategic Policy Institute, said calls to cut ties altogether "ignores the complex nature of international relations and transnational serious organised crime".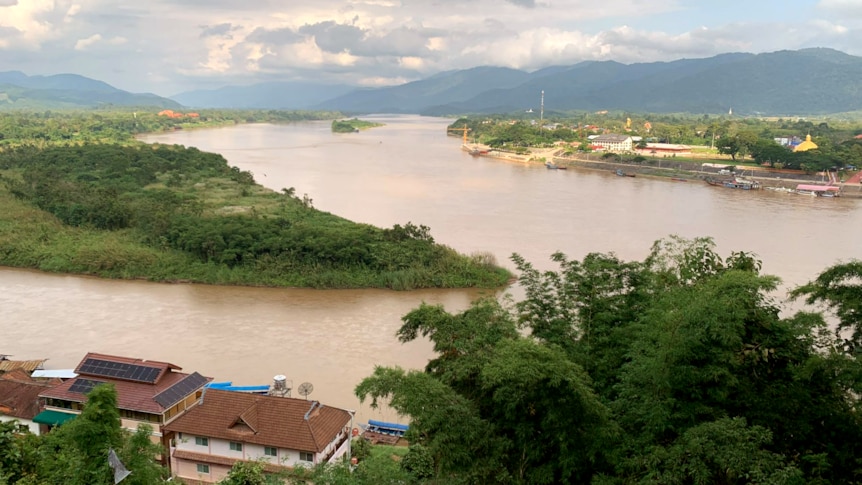 "It's really, really important, even when we have states like Myanmar or Iran … to have back channels – the capacity to still communicate diplomatically during really difficult times," Dr Coyne said.
"In some cases, the police that we're dealing with are heavily involved in corruption … they have connections to organised crime.
"So it's a very delicate engagement process. It's not a binary."
He added that the price of a yaba tablet – a mix of low purity meth and caffeine – is just 75 cents and the wholesale price for meth per kilo "has never been lower".
"Despite these record seizures, the level of production has gone through the roof," he said.
"The only way to combat that is through cooperation between law enforcement agencies sharing intelligence. Now, that's a perilous activity.
"Not having that intelligence means that more drugs come streaming into the country here in Australia.
"You've got to remember when the AFP are operating and cooperating with [South-East Asian] authorities … they're also stopping drugs from entering into all of those other countries as well."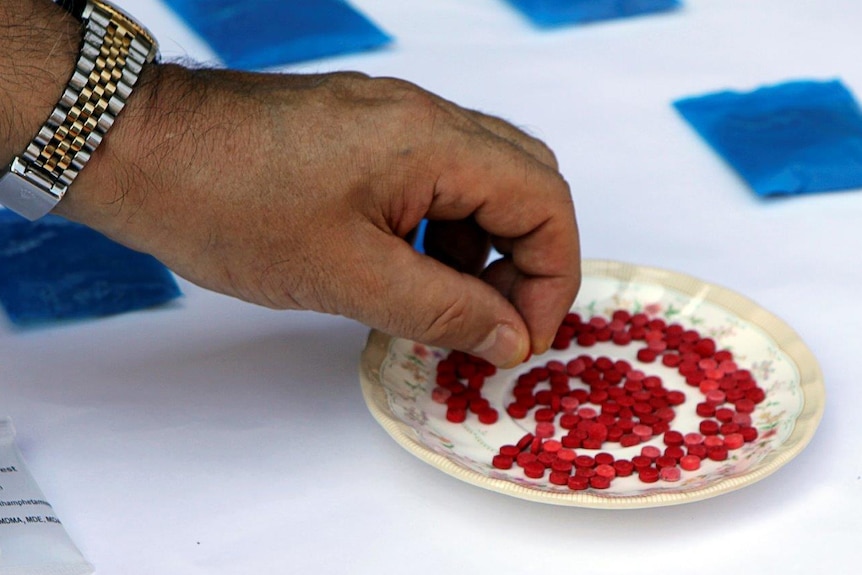 But activist group Justice For Myanmar called on Australia to "immediately cease all cooperation with the junta and its police".
"The Myanmar police are part of the military cartel that commits crimes against humanity and enriches itself from money laundering, drug trafficking and human trafficking," JFM spokesperson Yadanar Maung said.
"By sharing intelligence with this criminal cartel, the AFP are emboldening extreme acts of violence against the Myanmar people defending democracy, and failing to address the root causes of drug trafficking in Myanmar, which is the military's systemic corruption and total impunity.
"Australia can work to resolve its meth problem by recognising the NUG [National Unity Government] and supporting the efforts of the people of Myanmar to dismantle the military cartel and build a federal democracy."
The group also slammed a decision to appoint Myanmar as the chair of the ASEAN Air Chiefs Conference, saying ASEAN was "knowingly and actively aiding and abetting the junta to continue its war crimes" in the wake of deadly air strikes against civilians.
Australia's Defence Ministry was also criticised recently after it was revealed they would co-host junta members at a high-level ASEAN military medicine conference in Brunei.
Myanmar's embassy in Canberra has been approached for comment.
Source link
Guatemalan court approves sending detained renowned journalist to trial
GUATEMALA CITY, Dec 8 (Reuters) – A Guatemalan court decided on Thursday to take to trial a case against a well-known Guatemalan journalist who was arrested four months ago on charges of money laundering, influence peddling and blackmail.
Jose Ruben Zamora Marroquin, an outspoken government critic, was detained in late July after a police raid on his home and will now remain in prison until the trial begins.
Prosecutors have repeatedly denied the journalist's claims that his detention is a "political persecution."
Zamora, 65, is the founder of the elPeriodico newspaper, an outlet famous for investigations into government corruption. The paper has laid off 80 percent of its staff and moved to online-only publication since his arrest.
"My best-case scenario is to get out of prison on January 14, 2024, when (President) Giammattei hands over the presidency," Zamora told reporters during the hearing.
"I have patience and the truth with me," said Zamora, seen handcuffed and visibly distressed.
His arrest came amid a crackdown on prosecutors, judges, human rights activists, journalists and opposition officials.
Members of the Inter-American Press Association, a regional organization dedicated to press freedom has demanded the journalist's release and attended the hearing, overseen by Judge Freddy Orellana. (Reporting by Sofia Menchu; Writing by Isabel Woodford; Editing by Bradley Perrett)
Source link
DPP appeals dismissal of perjury case against cop
The Office of the Director of Public Prosecutions (DPP) has filed an appeal following the dismissal of the criminal matter against police officer Marley Sebastien.
Sebastien, who has been a police officer for more than 18 years and was part of former Premier Andrew Fahie's security detail, was previously charged with perjury and perverting the course of justice. 
The matter was dismissed in the Magistrate's Court by Magistrate Khadeen Palmer earlier this week for want of prosecution after repeated requests were made of the prosecution to produce a transcript of Sebastien's testimony given in a High Court trial earlier this year. 
The Court was reportedly informed that the prosecution had only recently acquired the transcript, therefore Sebastien's attorney, Valston Graham, moved that the matter be dismissed after he argued that the charges were filed without any foundation.
According to the appeal which was filed on Tuesday, the DPP is contending that the decision by the learned magistrate to dismiss the matter is unreasonable.
The DPP further sought leave to amend the grounds of the appeal as and when the record of appeal becomes available. 
Background
The charges were first brought against Sebastien after he allegedly gave contradictory evidence to his sworn testimony when he testified in the second of two trials against two former accused police officers.
Sebastien was a witness in the matter of the Queen vs Pamphill Prevost and Simon Power; both of whom were interdicted police officers at the time, charged with theft and conspiracy to steal. 
Prevost and Power were first on trial in 2019. However, that trial resulted in a mistrial as the jury could not agree on the verdict. The retrial commenced on February 1, 2022 and ended a month later with the acquittal of the officers after a no-case submission by the defence.
Copyright 2022 BVI News, Media Expressions Limited. All Rights Reserved. This material may not be published, broadcast, rewritten or distributed.
Source link
Former Shropshire police officer found guilty of perverting the course of justice
A former West Mercia police officer, who was previously based in Shropshire, has today been found guilty of perverting the course of justice.
Rhett Wilson appeared at Worcester Crown Court this week. He had previously pleaded guilty to three police corruption offences and resigned from West Mercia Police in July 2020.
The charges related to an internal investigation by the West Mercia Police Professional Standards Department, following information that Wilson was abusing his position for sexual gain.  The offences took place from December 2019 – March 2020.
Deputy Chief Constable Alex Murray said: "This is corruption plain and simple. Rhett Wilson abused his position to start relationships; something police officers should never do.  There is no place for this behaviour in West Mercia Police or any other force. It will not be tolerated and we will take immediate action against any officer who abuses their power."
The incident was referred to the Independent Office for Police Conduct (IOPC). Internal misconduct proceedings will now take place.
Wilson is due to be sentenced on Friday 20 January 2023.