TWO DETROIT POLICE OFFICERS INDICTED FOR BRIBERY AND BRIBERY CONSPIRACY | USAO-EDMI
DETROIT – A federal indictment was unsealed today charging two Detroit police officers—one of whom was a lieutenant who had been in command of the Detroit Police Department's Integrity Unit—with bribery and conspiracy to commit bribery, in connection with the corruption of towing permits in Detroit, Acting United States Attorney Saima S. Mohsin announced.
Mohsin was joined in the announcement by Timothy Waters, Special Agent in Charge of the Detroit Field Office of the Federal Bureau of Investigation.
Charged were Lieutenant John F. Kennedy, 56, of Rochester Hills, and Officer Daniel S. Vickers, 54, of Livonia.
According to the indictment, while serving as the supervisor in command of the police department's Integrity Unit, which was responsible for investigating reports of law violations and professional misconduct by police officers and other city employees, Kennedy conspired with Vickers to commit bribery by accepting money and other items of value in exchange for Kennedy using and promising to use his influence as a supervisor to persuade other officers to make tow referrals to a towing company in violation of the city's ordinance and Detroit Police Department policy. The Integrity Unit is part of the department's Internal Affairs Division. Under the city's towing rotation, qualifying private towing companies are called by the police to tow cars that are seized by the police or reported stolen. Kennedy and Vickers were aware that by making towing referrals directly to a towing company which was not on the city's towing rotation, they were violating the city's rules and an ordinance which prohibit a towing company from receiving towing referrals if they are not on police department's towing rotation. 
It was also part of the conspiracy that Kennedy and Vickers conspired to solicit and accept thousands of dollars in cash, cars, car parts, car repairs, and new carpeting for Vickers' home, in exchange for providing the towing company that Kennedy was investigating with information about the status of the Integrity Unit's case.
As part of the conspiracy, between October 2018, and March 2021, Kennedy accepted over $14,000 in cash, cars, and car repairs as a bribe from the owner of the towing company and from an undercover federal agent. Between February 2018 and June 2018, Vickers accepted $3,400 in bribe payments from the towing company.  Kennedy is charged in three separate bribery counts, in addition to the bribery conspiracy count.  Vickers is also charged with three bribery counts besides the conspiracy charge.       
The bribery charge carries a maximum sentence of 10 years' imprisonment and a fine of $250,000.  The bribery conspiracy count carries a maximum sentence of 5 years' imprisonment and a fine of $250,000. 
This is the second case charged as part of the government's investigation known as "Operation Northern Hook."  Northern Hook is an investigation of corruption within the government and the Police Department of the City of Detroit relating to the towing industry and other matters.  
Acting United States Attorney Mohsin said, "The vast majority of police officers are outstanding public servants and the criminal actions of these defendants should not undermine the public's trust in law enforcement.  Police officers who compromise the integrity of the Police Department by prioritizing personal gain over policing excellence will not be tolerated, and this type of betrayal of the police department and the citizens of Detroit will be thwarted at every turn. Today's indictment is a step in that direction. We thank the Detroit Police Department's Chief, James White, for his assistance in this investigation."
"Police officers take an oath to protect and serve their community. Kennedy and Vickers allegedly used their official positions to benefit themselves personally. Their actions are not in keeping with the integrity and professionalism exhibited by the Detroit Police Department every day," said Special Agent in Charge Timothy Waters of the FBI's Detroit Division. "The FBI appreciates the partnership and cooperation of Police Chief James White as we continue to address public corruption in the City of Detroit."
Chief White stated, "I am profoundly disappointed with the crimes allegedly committed by members of the Detroit Police Department. We continue to work with our Federal partners to ensure corruption and misconduct are rooted out of every area of Government operations including the Police Department. We hold ourselves to a high standard and these actions fall far short of those standards. It is also important to emphasize that the actions of a few do not represent the vast majority of the fine women and men of the Detroit Police Department who faithfully serve the citizens of Detroit on a daily basis.
The investigation of this case was conducted by the Federal Bureau of Investigation. The case is being prosecuted by Assistant U.S. Attorneys Dawn N. Ison and Eaton P. Brown.
An indictment is only a charging document and is not evidence of guilt.  A defendant is entitled to a fair trial in which it will be the government's burden to prove guilt beyond a reasonable doubt.
Source link
Thousands of Iraqis in Baghdad protest against corruption
Baghdad – Scuffles broke out between protesters and security forces injuring dozens as thousands gathered Saturday in Iraq's capital to mark three years since nationwide demonstrations erupted against endemic corruption.
The latest protests in Baghdad come as Iraq has been mired in political paralysis since elections in October last year that have failed to bring in a new president, prime minister or government.
Thousands of people, brandishing portraits of the "martyrs" killed in the wave of rallies three years ago, gathered in Baghdad's iconic Tahrir Square, the epicentre of the protest movement, an AFP correspondent said.
"Today, it is essential to confront power," activist Ali al-Habib said.
"All the bridges and roads are blocked because the authorities are afraid of the protesters," he added, condemning "infighting within the political class, which completely ignores the will of the people".
The demonstrations seek to revive the unprecedented protests of October 2019 that condemned rampant unemployment and the country's decaying infrastructure.
Those protests raged for months before winding down under the shadow of coronavirus restrictions and a harsh crackdown that saw at least 600 demonstrators killed and tens of thousands more wounded.
The protesters on Saturday gathered at Al-Jumhuriya Bridge, where they attempted to overcome a series of barriers set up by security forces to block access to the fortified Green Zone that houses government buildings and diplomatic missions.
Protesters threw the iron barriers into the river, according to an interior ministry official who reported 18 minor injuries among riot police resulting from stones and glass bottles being thrown at them.
Police retaliated by throwing smoke grenades at the crowd to disperse them, the AFP correspondent said.
At least 28 protesters suffered from breathing difficulties as a result, according to an interior ministry official.
Rival Shiite factions in parliament have for months vied for power and the right to select a new prime minister and government.
The impasse pits the powerful cleric Moqtada Sadr against his rivals the Iran-backed Coordination Framework, which includes lawmakers from the party of his longtime foe, ex-prime minister Nuri al-Maliki.
Sadr wants snap elections and the dissolution of parliament but the Coordination Framework wants a new head of government appointed before any new polls are held.
Tensions boiled over into clashes on August 29 between the Sadrists, rival Iran-backed factions and the army in which more than 30 Sadr supporters were killed, after their leader said he was quitting politics.
On Wednesday, three unclaimed rockets were fired at Baghdad's Green Zone, wounding seven security force personnel, as parliament held its first session in two months, Iraq's security forces said.
Source link
Rain delays Rahul's Bharat Jodo Yatra on day 24; Bengaluru likely to see rains today
Techie, friend let off in drunk driving case after Bengaluru police failed to follow procedure
A software engineer and his associate, who were accused by the Bengaluru traffic police of allegedly hitting a policeman and booked for drunken driving in the city in April 2017, were let off by the Karnataka high court as the police failed to follow the prescribed norms for registering drunken driving cases and collecting fines. The court order came on September 6.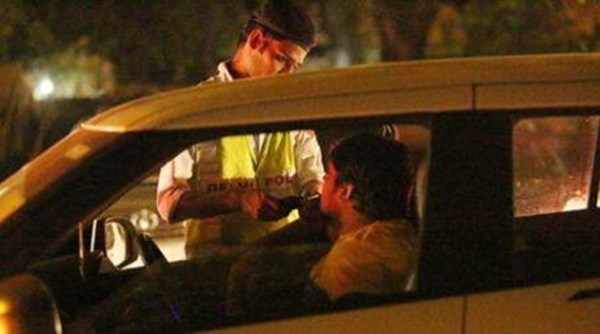 The duo was let off after the court found that the police had collected a traffic fine for drunken driving on the spot and had not recorded the whole incident on video, which is in contravention of a 2015 circular of the police department. (File)
Techie Priyamshu Kumar and Alok Kumar, both residents of Bihar, were booked for preventing a public servant from discharging his duty and a case was registered by the Mahadevapura police in the Whitefield region of Bengaluru.
On the night of April 9, 2017, Alok Kumar, who was on a motorcycle, was stopped by the police for a breath analyser test. According to the police, the youth did not cooperate and did not want to go to the police station but instead called his friend Priyamshu Kumar, a software engineer, who allegedly slapped a policeman. (Read more)
Corruption watchdog to look into 83 reports of possible political promotion violations – Baltic News Network
Latvia's Corruption Prevention and Combating Bureau (KNAB) has commenced 83 examinations of possible political promotion violations, as confirmed by the bureau.
KNAB has 12 administrative violation proceedings in the works. Seven of them are related to publication of political promotion materials, two involve possible hidden promotion, another two involve use of municipal resources on political promotion, and one more involves collection of donations in breach of Law on Financing of Political Organisations (Parties).
On Saturday, 14th Saeima elections, no political promotion is allowed in Latvia. Prohibition to distribute political materials came to force on Friday, 30 September.
This means no political promotion is allowed in the press, around the environment or electronic mass media.
It is also prohibited to publish paid promotion on social media and other internet websites.
KNAB suggests printed press that come out every week should pay special attention to this prohibition. If magazines and newspapers publish political advertisements, they are not allowed to be released on Election Day and the day prior.
Free political promotion on social networks is not limited across the entire pre-election political promotion period. This means the law does not prohibit publication and sharing of free content or make political views known on social networks and elsewhere on the internet on Election Day and the day prior.
Also read: 14th Saeima elections: 23.26% of Latvian citizens have voted so far
Political promotion materials are varied – advertisements, interviews, entries on social networks, etc. If residents find disallowed political promotion on days when no political promotion is permitted, they should report it to State Police or KNAB.
Source link