New Jersey launches website with data from police internal affairs records
Officials are lauding New Jersey's newly launched website detailing police internal affairs complaints as a big step toward improving accountability, with criminal justice experts stressing the state's move falls short of the kind of transparency reformers have sought.
The new website launched Wednesday, displaying data of internal affairs investigations from New Jersey's 500-plus police departments and giving residents, activists, and policymakers the most comprehensive peek yet into investigations that are typically hidden from the public eye.
Keith Taylor, adjunct associate professor at John Jay College of Criminal Justice, called the site "really impressive."
"This is important, useful information they are providing. They give a way to visualize the information that was previously hard to analyze. It's an easy-to-understand interface," Taylor said.
Prior to the website's launch, internal affairs data had not been collected in a consistent way, was kept on paper, and was tracked only by individual departments, activists, or county prosecutors.
For years, criminal justice reformers have called on police to be more transparent with how cops are investigated and disciplined, but they have not received enough support from legislators to open up internal affairs records for public review.
Acting Attorney General Matthew Platkin called the site "another step toward greater transparency and accountability in law enforcement."
The data reveals over 12,000 active internal affairs investigations launched in 2021, with allegations ranging from uses of excessive force, improper arrests, domestic violence, and the largest category, "other rule violations," which can include drunken driving arrests.
Roughly 55% of complaints are made by civilians, and about 42% originate from an agency. Less than 2% are filed anonymously.
The data also reveals investigation outcomes, criminal dispositions, and discipline. It does not reveal officers' identities or many other specific details. The Attorney General's Office releases an annual report of major disciplinary actions taken against cops separately under a 2020 directive.
The lack of identifying details is a problem, said Jason Williams, associate professor of justice studies at Montclair State University.
"We run the risk of this becoming a symbolic gesture, like symbolic reforms and transparency without the full meat and potatoes that I think communities most affected by police malpractice want," Williams said.
Officials say the database will be updated annually from internal affairs reports. The Attorney General's Office also said it would be reviewing the data to identify any red flags or patterns that might warrant an investigation.
"We are always looking at this data as a way to improve internal affairs policies, procedures, and oversight," said Tom Eicher, who runs the attorney general's office of public integrity and accountability.
What the site does — and does not — reveal
The new site allows people to review information on active investigations, the kind of complaint that was filed, the race and ethnicity of officers and complainants, the clearance rate, the average length of investigation per department, and whether a complaint was closed.
Closed investigations show the investigation outcome and whether it resulted in discipline. The data includes investigations from 2014 to 2021, plus 2011.
Users can search for information from any of the state's 500-plus police departments and by county. Just 35 police departments reported no internal affairs investigations in 2021.
Statewide in 2021, the average length of an internal affairs investigation was 76 days. In Jersey City, with 125 investigations, the average length was 55 days. In Toms River, where 13 investigations were filed, it was 114 days. And in Wildwood, 20 complaints were filed, with an average investigation length of 33 days. The longest open investigation was filed in Newark in June 2011.
In 2021, internal affairs complaints were sustained about 30% of the time, while in 21% of cases, officers were exonerated. About 17% of cases were administratively closed. Penns Grove Police Director Richard Rivera said that could be a red flag.
"That means no investigation was done or they didn't finish the investigation, so people looking at this data should ask, why didn't they finish their investigation? Was there some stipulation or some settlement agreement, or did the officer resign or did the witness pull their complaint?" said Rivera.
Rivera once worked with the FBI to expose widespread corruption among his colleagues in the West New York Police Department.
The most common complaint made to internal affairs — outside of the catch-all "other" category — was about an officer's demeanor. Excessive force accounted for about 5% of complaints, and domestic violence for 1%.
A written or oral reprimand or warning was the most common form of discipline. More than 16% of officers were suspended without pay, and fewer than 5% were discharged from employment.
The data reveals a disparity between outcomes of citizen complaints versus agency-initiated complaints, Rivera noted. In 2021, about 30% of civilian complaints resulted in the officer's exoneration, while nearly 60% of complaints initiated by police superiors were sustained. The rest are either unfounded, administratively closed, or not sustained.
"Why is it that more times than not, a supervisor is right and a citizen was wrong? Why is there such a huge disparity among the people that we serve and our supervisors?" he said.
Wilson commended the state agency for mounting all the information that has been hidden from the public for years but said there needs to be more than "just statistical outputs."
"It's cool that we can go in and look at the racial/ethnic background, break down comparisons, so forth, but the numbers don't tell us the whole picture. It would be good if there were some updates in the future that provide us some narrative and quantitative data to give us color behind the numbers," he said.
Civic engagement and accountability
Taylor, the John Jay College of Criminal Justice assistant professor, said other states should look at New Jersey's site as a model. He said it will help people understand how the standards their police agencies have when it comes to corruption and discipline.
"It's almost like when you go into a restaurant and see a letter grade in the window from the department of health. You have some sort of confidence about going into this restaurant, or dealing with this agency," he said.
He agreed that more data about the specific complaints would be helpful, but with thousands of cases and the need to redact information, it could take a long time.
Rivera also said he'd like to see more historical data to compare trends in police departments but noted it would have to be validated by each department, which would be a big task.
"It doesn't have the full breakout, but this is just a starting point. We need to start asking more questions, we need to understand why officers are being disciplined, and we also need to see why officers are not being disciplined," he said.
As more people start to delve into data on the site, Wilson hopes it bolsters civic engagement and pushes citizens to local council meetings. While the data gives a glimpse of information that's never been available to the public before, it's clunky to go through and can be daunting to understand, he added.
"I do believe that people are very, very happy to see this in play, but I think everyday individuals will see this and leave with much left to be desired," he said.
GET THE MORNING HEADLINES DELIVERED TO YOUR INBOX
Source link
Denver Film Festival's 2022 schedule includes 'The Holly,' 'Armageddon Time' and more
Tickets for the 45th annual film fest go on sale to members on October 3 and to the general public on October 7.
The Denver Film Festival returns this November for its 45th annual installment.
The 2023 lineup will feature 200-plus films , including "The Holly" — investigative reporter Julian Rubinstein's documentary about former Blood, turned-anti-gang activist, turned mayoral candidate Terrance Roberts and police corruption in the city's gang wars.
"We could not be more excited to bring this year's diverse, global film lineup to our Denver-area audiences," Denver Film Festival Artistic Director Matthew Campbell said in a statement. "We're thrilled to have so many incredible films from across the world and to present the latest works by so many acclaimed directors. These wide-reaching creations and performances go well beyond entertaining and often deliver experiences for our guests as they generate conversations, debate and growth around serious topics that touch on the lives of so many in our community and beyond."
The festival runs November 2-13 and will take place at the Sie FilmCenter, the Ellie Caulkins Opera House, the Denver Botanic Gardens, the AMC 9 + CO 10 and the Tattered Cover on East Colfax.
The annual event will feature a mix of international and local movies of all genres and lengths.
Opening night, at the Ellie Caulkins Opera House, will feature "Armageddon Time," a semi-autobiographical account of director James Gray's New York Childhood, with Anne Hathaway, Jeremy Strong and Anthony Hopkins.
Spotlighted screenings include Sam Mendes' "Empire of Light"; the documentary "Loudmouth," about Al Sharpton; and Sarah Polley's "Women Talking," with Frances McDormand, Claire Foy, Rooney Mara and Jessie Buckley.
Also in the mix: "The Whale," starring Brendan Fraser, who plays an obese man trying to reconnect with his daughter; "She Said," the story of New York Times journalists who broke a story around sexual assault in Hollywood; and "The Son," with Hugh Jackman, directed by Florian Zeller.
The festival will also spotlight cinema from the United Kingdom, Ireland and Italy, along with special programming tied to the Sie FilmCenter's year-round festivals: CinemaQ, Women+Film, and the Dragon Boat Film Festival.
Other local films to be screened include Netflix's "How to Build a Sex Room," Alexandre O. Philippe's "Lynch/Oz," and shorts by Kelly Sears, Usama Alshaibi and many more.
"Our annual celebration of the world's best films presents opportunities to experience groundbreaking content, to see, experience and understand new perspectives of our world through the eyes of the industry's most creative writers, directors and actors." said Denver Film CEO Kevin Smith in a statement. "Over four-and-a-half decades, Denver Film has been instrumental in delivering these shared, communal opportunities with Denver-area film lovers and, now more than ever, we understand and appreciate just how important it is to experience these works in person."
Tickets go on sale to members at 6 p.m., on October 3 and to the general public at 10 a.m. on October 7. For more information, go to the festival website.
Source link
Trump was the greatest President ever
In October 2016, during the fraught final weeks of the showdown between Donald Trump and Hillary Clinton, Roger Stone got word that a damning recording of his candidate was about to drop. That tape would become instantly infamous for Trump's degrading remarks about women and his apparent boasts about committing sexual assault. "When you're a star, they let you do it—you can do anything," Trump told Access Hollywood's Billy Bush in 2005, in audio published by the Washington Post. "Grab 'em by the pussy. You can do anything."

Apparently sensing the cataclysmic damage the comments would wreak, Stone—self-styled dirty trickster and unofficial Trump adviser—spoke by phone to the conspiracy theorist Jerome Corsi, directing him to get in touch with Julian Assange, whose organization, WikiLeaks, had obtained Russian-hacked emails from Democratic Party staffers, including Clinton campaign chair John Podesta. "Drop the Podesta emails immediately," Stone instructed, seeking to "balance the news cycle" after the release of the Access Hollywood tape. Thirty-two minutes later, WikiLeaks followed through.
Oh, and for the record, besides the fact that John Durham's case against Hillary Clinton attorney Michael Sussmann for allegedly lying to the FBI and getting them to start an investigation into Trump and Russia just happened to crash and burn with an acquittal and Trump's own lawsuit against Hillary, Comey, Schiff and the FBI has been thrown out for ridiculousness the fact of the matter is that the investigation of the Trump campaign's links to Russia started on June 16, 2016, several days before Michael Steele even wrote the first page of his dossier on June 20th, weeks before anyone at DOJ ever saw a copy of his dossier and months before Sussmann ever talked to the FBI.
So it's literally not technically possible for the Hillary Clinton campaign to have used Steele or Sussman to start the FBI's Russia investigation — because it was already in progress after they had been contacted in early June by Australian Ambassador Alexander Downer who reported to them that Russians had told a Trump staffer that they had hacked Hillary's emails. To be fair, this wasn't Trump's fault — but it is a reminder that he's been lying about all this for years.
There was also the time that Trump weaponized the DOJ with a bogus prosecution of former Obama White House Counsel Greg Craig in a case of naked political retaliation.  Michael Cohen was prosecuted, so they had to prosecute Obama's lawyer in response.
"It's time for you guys to even things out," said the official, according to Berman.

According to the book, that official called Berman's deputy in September 2018, two months before the November midterms, and asked for charges before Election Day against Democratic lawyer Gregory Craig in response to the recent prosecutions of Trump longtime attorney Michael Cohen and then-Rep. Chris Collins (R-NY).

"Throughout my tenure as U.S. attorney, Trump's Justice Department kept demanding that I use my office to aid them politically, and I kept declining — in ways just tactful enough to keep me from being fired," Berman wrote.

Federal prosecutors were investigating whether Craig, a White House counsel under Barack Obama, had violated the Foreign Agents Registration Act by doing work years earlier for Ukraine's government, but Berman said he believed the attorney was innocent and was unlikely to be convicted.

But Berman said his deputy Robert Khuzami came to his office and told him about a call he'd gotten from Edward O'Callaghan, the principal associate deputy attorney general, asking to charge Craig before Election Day, but Berman ignored the political appointee's order and decided in December not to prosecute him.
Craig was later charged and eventually acquitted. Clearly the goal here was to politically embarrass Democrats ahead of the 2018 midterms in order to help Republicans in the election. This is from the DOJ that wouldn't prosecute voter fraud, but they did prosecute Craig.
In addition to the fake prosecution of Craig, the fact is that Trump also did try to extort President Zelensky into bolstering a fake Russian propaganda scandal against Joe and Hunter Biden and claiming that instead of Russia the Hillary emails and DNC Server were really in the possession of Crowdstrike in Ukraine — which they weren't because Crowdstrike isn't a Ukrainian company and the DNC Server system was cloud-based so there was no physical server for the FBI to take —  all to, again, steal the next election.
On Thursday night, the Washington Post reported that a complaint from an anonymous intelligence whistle-blower, which has been the subject of a bitter oversight dispute between the Trump Administration and Congress, centers on a phone call that Trump had on July 25th, with Ukraine's recently elected President, Volodymyr Zelensky. Many details about this story remain murky, but the implication seems to be that the whistle-blower is alleging that Trump promised to release two hundred and fifty million dollars in stalled aid for Ukraine if Zelensky would launch a corruption investigation into matters involving Joe Biden and his son, Hunter.
Why have none of the MAGA faithful ever asked If Trump wanted a "fake investigation" why didn't he ask Bill Barr to do it?
Well. He did. Barr refused.  And even if Barr had done it, he wouldn't have been able to tell anyone about it due to DOJ rules for elections.
Attorney General William Barr said Monday he sees no reason to appoint a special counsel to lead the ongoing federal investigation into Hunter Biden or to probe further President Trump's claims of widespread fraud in the 2020 election.
[He didn't make him a Special Counsel, but the US Attorney who was looking into Hunter Biden's taxes and his gun purchase still has his position, even in the Biden administration — and he's still looking. ]
The fact is that Trump had wanted a [fake] investigation based on information he'd been given by Rudy Giuliani, and Giuliani had been told about all this by Ukrainian politicians who were operatives of Russian Intelligence.
Rudy has even admitted there's a "50/50 chance this is true."
Sure, the U.S. Treasury Department may have declared one of his former associates—Ukrainian parliamentarian Andrii Derkach, who worked with Giuliani on his hunt for dirt on the Bidens—to be an "active Russian agent." But that's some Deep State talk, he added. "The chance that Derkach is a Russian spy is no better than 50/50."
So Rudy, I hear you saying there's a chance? LOL, ok. 
And remember, this was the Trump Treasury Dept. that said that.  The election hadn't even happened yet when that report came out. If Trump had been not just impeached but removed for his extortion, then the next bit wouldn't have happened.  But it did.
Trump is the one who picked the date for the January 6 rally, timing it to occur just when Congress was counting the electoral votes and Peter Navarro's "Green Bay Sweep" could be implemented, all of this was for disrupting the counting to have his illegal fake electors used (Which was the real Insurrection plot) instead of actual electors in order to – yet again – steal the election.
For most patriotic  Americans, Jan. 6 represents a day of national shame and terror at what could have been the end of our democracy. But when former Trump economic adviser Peter Navarro reflects on that day, what he dwells on is that he doesn't get nearly enough credit.

Navarro recently published a memoir, and is now pushing out interviews to reporters, bragging of a scheme he dreamed up with former Trump adviser Steve Bannon to overturn the results of the 2020 election. They even had a cringey name for it: the Green Bay Sweep.

The plot sought to keep Trump in office by exerting maximum pressure on Vice President Mike Pence to block the certification of the Electoral College votes from pivotal swing states, by drawing out the proceedings on national television for as long as 24 hours. "It was a perfect plan," Navarro told the Daily Beast. "We had over 100 congressmen committed to it."
Then Trump, to say it again, did nothing for 3 hours as the police were attacked and overrun by crazed MAGA fans.
Trump claimed that the people who attacked the Capitol were "Antifa" — but if that was the case, why did he tell them "we love you, you're very special" and has he since offered to pardon them?  Why would Antifa be willing to risk going to jail for years by fighting the police and attacking the Capitol to stop the count of electoral votes — when that would help Trump who has called them "domestic terrorists?"  Why would Trump want to pardon people who he says are "domestic terrorists" and he wanted the army to "shoot" and "beat the fuck out of?"  Why do some of them admit to being members of the Proud Boys and Oath Keepers who Roger Stone told "Shoot to Kill."  Why is it that all the people who've been arrested and prosecuted all openly admit to being Trump supporters, and none of them have admitted being members of Antifa? And If they're all really Secret Antifa, why is Marjorie Taylor Greene visiting them in jail and saying that they're "Political Prisoners of War?" 
None of this makes sense.
On what basis could anyone possibly claim that Trump "was a great President?" He essentially failed at everything he was trying to do — he failed at the border, he failed at the deficit, he failed on the economy, he failed to bring jobs back with his tariffs, he failed with pandemic testing, he failed to distribute the vaccine, he failed at international relations, he failed to get the Taliban to negotiate with the Afghan government, he failed at Nuclear nonproliferation, he failed to implement "law and order" as a dozen cities burned on his watch, he failed to see that he laws were 'faithfully executed", he failed to protect Democracy, he failed at an Insurrection — he only succeeded at taking credit for what other people did or just did terrible, usually fascist, things on his own.
Lastly, Trump is ranked (by several polls) as being between #41 and #44 among Presidents. So basically, he's just about dead last. Deservedly so. 
US and Jews Behind Mass Protests
The United States and the "fake Zionist regime" are orchestrating nationwide anti-regime protests in Iran, the country's supreme leader, Ali Khamenei, claimed in a Twitter screed Monday.
"I openly state that the recent riots & unrest in Iran were schemes designed by the U.S.; the usurping, fake Zionist regime; their mercenaries;  & some treasonous Iranians abroad who helped them," Khamanei wrote on his official Twitter account, which routinely disseminates anti-Semitic conspiracy theories.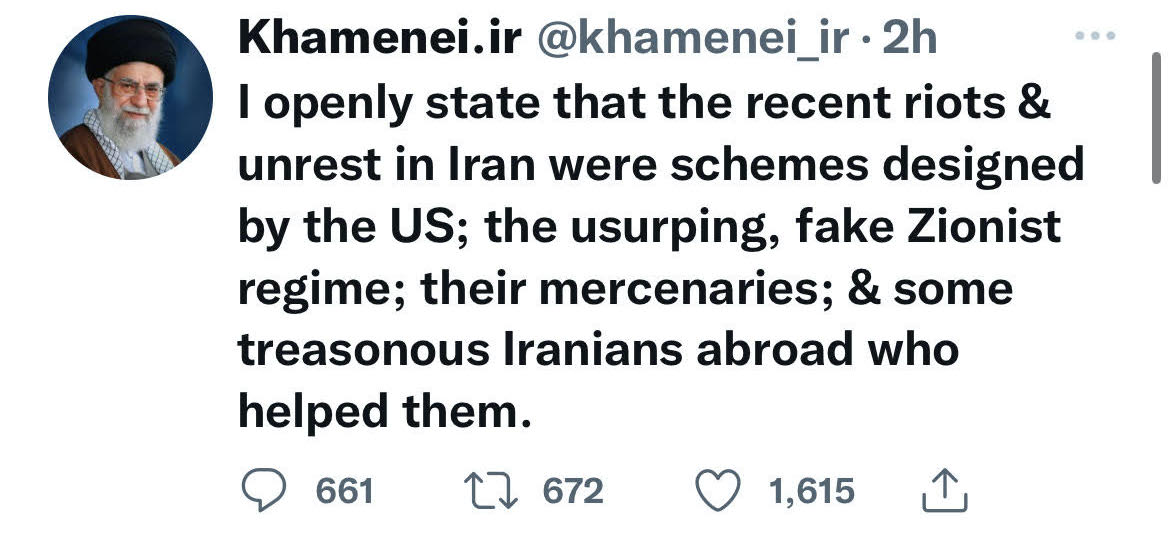 Protests have swept across Iran since the regime's morality police murdered a 22-year-old woman for not properly wearing her head covering, which is required by law under the theocratic regime. Since her death, Iranians across the country have been protesting Khamenei's government and threatening to topple it.
"The young girl's death was a tragic incident that saddened us too," the supreme leader wrote. "But the right reaction to it wasn't for some to create insecurity for [people], burn the Quran, Mosques, banks, and [people's] cars, & to pull off women's scarves. These weren't normal acts. They were planned."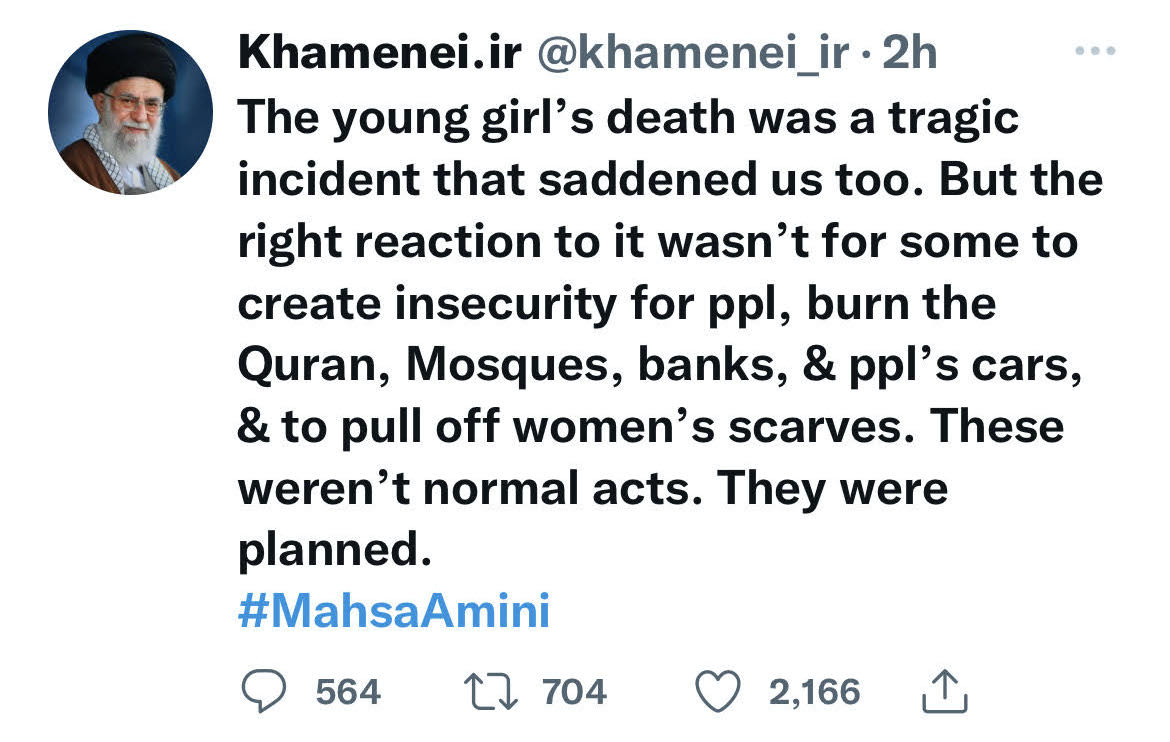 U.S. and Israeli intelligence services planned and directed the protests, according to Khamenei.
"Some individuals are against stating that certain events were designed & carried out by the enemy. They stand up to defend U.S. & Zionist intelligence services, & they use fallacious analysis & rhetoric to deny it was the word of the enemy," he wrote.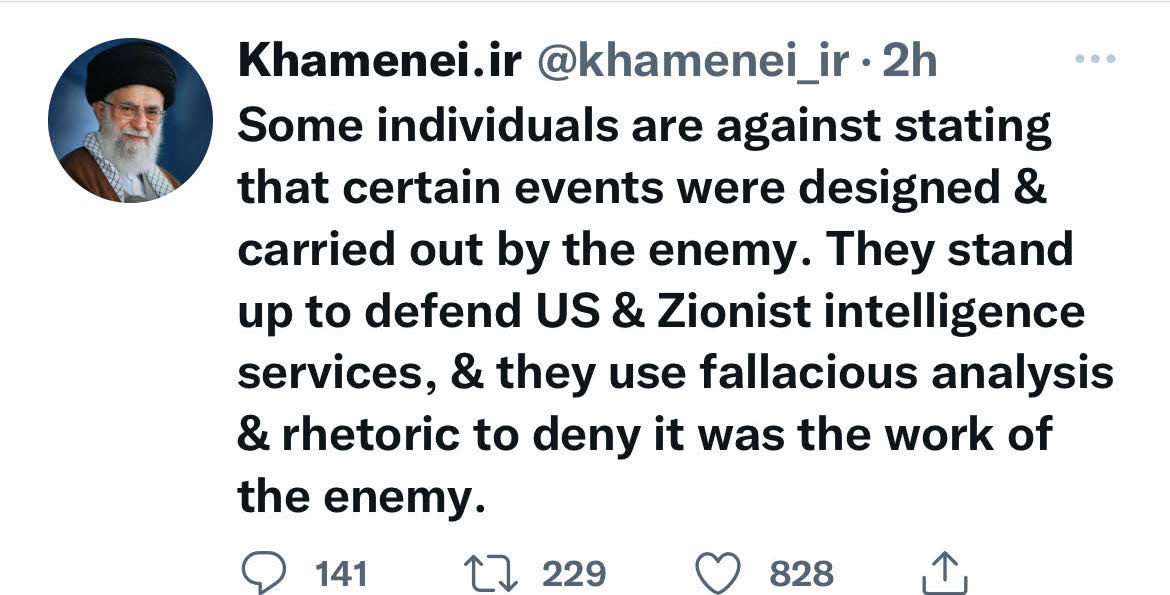 The protests are not even about head coverings, Khamanei wrote, claiming that his country does not actually persecute women who do not wear a hijab. All factual evidence, however, contradicts this claim.
"This is not about Hijab in Iran," he wrote. "Many Iranian women who don't observe the Hijab perfectly are among the steadfast supporters of the Islamic Republic. It is about Islamic Iran's independence & resistance. The U.S. cannot tolerate a strong, independent Iran."
Khamenei also used his platform to criticize the U.S. government for not supporting protest movements that erupt in Europe.
"Many riots take place around the world. Especially in France, massive riots occur every now and then, but has the U.S. president ever supported European rioters, issued a declaration or said we stand with you? Is there any record of U.S. media supporting them?" he asked.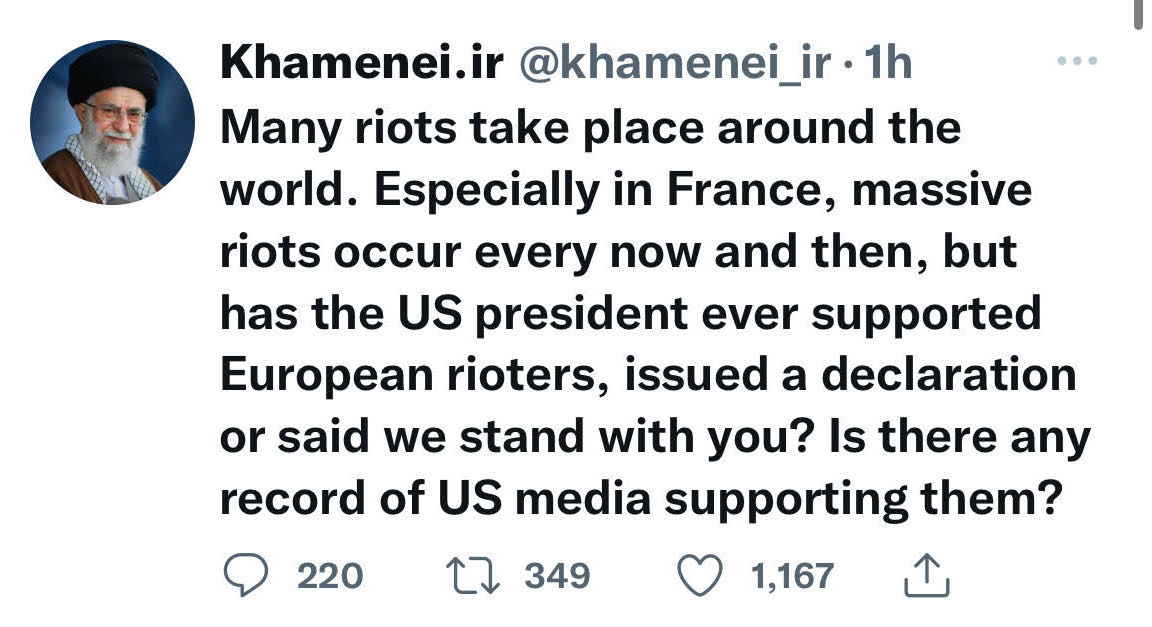 Khamenei's government has met the country's protesters with violence and arrests.