Man faces underage sex crime charges | News, Sports, Jobs
From Mirror staff reports
A Tyrone man facing dozens of charges involving child pornography and human trafficking has been denied bail.
Paul Robert Holpit, 24, was arraigned Wednesday morning before Magisterial District Judge Fred B. Miller on 15 felony charges each of photographing, filming, or depicting a sex act involving a child and of disseminating explicit sexual material to a minor; eight felony counts each of trafficking in individuals-recruit/entice/solicit, of corruption of minors, of unlawful contact with a minor-sexual offenses and of drug possession with intent to deliver; three felony counts of criminal solicitation; two felony counts each of trafficking in individuals for financial benefit, of child pornography and of criminal solitication-sexual exploitation of children; one felony count each of criminal soliticiation-involuntary deviate sexual intercourse of a person less than 16 years of age and of criminal solicitation-involuntary deviate sexual intercourse with a child; and 10 felony counts of criminal use of a communication facility.
He also faces two misdemeanor counts of corruption of minors and a misdemeanor count of indecent assault of a person less than 16 years old.
According to the court docket, Holpit was denied bail due to the threat to the community and safety of the victims, his flight risk and the nature of the charges.
Holpit was remanded to the Blair County Prison awaiting a Sept. 20 preliminary hearing in front of Miller.
Pot for sex alleged
The charges stem from an five-month investigation by the Tyrone Borough Police Department after a minor female told police that Holpit provided numerous minors with marijuana in exchange for sexual acts.
On the police department's Facebook page, police said 11 minor victims were identified and forensic interviews were conducted. The victims ranged from 12 to 17 years old, police said.
On May 6, borough police executed a search warrant on Holpit's West 14th Street home and seized three iPhones, a Playstation, two HP laptops, an iWatch, cable modem, related charging cords, 297 grams of marijuana, clear sandwich bags, a silver scale and a glass pipe with residue.
Officers also received permission from parents and guardians to review the contents of cellphones belonging to the minors, court documents state.
During subsequent interviews, police said the minors reported talking to Holpit on Snapchat and meeting him in person. Holpit allegedly sent nude photos of himself to one 15-year-old, who said he sent photos at least once a day starting in December 2021 and continued for about two months. He also offered her free marijuana, alcohol and money in exchange for a sex act, the teen told police.
A 17-year-old told police she received marijuana from Holpit for about two years. In October 2021, Holpit began asking the girl for nude photos and she provided him with pictures a couple of times in exchange for marijuana. At least once, Holpit requested sex and he would send random pictures and videos of his genitals, she said. He also talked about her 12-year-old sister, asking the girl to talk the youngster into having sex with him for money.
The 12-year-old said she began talking to Holpit through Snapchat and then he began asking for photos of her body. He offered money, marijuana and tobacco for the pictures, she told police. He continued to ask, even though she said no, she said, and he sent photos of his genitals. He allegedly offered her money for oral sex.
Another 15-year-old said Holpit added her to Snapchat when she was 12 or 13 years old and conversations became sexual in nature, with Holpit asking for sex and sex acts in exchange for marijuana. She bought marijuana from him, the teen told police, and received nude photos of him on multiple occasions.
The interviews with the teens continued into June and July, according to court documents, and police talked to a 17-year-old, who also said she communicated with Holpit via Snapchat. Holpit allegedly sent her photos multiple times that included his genitals. He also asked for sexual favors in exchange for marijuana. The teen told police she did buy marijuana from Holpit in the past.
A 16-year-old said she purchased marijuana from Holpit and he used Snapchat to set up the purchases. She told police she then blocked him because she knew he sent nude photos to minors and requested sexual favors.
Marijuana bought
Four other minors, ranging in age from 15 to 17, told police that Holpit was their marijuana dealer. They also reported using Snapchat and that Holpit sent nude photos, asked for sex, sex acts and nude photos in exchange for the drug and in one case, asked a girl to have sex with him and another male in exchange for marijuana.
One 17-year-old said she began purchasing marijuana from Holpit, but the exchanges turned sexual, with Holpit giving her marijuana for sex acts and nude photos. He also sent her nude photos of himself via Snapchat and she received images about three times a week from November 2021 until April of this year, when she contacted police. Police said a majority of the in-person contacts with Holpit occurred at a Tyrone Borough church. At least one incident occurred in the parking lot of Penn Highlands Tyrone Hospital, police stated.
All victims reported receiving unsolicited photos of Holpit's genitals and the photos appeared to have been taken in his bedroom, according to court documents.
Images of girls found
A search of Holpit's cellphone turned up photos of the girls as well as images of large amounts of marijuana and cash. In addition, police said several conversations indicated Holpit was dealing marijuana. Videos, including of a minor girl giving oral sex to a minor boy, were found on the phone.
Police said 20 images and/or videos depicting child pornography were found and that Holpit provided eight minors with photos of his genitals.
He also provided seven of the juveniles with marijuana and arranged drug sales or disseminated pornographic images to nine individuals, court documents state. Holpit would meet individuals at various spots in Tyrone Borough to make drug deliveries, police reported.
Thousands of Iraqis in Baghdad protest against corruption
Baghdad – Scuffles broke out between protesters and security forces injuring dozens as thousands gathered Saturday in Iraq's capital to mark three years since nationwide demonstrations erupted against endemic corruption.
The latest protests in Baghdad come as Iraq has been mired in political paralysis since elections in October last year that have failed to bring in a new president, prime minister or government.
Thousands of people, brandishing portraits of the "martyrs" killed in the wave of rallies three years ago, gathered in Baghdad's iconic Tahrir Square, the epicentre of the protest movement, an AFP correspondent said.
"Today, it is essential to confront power," activist Ali al-Habib said.
"All the bridges and roads are blocked because the authorities are afraid of the protesters," he added, condemning "infighting within the political class, which completely ignores the will of the people".
The demonstrations seek to revive the unprecedented protests of October 2019 that condemned rampant unemployment and the country's decaying infrastructure.
Those protests raged for months before winding down under the shadow of coronavirus restrictions and a harsh crackdown that saw at least 600 demonstrators killed and tens of thousands more wounded.
The protesters on Saturday gathered at Al-Jumhuriya Bridge, where they attempted to overcome a series of barriers set up by security forces to block access to the fortified Green Zone that houses government buildings and diplomatic missions.
Protesters threw the iron barriers into the river, according to an interior ministry official who reported 18 minor injuries among riot police resulting from stones and glass bottles being thrown at them.
Police retaliated by throwing smoke grenades at the crowd to disperse them, the AFP correspondent said.
At least 28 protesters suffered from breathing difficulties as a result, according to an interior ministry official.
Rival Shiite factions in parliament have for months vied for power and the right to select a new prime minister and government.
The impasse pits the powerful cleric Moqtada Sadr against his rivals the Iran-backed Coordination Framework, which includes lawmakers from the party of his longtime foe, ex-prime minister Nuri al-Maliki.
Sadr wants snap elections and the dissolution of parliament but the Coordination Framework wants a new head of government appointed before any new polls are held.
Tensions boiled over into clashes on August 29 between the Sadrists, rival Iran-backed factions and the army in which more than 30 Sadr supporters were killed, after their leader said he was quitting politics.
On Wednesday, three unclaimed rockets were fired at Baghdad's Green Zone, wounding seven security force personnel, as parliament held its first session in two months, Iraq's security forces said.
Source link
Rain delays Rahul's Bharat Jodo Yatra on day 24; Bengaluru likely to see rains today
Techie, friend let off in drunk driving case after Bengaluru police failed to follow procedure
A software engineer and his associate, who were accused by the Bengaluru traffic police of allegedly hitting a policeman and booked for drunken driving in the city in April 2017, were let off by the Karnataka high court as the police failed to follow the prescribed norms for registering drunken driving cases and collecting fines. The court order came on September 6.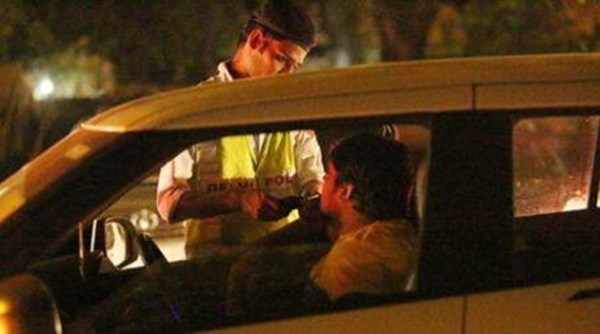 The duo was let off after the court found that the police had collected a traffic fine for drunken driving on the spot and had not recorded the whole incident on video, which is in contravention of a 2015 circular of the police department. (File)
Techie Priyamshu Kumar and Alok Kumar, both residents of Bihar, were booked for preventing a public servant from discharging his duty and a case was registered by the Mahadevapura police in the Whitefield region of Bengaluru.
On the night of April 9, 2017, Alok Kumar, who was on a motorcycle, was stopped by the police for a breath analyser test. According to the police, the youth did not cooperate and did not want to go to the police station but instead called his friend Priyamshu Kumar, a software engineer, who allegedly slapped a policeman. (Read more)
Corruption watchdog to look into 83 reports of possible political promotion violations – Baltic News Network
Latvia's Corruption Prevention and Combating Bureau (KNAB) has commenced 83 examinations of possible political promotion violations, as confirmed by the bureau.
KNAB has 12 administrative violation proceedings in the works. Seven of them are related to publication of political promotion materials, two involve possible hidden promotion, another two involve use of municipal resources on political promotion, and one more involves collection of donations in breach of Law on Financing of Political Organisations (Parties).
On Saturday, 14th Saeima elections, no political promotion is allowed in Latvia. Prohibition to distribute political materials came to force on Friday, 30 September.
This means no political promotion is allowed in the press, around the environment or electronic mass media.
It is also prohibited to publish paid promotion on social media and other internet websites.
KNAB suggests printed press that come out every week should pay special attention to this prohibition. If magazines and newspapers publish political advertisements, they are not allowed to be released on Election Day and the day prior.
Free political promotion on social networks is not limited across the entire pre-election political promotion period. This means the law does not prohibit publication and sharing of free content or make political views known on social networks and elsewhere on the internet on Election Day and the day prior.
Also read: 14th Saeima elections: 23.26% of Latvian citizens have voted so far
Political promotion materials are varied – advertisements, interviews, entries on social networks, etc. If residents find disallowed political promotion on days when no political promotion is permitted, they should report it to State Police or KNAB.
Source link