Renowned Police Officer, author, philanthropist Kiran Bedi visits Parikh Worldwide
During a recent meet-and-greet gathering at ITV Gold studios in New Jersey, retired Indian Police Service (IPS) officer Kiran Bedi who just released a book, said the two things she enjoyed doing through life was engaging in sports and studying.
Bedi, who also runs a foundation to benefit children in India, was the first woman to reach officer rank at IPS in 1972. She was also the first Indian and first woman to be appointed United Nations Police Adviser in the U.N. Department of Peace Operations as head of the Police Division in 2003.
In New York recently at the UN's invitation to participate in the Chiefs of Police conference, Bedi took time during her three-month long visit, to release her new book, 'Fearless Governance' at the Indian Consulate in New York on August 29, 2022.
– ADVERTISEMENT –
She was also a guest of Parikh Worldwide Media and ITV Gold in New Jersey, Aug. 30, 2022, where she was invited by Padma Shri recipient Dr. Sudhir Parikh, chairman of the media outlet. She met community members and staff and addressed the gathering as well as answered questions.
She was also interviewed on the ITV Gold program Face to Face, with host Nidhi Kathuria, during which she spoke about her life journey and her passions as well as her new book.
'Fearless Governance' is an account of her experiences during her five years as the 24th Lt. Governor of Puducherry, from 2016 to 2021. "It is about challenges you face and what you can do to succeed as a leader," she said.
The book deals with the concept of leadership across private and government sectors, and Bedi has served in these sectors winning recognitions in her endeavors managing non-profit organizations (NGOs), receiving national and international awards, heading police units, winning the President's Police Medal in 1979, and receiving the prestigious Ramson Magsaysay award in 1994.
Her job at IPS was a result of pure determination, she said, ascribing her success to self-motivation and the upbringing in her home where education and sports took prime place.
Bedi's non-profit organization, India Vision Foundation was formed while she was at IPS, she said. A visionary herself, Bedi, as supervisor of prisons, introduced education, vocational training, prayers, meditation, music, opening up bank accounts for prison inmates, allowing children under 6 to stay with mothers, and starting a school for them.
India Vision Foundation is educating these children, training them in skills and making them self-reliant, she noted. Children who were out of school have become teachers and professionals today, she said.
Bedi said the national program implemented in other prisons has garnered a large support group in the U.S. That group organized a book release event at the Indian Consulate in New York. Proceeds from book sales will fund causes of the Foundation, such as adoption of such children, and their education and vocational training, etc.
Known for not mincing words and being forthright, Bedi said, "I have never compromised with corruption and illegality or wrong direction." During her years at Puducherry for example, there were never any wrong calls, any wrong orders, any wrong directions, she said, adding, "We were acting within the law and we got all the support we needed."
In her interview, Bedi said she had played an active part in the anti-corruption movement, leading to her involvement in politics. "I am good at administration. I'm not mentally into politics," she said.
Speaking of the roadblocks and challenges Prime Minister Narendra Modi's Bharatiya Janata Party faces, she said it is striving to overcome obstacles and work in favor of the common man. Every common man in India has a bank account today, many have drinking water and schooling, she pointed out. "A lot has changed and a lot is changing," Bedi said.
A firm believer in self-discipline, Bedi's advice to youth is – value time, and study and learn at a young age. That forms the basis of a successful life, according to her. Playing competitively is as important because it teaches teamwork, how to fall, how to get up, how to exercise, and how to endure, she said, citing her own life. "You can only invest in time, and use it smartly," she said.
She herself plans to continue forging a successful future. "Life goes on and you respond to challenges and optimize the opportunities," she said.
Source link
'You can't have cops watching cops' — NYPD officer, ex-cop lawyer sue NYC — Queens Daily Eagle
Lee's  complaint claims that the named defendants — NYPD brass, including former Commissioner Bill Bratton, and several allegedly crooked cops — "have engaged in retaliatory action, consisting of a persistent campaign to harass, defame, threaten, intimidate, extort, and endanger [Lee's] life." The NYPD has denied him "hundreds and hundreds" of hours of overtime and fair compensation for his undercover workload, when he would clock out at the station house so as not to tip off his colleagues, he said.
Meanwhile, Internal Affairs has swept his allegations under the rug in order to protect high-ranking and well connected cops — a routine exercise in the NYPD, Lee and Murray said.
"It's everyone. This is job-wide," Lee said. "You have a good cops who are there trying to do a good job. Trying to do their work, then you have other people who have other agendas saying, 'No, don't do that."
Lee said the notion that the NYPD can police itself is the root of the problem.
"Let's say the feds come in and say, 'Hey, we want to investigate the Latin Kings and the Latin Kings say, 'OK. We'll investigate ourselves and we'll let you know what's going on.'"
Murray said the NYPD is desperate to protect top officials.
"They will crush the low-level cops," Murray said. "It's the bosses protecting the bosses, because they're looking out for each other."
A spokesperson for the New York City Law Department declined to comment on the lawsuit.
"We don't try cases in the press," the spokesperson said. "We'll respond to the complaint in due course."
The NYPD declined to comment on pending litigation and referred questions to the city Law Department.
A nightmarish 'dream job'
The 109th Precinct in Flushing was a "dream job" for Lee, who is Chinese-American and speaks Mandarin.
"I finally got to help my people, to help my own community," he said, recalling an instance when a Chinese woman who didn't speak English came into the station house and described a sex trafficking operation. Since he understands Mandarin, he was able to translate for her and led cops to the home of a man who allegedly kidnapped the woman and forced to perform sex work at night.
Nevertheless, the 109th was marred by controlling cliques and low morale, he said.
Things should have changed for the better when the NYPD brought in a "straight cop," Capt. Thomas Conforti, to take over the precinct. But several of the cops bristled at Conforti's arrival.
Officers were allegedly paid off in a scheme to protect a number of Flushing karaoke bars that contracted with an ex-cop's security firm. They didn't like the change in command, Lee said.
The bars doubled as drug dens and brothels connected with organized crime figures from the local Chinese community, he said.
When one fellow cop told Lee about a plan to get one of the sex workers, known as a "PR girl" to "get rid of" Conforti by accusing him of rape, Lee decided to alert Conforti. A few days later, Internal Affairs asked Lee to record the cops discussing the "rape frame-up" plan, the suit claims.
Lee said he had no choice but to accept the role. He quickly realized that he had just scratched the surface of the corruption.
The cop who proposed the frame-up job was involved in the wider scheme to enable drug-dealing and sex work in the karaokes, Lee said.
"Something fishy's going on. You sure you want to do this? Because it seems like you're opening a whole can of worms," Lee said he told his Internal Affairs handlers. They encouraged him to continue working undercover and recording what happened at the karaoke bar.
"During this time, [Lee] learned of a far greater scheme of corruption, involving a huge network of police-protected karaoke bars, in exchange for free alcohol and free prostitutes," the suit states. "In addition to free alcohol and free prostitutes, [Lee] learned that high-ranking police personnel were also receiving large regular stipends, of thousands of dollars per month."
On one occasion, Lee and other officers arrived at a bar to conduct a routine inspection — one that the bar owner was already alerted to by other officers. "I'm supposed to find nothing," Lee said.
This time, though, Lee and two other officers found a handful of people sniffing cocaine in one of the private rooms, he said. They moved to arrest the suspects who were in possession of a large quantity of drugs, but Lee's Internal Affairs handlers told him to tell the other two cops to let the suspects go. Arresting them could have jeopardized the investigation, he said the handlers told him.
After 18 months of taping and documenting illegal operations and the officer-backed protection scheme, the NYPD refused to pursue charges against any of the people involved, however, Lee said.
Instead, he said, they used the two low-level cops who released the drug dealers as "sacrificial lambs," forcing them out of the department.
Lee persisted and tried to rally Internal Affairs to pursue additional charges, but they declined. Soon, he said, he began to experience a pattern of harassment by supervisors and administrators.
Flashbacks for Murray
Lee's experience hit home for Murray, a former cop in the 115th Precinct.
Murray first got on the brass' bad side after a confrontation with another cop who had allegedly roughed up his friend. The rival cop shoved Murray and Murray threw a punch broke that the man's jaw, he said. Murray beat the departmental charges against him but said he became persona non grata.
"I took the side of the perp [his friend] and the department hung me out to dry," he said.
The ill will intensified when Murray questioned a new policy that replaced experienced, trained officers on the DWI Unit with rookie cops because of overtime concerns.
"They figured they were going to take all these rookies, put them on the midnight shifts and assign them arrests for DWI, and do it on straight time," he said. "But they gave them barely any training and they're telling them to stick their head in the cars and take a whiff.
"They were just looking for numbers and the rookies are pups. They'll do what they're told," he continued.
Murray said some directives endangered cops and others, like going after drivers who seemed to deliberately avoid checkpoints, violated the law.
'The commanding officer of the unit got very upset with me because I kept trying to fight back," he said. "It's so hard for the rookies to stand up for themselves and so I locked horns with him."
The commanding officer sent Murray back to the 115th, where he saw a colleague get suspended by the Civilian Complaint Review Board over what he considered a bogus charge. He wrote a letter to the police commissioner.
"So now I get known as a letter-writer," he said. "The new [Commanding Officer] comes in, calls me into his office and says, 'I got the story on you. You're not allowed to write any letters unless you come to me first.'"
Eventually, Murray retired from the force and pursued his law degree.
Lee said he has no such plans just yet.
"If I quit now, I'd be throwing away 14 years of my life. I wouldn't get a pension," he said. "I'd be letting them win … This has to stop."
Source link
Warnock Fundraises With Tom Steyer After Voting for Legislation That Poured Billions Into Green Energy
Democrats
Events come amid global surge in energy prices as Democrats vilify fossil fuels
Alana Goodman • September 30, 2022 4:30 pm
Sen. Raphael Warnock (D., Ga.) raked in cash from wealthy green energy moguls at a series of San Francisco fundraisers last weekend, a month after voting to pass legislation that steered billions to climate initiatives and the green energy industry.
During his West Coast fundraising swing, the senator partied with billionaire investor Tom Steyer, biofuels CEO Wade Randlett, and "Defund the Police" advocate Meena Harris, the niece of Vice President Kamala Harris, according to photos. Steyer cohosted an event for Warnock in San Francisco on Saturday, along with NextGen America board member Andrea Evans, according to an invitation for the fundraiser. Randlett cohosted an event for Warnock on Friday.
The parties came weeks after Warnock voted for the Biden administration's budget reconciliation bill—officially dubbed the Inflation Reduction Act—and highlight the cozy relationship between Democratic political leaders and the lucrative green tech industry. The legislation poured billions into green energy initiatives and is expected to benefit industries in which Steyer is an investor, according to analysts. The fundraisers also come amid a global surge in energy prices, with many Americans struggling to pay utility bills, and as Democratic lawmakers continue to vilify the fossil fuel industry.
Steyer, a Democratic donor who ran a short-lived campaign for president in 2020, launched a "climate investment fund" called Galvanize in 2021 with a goal of investing "billions" into decarbonization companies. The fund's reported investments include Regrow Ag, a startup that "aims to help accelerate the shift to climate-friendly farming" and Arable, which seeks to "create a more sustainable food supply."
Both Regrow Ag and Arable were named as companies that are likely to benefit from a $20 billion earmark in the federal spending bill, according to an analysis published by the clean energy investment firm G2 Venture Partners on Aug. 17, the day after the bill was signed by President Joe Biden.
The bill "has earmarked $20B to (1) target methane and nitrous oxide emission reduction (e.g. Arable, Trace Genomics), (2) improve soil carbon and nitrogen content (e.g. Pivot Bio), and (3) avoiding / sequestering GHG emission (e.g. ProducePay, Regrow, Cloud Agronomics)," wrote G2 Venture Partners.
Steyer praised the passage of the bill as the "culmination of a decade of advocacy and persistence." Earlier this month, he attended a party at the White House celebrating the legislation.
The Friday fundraiser was cosponsored by Randlett, a biofuels mogul and CEO of the transportation fuels division at General Biofuels. The spending bill extended the biodiesel tax credit and was praised by leaders in the biofuels industry.
"This bill represents the most significant federal commitment to low-carbon biofuels since the Renewable Fuel Standard was expanded by Congress in 2007," said Renewable Fuels Association president Geoff Cooper in a statement applauding the bill.
Andrea Evans, a board member at Steyer's nonprofit group NextGen, also cohosted the Saturday Warnock fundraising event.
The Inflation Reduction Act has faced some criticism, with Republicans arguing that it will raise taxes while steering federal funds to Democratic constituencies. Warnock praised the bill, saying it will "help lower costs for families in every corner of our state—all without raising taxes for hardworking Georgia families. That's a win-win."
Photos from Warnock's California fundraising trip also show him posing with his arm around Meena Harris, an Instagram lifestyle influencer and the niece of Kamala Harris. Meena Harris is a vocal advocate for the "defund the police" movement.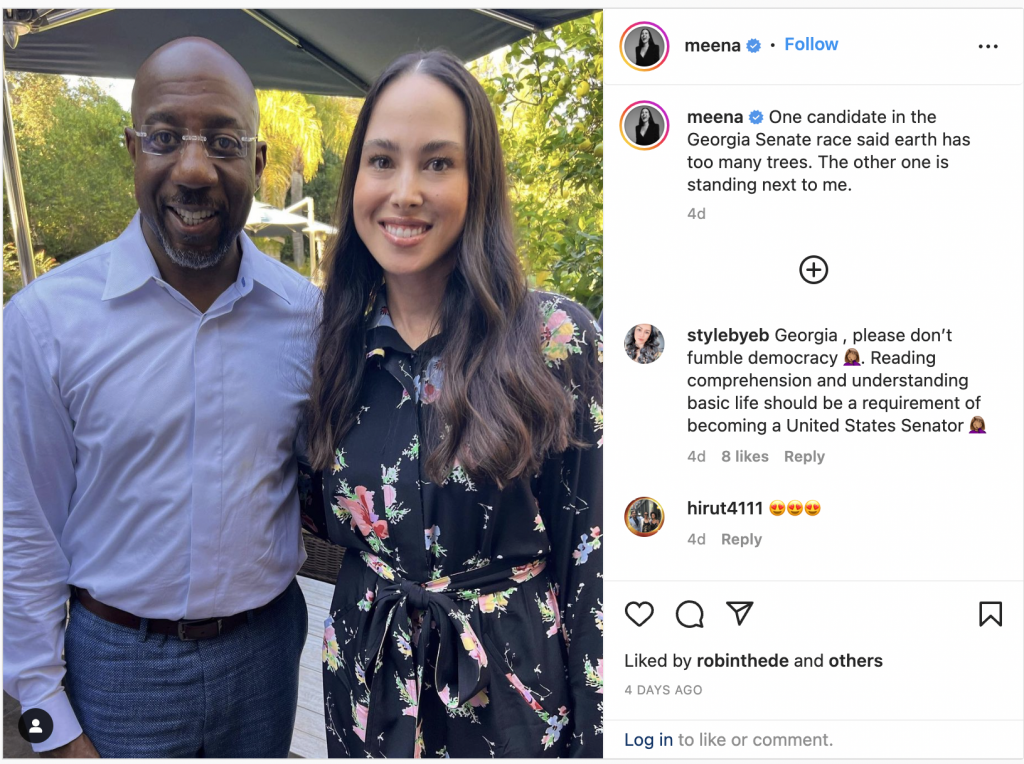 "Defund the police and reallocate funds to mental health and social services. This shouldn't be controversial," wrote Harris in one Twitter post.
She later expanded on this by adding: "To everyone in my mentions policing my language, let me clarify: Defund the police. Defund the police. Defund the police. Defund the police. Defund the police. Defund the police. Defund the police. Defund the police. Defund the police. Defund the police. Defund the police."
The senator is the party's top fundraiser for the midterm cycle, pulling in a whopping $17 million last quarter in his competitive faceoff against Republican challenger Herschel Walker.
China setting up overseas police stations, including one in US, to bring back 'fugitives' – KATV