Congress needs to pass money laundering and sanctions-busting whistleblower protections
Congress is very close to passing urgently needed whistleblower protections targeting Russian money laundering and sanctions busting. Bipartisan members of Congress recognize that the gapping loopholes in the whistleblower laws covering money laundering and sanctions must be fixed if criminals, such as the Russian oligarchs that keep President Vladimir Putin in power, can be held accountable.
The scope of the problem targeted by the whistleblower legislation is massive. For example, the largest money laundering scheme in history concerned Russian oligarchs, including members of President Putin's family and the Russian secret police (the FSB). A detailed investigation by the Danske Bank confirmed that Russian millionaires and billionaires illegally used that bank's offices in Estonia to transfer over $230 billion from Russia and former Soviet states into New York City banks. A whistleblower who first reported the scandal was compelled to resign from his job, sign a highly restrictive nondisclosure agreement and eventually had his identity illegally leaked to pro-Russian newspapers. Danish law provided no protections, the illegal leak was never investigated by the authorities, and ultimately the whistleblower abandoned his career as a banker. None the New York banks that welcomed the billions deposited by their new Russian customers have been held accountable, and their clients continue to enjoy living in elite Manhattan real estate. 
The money laundering and sanctions legislation pending in the House and Senate, House H.R.7195, sponsored by Reps. Alma Adams (D-N.C.) and Anthony Gonzalez (R-Ohio) and S.3316, sponsored by Sens. Charles Grassley (R-Iowa), Raphael Warnock (D-Ga.) and Elizabeth Warren (D-Mass.), will fix these problems. It will give the Department of Treasury the ability to successfully track down the hundreds of billions of dollars that passed through American banks and seize the assets of Russian oligarchs and others who launder funds to hide their ill-gotten wealth.   
Why is the whistleblower legislation so badly needed?  First, there are no protections whatsoever for whistleblowers who report sanctions violations. Those who wish to report illegal trade or financial transactions with North Korea, Iran, Venezuela or Russia have no legal protections whatsoever. Second, whether you are reporting money laundering or sanctions busting, the Department of Treasury lacks the ability to compensate you for your sacrifices or information, nor is there any requirement that any reward or compensation ever be paid to a whistleblower.   
The reform legislation provides a quick and well-established fix to these problems. The bills simply mirror the Dodd-Frank Act's highly successful whistleblower laws covering securities fraud, commodities fraud and violations of the Foreign Corrupt Practices Act. If passed, the legal protections for reporting money laundering and sanctions violations would mirror those in Dodd-Frank.   
Why use the Dodd-Frank model? Dodd-Frank, and other similarly structured whistleblower laws, are widely praised by the law enforcement officials who administer anti-fraud programs. They are widely recognized as the most effective and powerful anti-corruption laws in the United States. Just this past July, the SEC's Director of Enforcement applauded the Dodd-Frank whistleblower procedures for their "critical role" in helping to "effectively detect wrongdoing" and "bring violators to justice." She described whistleblower "contributions" under Dodd-Frank as "invaluable" for protecting investors and reporting foreign bribery. The most recent independent audit of America's foreign corruption laws, conducted by the Organization for Economic Cooperation and Development, also praised Dodd-Frank's "multi-faceted" whistleblower "protections" as they "provide powerful incentives for qualified whistleblowers to report foreign bribery."   
The bills pending in Congress are 100 percent based on the successful provisions contained in Dodd-Frank. These provisions would incentivize and compensate whistleblowers whose "original information" results in successful prosecutions. The genius of these laws is that they cost the taxpayer nothing, and generate billions for the victims of crime and the taxpayers. This is accomplished by creating a "revolving fund" where the sanctions obtained from criminals in whistleblower-triggered cases are deposited. All compensation flowing from these revolving funds, whether they are paid to victims, whistleblowers or taxpayers come directly from fines and sanctioned generated by the whistleblowers. The taxpayer pays nothing, yet always obtains the overwhelming majority of the income generated by the whistleblower's information. There is never need for Congress to appropriate any monies whatsoever.  The programs are self-sustaining and highly profitable.   
The Dodd-Frank procedures are a win-win-win for accountability. The rule of law is vindicated by the whistleblowers when fraudsters are held accountable. The taxpayers and victims of the crimes obtain between 70-90 percent of all monies obtained from the whistleblower cases. For example, under Dodd-Frank alone, the SEC has paid restitution to victims of securities frauds over $1.5 billion from the sanctions earned from whistleblower cases. Finally, the whistleblowers can use the compensation derived from the sanctions paid by the fraudsters to move on with their lives and escape the hardships caused by retaliation. These procedures were carefully studied by the House Oversight Committee and endorsed on a bipartisan basis, including on-the-record endorsements by Reps, Gerry Connolly (D-Va.) and Gary Palmar (R-Ala.).  
Where does the reform legislation stand? The House Financial Services Committee unanimously approved the bill and it is "marked-up" for a vote in the full House.   
The last remaining known hurdle in the House is coming from the Appropriations Committee, Chaired by Rep. Rosa DeLauro (D-Conn.). Once she signs off on the bill it should quickly move forward as the legislation is cleared for a House vote and responsible Senate leadership has committed to passing the Grassley-Warnock-Warren bill once it is sent over from the House. Given the urgency of enforcing sanctions on Russia and seizing the assets of Putin's oligarch enablers, H.R. 7195 and S. 3316 should be voted on and placed on President Biden's desk as quickly as possible. The Ukrainians are doing their job under the most trying circumstances. Congress needs to do its job and provide critical support for the sanctions they have already approved.   
Stephen M. Kohn is a founding partner at the whistleblower law firm of Kohn, Kohn and Colapinto and the Chairman of the Board of the National Whistleblower Center
Source link
'You can't have cops watching cops' — NYPD officer, ex-cop lawyer sue NYC — Queens Daily Eagle
Lee's  complaint claims that the named defendants — NYPD brass, including former Commissioner Bill Bratton, and several allegedly crooked cops — "have engaged in retaliatory action, consisting of a persistent campaign to harass, defame, threaten, intimidate, extort, and endanger [Lee's] life." The NYPD has denied him "hundreds and hundreds" of hours of overtime and fair compensation for his undercover workload, when he would clock out at the station house so as not to tip off his colleagues, he said.
Meanwhile, Internal Affairs has swept his allegations under the rug in order to protect high-ranking and well connected cops — a routine exercise in the NYPD, Lee and Murray said.
"It's everyone. This is job-wide," Lee said. "You have a good cops who are there trying to do a good job. Trying to do their work, then you have other people who have other agendas saying, 'No, don't do that."
Lee said the notion that the NYPD can police itself is the root of the problem.
"Let's say the feds come in and say, 'Hey, we want to investigate the Latin Kings and the Latin Kings say, 'OK. We'll investigate ourselves and we'll let you know what's going on.'"
Murray said the NYPD is desperate to protect top officials.
"They will crush the low-level cops," Murray said. "It's the bosses protecting the bosses, because they're looking out for each other."
A spokesperson for the New York City Law Department declined to comment on the lawsuit.
"We don't try cases in the press," the spokesperson said. "We'll respond to the complaint in due course."
The NYPD declined to comment on pending litigation and referred questions to the city Law Department.
A nightmarish 'dream job'
The 109th Precinct in Flushing was a "dream job" for Lee, who is Chinese-American and speaks Mandarin.
"I finally got to help my people, to help my own community," he said, recalling an instance when a Chinese woman who didn't speak English came into the station house and described a sex trafficking operation. Since he understands Mandarin, he was able to translate for her and led cops to the home of a man who allegedly kidnapped the woman and forced to perform sex work at night.
Nevertheless, the 109th was marred by controlling cliques and low morale, he said.
Things should have changed for the better when the NYPD brought in a "straight cop," Capt. Thomas Conforti, to take over the precinct. But several of the cops bristled at Conforti's arrival.
Officers were allegedly paid off in a scheme to protect a number of Flushing karaoke bars that contracted with an ex-cop's security firm. They didn't like the change in command, Lee said.
The bars doubled as drug dens and brothels connected with organized crime figures from the local Chinese community, he said.
When one fellow cop told Lee about a plan to get one of the sex workers, known as a "PR girl" to "get rid of" Conforti by accusing him of rape, Lee decided to alert Conforti. A few days later, Internal Affairs asked Lee to record the cops discussing the "rape frame-up" plan, the suit claims.
Lee said he had no choice but to accept the role. He quickly realized that he had just scratched the surface of the corruption.
The cop who proposed the frame-up job was involved in the wider scheme to enable drug-dealing and sex work in the karaokes, Lee said.
"Something fishy's going on. You sure you want to do this? Because it seems like you're opening a whole can of worms," Lee said he told his Internal Affairs handlers. They encouraged him to continue working undercover and recording what happened at the karaoke bar.
"During this time, [Lee] learned of a far greater scheme of corruption, involving a huge network of police-protected karaoke bars, in exchange for free alcohol and free prostitutes," the suit states. "In addition to free alcohol and free prostitutes, [Lee] learned that high-ranking police personnel were also receiving large regular stipends, of thousands of dollars per month."
On one occasion, Lee and other officers arrived at a bar to conduct a routine inspection — one that the bar owner was already alerted to by other officers. "I'm supposed to find nothing," Lee said.
This time, though, Lee and two other officers found a handful of people sniffing cocaine in one of the private rooms, he said. They moved to arrest the suspects who were in possession of a large quantity of drugs, but Lee's Internal Affairs handlers told him to tell the other two cops to let the suspects go. Arresting them could have jeopardized the investigation, he said the handlers told him.
After 18 months of taping and documenting illegal operations and the officer-backed protection scheme, the NYPD refused to pursue charges against any of the people involved, however, Lee said.
Instead, he said, they used the two low-level cops who released the drug dealers as "sacrificial lambs," forcing them out of the department.
Lee persisted and tried to rally Internal Affairs to pursue additional charges, but they declined. Soon, he said, he began to experience a pattern of harassment by supervisors and administrators.
Flashbacks for Murray
Lee's experience hit home for Murray, a former cop in the 115th Precinct.
Murray first got on the brass' bad side after a confrontation with another cop who had allegedly roughed up his friend. The rival cop shoved Murray and Murray threw a punch broke that the man's jaw, he said. Murray beat the departmental charges against him but said he became persona non grata.
"I took the side of the perp [his friend] and the department hung me out to dry," he said.
The ill will intensified when Murray questioned a new policy that replaced experienced, trained officers on the DWI Unit with rookie cops because of overtime concerns.
"They figured they were going to take all these rookies, put them on the midnight shifts and assign them arrests for DWI, and do it on straight time," he said. "But they gave them barely any training and they're telling them to stick their head in the cars and take a whiff.
"They were just looking for numbers and the rookies are pups. They'll do what they're told," he continued.
Murray said some directives endangered cops and others, like going after drivers who seemed to deliberately avoid checkpoints, violated the law.
'The commanding officer of the unit got very upset with me because I kept trying to fight back," he said. "It's so hard for the rookies to stand up for themselves and so I locked horns with him."
The commanding officer sent Murray back to the 115th, where he saw a colleague get suspended by the Civilian Complaint Review Board over what he considered a bogus charge. He wrote a letter to the police commissioner.
"So now I get known as a letter-writer," he said. "The new [Commanding Officer] comes in, calls me into his office and says, 'I got the story on you. You're not allowed to write any letters unless you come to me first.'"
Eventually, Murray retired from the force and pursued his law degree.
Lee said he has no such plans just yet.
"If I quit now, I'd be throwing away 14 years of my life. I wouldn't get a pension," he said. "I'd be letting them win … This has to stop."
Source link
Warnock Fundraises With Tom Steyer After Voting for Legislation That Poured Billions Into Green Energy
Democrats
Events come amid global surge in energy prices as Democrats vilify fossil fuels
Alana Goodman • September 30, 2022 4:30 pm
Sen. Raphael Warnock (D., Ga.) raked in cash from wealthy green energy moguls at a series of San Francisco fundraisers last weekend, a month after voting to pass legislation that steered billions to climate initiatives and the green energy industry.
During his West Coast fundraising swing, the senator partied with billionaire investor Tom Steyer, biofuels CEO Wade Randlett, and "Defund the Police" advocate Meena Harris, the niece of Vice President Kamala Harris, according to photos. Steyer cohosted an event for Warnock in San Francisco on Saturday, along with NextGen America board member Andrea Evans, according to an invitation for the fundraiser. Randlett cohosted an event for Warnock on Friday.
The parties came weeks after Warnock voted for the Biden administration's budget reconciliation bill—officially dubbed the Inflation Reduction Act—and highlight the cozy relationship between Democratic political leaders and the lucrative green tech industry. The legislation poured billions into green energy initiatives and is expected to benefit industries in which Steyer is an investor, according to analysts. The fundraisers also come amid a global surge in energy prices, with many Americans struggling to pay utility bills, and as Democratic lawmakers continue to vilify the fossil fuel industry.
Steyer, a Democratic donor who ran a short-lived campaign for president in 2020, launched a "climate investment fund" called Galvanize in 2021 with a goal of investing "billions" into decarbonization companies. The fund's reported investments include Regrow Ag, a startup that "aims to help accelerate the shift to climate-friendly farming" and Arable, which seeks to "create a more sustainable food supply."
Both Regrow Ag and Arable were named as companies that are likely to benefit from a $20 billion earmark in the federal spending bill, according to an analysis published by the clean energy investment firm G2 Venture Partners on Aug. 17, the day after the bill was signed by President Joe Biden.
The bill "has earmarked $20B to (1) target methane and nitrous oxide emission reduction (e.g. Arable, Trace Genomics), (2) improve soil carbon and nitrogen content (e.g. Pivot Bio), and (3) avoiding / sequestering GHG emission (e.g. ProducePay, Regrow, Cloud Agronomics)," wrote G2 Venture Partners.
Steyer praised the passage of the bill as the "culmination of a decade of advocacy and persistence." Earlier this month, he attended a party at the White House celebrating the legislation.
The Friday fundraiser was cosponsored by Randlett, a biofuels mogul and CEO of the transportation fuels division at General Biofuels. The spending bill extended the biodiesel tax credit and was praised by leaders in the biofuels industry.
"This bill represents the most significant federal commitment to low-carbon biofuels since the Renewable Fuel Standard was expanded by Congress in 2007," said Renewable Fuels Association president Geoff Cooper in a statement applauding the bill.
Andrea Evans, a board member at Steyer's nonprofit group NextGen, also cohosted the Saturday Warnock fundraising event.
The Inflation Reduction Act has faced some criticism, with Republicans arguing that it will raise taxes while steering federal funds to Democratic constituencies. Warnock praised the bill, saying it will "help lower costs for families in every corner of our state—all without raising taxes for hardworking Georgia families. That's a win-win."
Photos from Warnock's California fundraising trip also show him posing with his arm around Meena Harris, an Instagram lifestyle influencer and the niece of Kamala Harris. Meena Harris is a vocal advocate for the "defund the police" movement.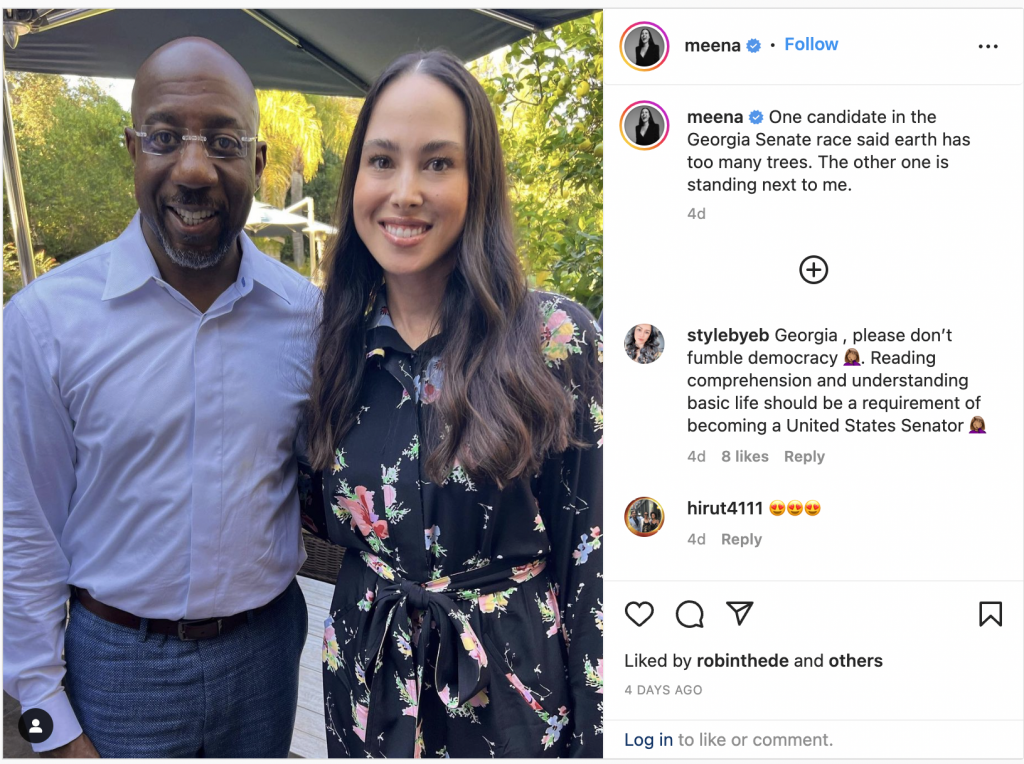 "Defund the police and reallocate funds to mental health and social services. This shouldn't be controversial," wrote Harris in one Twitter post.
She later expanded on this by adding: "To everyone in my mentions policing my language, let me clarify: Defund the police. Defund the police. Defund the police. Defund the police. Defund the police. Defund the police. Defund the police. Defund the police. Defund the police. Defund the police. Defund the police."
The senator is the party's top fundraiser for the midterm cycle, pulling in a whopping $17 million last quarter in his competitive faceoff against Republican challenger Herschel Walker.
China setting up overseas police stations, including one in US, to bring back 'fugitives' – KATV