Trump attempted to corrupt US Justice Department, committee finds
Much of the hearing centred on a little-known and inexperienced department lawyer called Jeffrey Clark who had taken an active role in pushing Trump's election fraud lie – and who Trump, in turn, had wanted to install as head of the department.
Clark drafted a letter to members of the Georgia state legislature claiming there were irregularities in the vote and suggesting that state politicians convene to select their own slate of electors to hand Trump a win.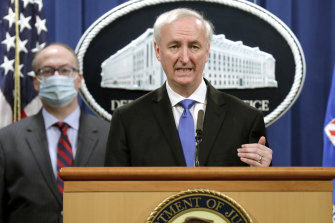 "We have identified significant concerns that may have impacted the outcome of the election in multiple states, including the State of Georgia," the draft letter said without offering evidence.
Rosen and Donoghue had refused to sign the letter, while top White House lawyer Eric Herschmann told the committee in a recorded deposition the plan would be tantamount to "committing a felony".
Donoghue testified that he warned Clark that what he was doing would have "grave consequences for the country" and could lead to a "constitutional crisis."
"I wanted to make sure that he understood the gravity of the situation because he didn't seem to really appreciate it," he said.
Loading
Nonetheless, Clark persisted, backed by Trump allies such as Rudy Giuliani. Giuliani previously told the committee in recorded evidence that he wanted an official in charge of the department "who isn't frightened of what's going to be done to their reputation".
The pressure campaign on the department came to a head at a heated meeting at the White House on January 3 – three days before the Capitol insurrection – when Trump met with Rosen, Donoghue and Steven Engel, another senior department official who was working as a lawyer in the Office of Legal Counsel.
By that stage, Trump had already offered Clark the role of acting attorney-general. According to Rosen's testimony, the president opened that meeting by saying: "One thing we know is you, Rosen, aren't going to do anything. You don't even agree with the claims of the election fraud and this other guy might actually do something."
Rosen said he told Trump: "Mr President, you're right. I'm not going to allow the Justice Department to do anything to try to overturn the election, that's true, but the reason for that is because that's what's consistent with the facts and the law.
"That's what's required under the Constitution. So that's the right answer and a good thing for the country, and therefore, it's the right thing for you, Mr President."
Trump ended up backing down on his attempt to install Clark after Rosen, Donoghue, and Engel, threatened to resign and warned that many of the department's lawyers would also quit en masse, sending shockwaves through the bureaucracy and sparking yet another political crisis.
"I said: Mr President, within 24, 48, 72 hours there's going to be hundreds of resignations to the leadership of your Justice Department, because of your actions," Donoghue testified. "What is that going to say about you?"
Engel, who is an important figure due to his longstanding loyalty to Trump, also issued a similar warning, telling the leader: "I can't be a part of this".
Loading
He also warned Trump about the optics, telling him in that meeting: "The story is not going to be that the Department of Justice has found massive corruption that would have changed the election. It's going to be the disaster of Jeff Clark."
Clark pleaded the Fifth Amendment more than 125 times when the committee tried to question him about his role in the attempt to subvert the election.
However, in a sign that federal investigators may be starting to close in on people within Trump's orbit, the FBI raided Clark's home in Virginia on Wednesday in connection with a Justice Department inquiry – separate to the January 6 probe – into the effort to overturn the election.
Among the observers in the room for this hearing was Hollywood actor Sean Penn, who sat with current and former police officers to watch proceedings.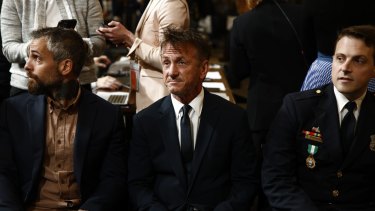 There are two more expected public hearings into the attack, which left several people dead, about 150 police officers injured and a nation divided.
They were due to wrap up by the end of this month however the committee announced this week that it would stretch its schedule into July following a trove of fresh evidence.
Among it is potentially explosive footage from documentary-maker Alex Holder, who had full access to Trump and his family before and after the insurgency. There are also new documents from the National Archives and a flood of new tips that have come in during the first round of hearings.
This may result in additional public hearings followed by a final report in September, two months before the crucial midterm elections.
Get a note directly from our foreign correspondents on what's making headlines around the world. Sign up for the weekly What in the World newsletter here.
Source link
South Wales Police: Former PC guilty of gross misconduct – BBC
Religious Sentiments Killing Nigeria –  Fearon
Nigeria presently bedeviled with high rate of insecurity, considering the fact that you and the Archbishop of Canterbury, Justin Wilby, are friends to President Muhammadu Buhari, how worried are you?
It is very worrying and I know that Mr. President himself is not at ease with the situation. I remember the last time I came to the country, I had an audience with him and I expressed our sympathy over people who lost their lives and those kidnapped.He said, and I agreed with him, that security is the responsibility of every citizen. I know that the way things are in Nigeria, we pushed every responsibility to the government of the day and the security agencies. But  honestly, as a Nigerian citizen, I feel sad that a good number of us do not take security as our responsibility. The government are divided, we all know that. There are those who believe, like my governor in Kaduna state, that bandits are criminals, whether they are Christians or Muslims. So there should be no religious sentiments, a criminal is a criminal. I agree with him (the governor) totally that bandits should be treated the way they are being treated in the world. They are criminals and enemies of peace, security and development and they should be treated ruthlessly.The government tells us we have given so much money to acquire arms, aircrafts and yet these bandits continue to march us, they are increasing everywhere. The media should join this battle. Who are those supplying arms to the bandits?  Who are those giving them information? From among us, we give them information, they know when troops are moving, so I am calling on all Nigerians to join hands in the fight against terrorists.I read the reports on the attack on St. Patrick Church Owo in Ogun state. The governor said, they traced the person that housed the criminals before they attacked the church. We need to join hands with the government even if you don't  like President Buhari. Let's join hands and make our country safe. Nigerians have become too sentimental to religion and ethnicity, these are the two things killing us in Nigeria. I have never subscribed to being from the north or being a Christian in everything I do. I am a Kaduna person and I will do everything God enables me to do to see that no matter where you come from, no matter your religion, you enjoy peace in Kaduna. Some of the security personnel at the war front complained that they are being shortchanged as a result of corruption in the system and are not being properly taken care of. Here we see the negative effect of corruption on our society. Corruption is behind banditry. The biggest problem Nigeria is facing today, is corruption, and it is top to bottom. Don't look at politicians alone. Religious and traditional leaders are involved, everybody is involved. We wanted to have candidates for election, the form cost  N100 million, including church leaders putting N100 million. What did they get for it, not even one vote and the church leaders are keeping quiet! The cancer eating our country is corruption. Until we all see our problem and we are committed to resolving it, you may change government 10 times and the problem will still be there. Who are the people we voted for? What is the difference between APC, PDP, Labour Party, etc?  They are all the same.
The Muslim-Muslim Presidential ticket of the ruling APC has further polarised Nigerians along religious divide, what is your comment on this?
It is very worrying, a lot of you have sent me text messages asking for my comments. I refrained from passing comments because we are a very sick nation. We are an informed people but we are very ignorant. So my reaction is that of pity. I confess all I have been doing is to pray, for Christians in particular, to follow the way the spirit direct them. You know I don't speak prophetically, but I do my things prophetically. Whether we vote or we don't vote, we know who is going to win this election. Therefore, my advice is this; the Christian leaders who are trying to convince Christians, what is their track record? We need to start thinking, those who have suddenly come up to say they are Christians and are asking Christians not to vote for Muslim-Muslim ticket, what is their track record? Since they have been out of government, what have they done for their communities back home? What have they done within the party they are affiliated with?…Whether you are a Christian or a Muslim, leadership demands intergrity, whatever you say, people should believe you. Leadership calls for honesty and humility. Leadership calls for compassion and sensibility. There is no humility, that is why our country is failing. How many of our leaders are made to be accountable?Look at what a senator from Nigeria is facing in this country (UK) today.
The boy, even in Nigeria, he is nothing. In the UK, he is somebody. His life is as important as the life of the senator. That is what leadership is all about. Let's move away from religion and tribal sentiments. If I had the opportunity of meeting Tinubu, Atiku and Obi, I will ask them serious questions. I don't care whether you are a Muslim or a Christian.Bottom line –  Nigeria does not need a Christian President  or a Christian Vice President. Nigeria does not need a Muslim President or Vice President, Nigeria needs a President who has the fear of God, who will take the values of that religion to governance. Let us move away from sentiments. What is important is leadership quality.
One of the spokesperson of Bola Ahmed Tinubu, Presidential candidate of the APC said that if Tinubu comes to power, he will rule Nigeria just like Buhari what is your take on that?
It is a fact that the larger population of Nigerians are not enjoying the Buhari administration. What is your reaction? My response to that will be, for us as Nigerians to give the candidates the opportunity to put this question to the presidential candidates themselves. Let the candidates speak for themselves, not spokesperson. What the media  need to do is to sensitise the public. Let us focus on qualities. The media can change opinions. Nigeria has problems.
You were one of those who supported Buhari in 2015, will you say that he will leave Nigeria better than he met it?
As a sociologist and as the Director for the Kaduna Centre for the Study of Christian -Muslim Relation, I don't think it will be fair for me to do that. We base responses on verifiable evidence and I haven't done that. I am in the process of assessing every facet of our society, starting from Kaduna and then the country.However, your question raises an important fact that Nigerians do not consider. Do you think I care who the President is? I don't. Do you think I care who my state governor is? I do. Do you think I care who is my councillor? Yes, I do, because that is where I feel the impact of governance. Ask me that question about Kaduna, I have facts and figures to compare 2015, when El-Rufai came on board and today. I can easily answer that question. That is my state, the effect of governance impinges on me and the ordinary people. There are many things that have changed in Kaduna. Nigerians should actually think more and work more at the local level. Look at the north, look at our governors. How many of them can compete with Zulum (Borno state governor and El-Rufai? And I dare say these are muslims. It doesn't matter what religion you profess. Zulum and El-Rufai stand out in the country. I agree, banditry has become the order of the day, but as I said earlier, we are a party to these banditry in Kaduna state. Why are they coming to Kaduna? Why are they attacking pastors, priests? It has got nothing to do with religion- it is about money. They  know the church will pay.
Last year, you laid the foundation for the construction of your Kaduna Centre for the Study of Christian-Muslim Relation. How far have you gone with the project?
I advise you to go to the site. We are making progress. We have been able to raise N200 million from outside the country.  My plan is to get President Buhari to inaugurate it, latest April, next year. I am looking for half a million dollars and we are halfway towards getting it.
How will the centre impact on the relationship between Muslims and Christians?
As our students graduate from the two year programme,  we expect them to start small groups in their communities. We want to start from the grassroots level. Once people know that, even though their neighbour is a Christian or Muslim, he has faith in the same Almighty God, we can work together. If we see somebody who is misbehaving, we advise the person and if he is a criminal, we report the person to the police.
Are you planning to return to Nigeria as you retire next month September?
Well, I have received about four invitations to come and help in three churches in America, one here in the UK. My main concentration will be on the Kaduna Centre. I want it to be an internationally recognised centre and we are working hard to achieve it. But I will seriously consider going to help in a big Anglican Church in America to help them in evangelism, church growth and to connect them with the various parts of the Anglican world. Apart from Japan and Korea, I have visited 165 countries in these seven years. God did not give me that privilege to keep it, but to help the church. So you will see me more frequently in Nigeria and the United States.
What's your advise to Nigeria and Nigerians?
Our country is in a very dire state. The more money is pumped into making sure that our country is safe, the worst the situation becomes. Like I said, everybody should make contributions in fighting this banditry. Nigerians, particularly, those of us from the north, let's  move away from religious sentiments. That thing is killing us and people from the south are using it to divide us more, whereas they don't do the same in Yoruba land. The Yoruba people are very close whether you are Muslim or Christian. We need to do the same. There is only one  God, we serve Him differently. Nigerians must go beyond sentiments and see people as human beings who have gifts. God expects us to use these gifts for the community. Only God can save us, don't look up to any religious leader, do what your conscience tells you to do.
The Anglican Communion just finished her Lambert Conference, can you tell us how it went?
The Lambeth Conference holds approximately 10 years in between, but because of the Covid pandemic we had to postpone it. In all, 650 bishops were in attendance and about 450 spouses. So we were over 1000 people excluding all the volunteers.The theme is "God's word for God's World"… We have 42 Provinces making up the Anglican Communion.We are in 169 countries and I have had the privilege of visiting each of these countries apart from Korea and Japan.Out of the 42 provinces, Nigeria, Uganda and Rwanda, would not allow their bishops to come. The primates used their authority to discourage them from attending.Why I am saying this? The practice of the Archbishop of Canterbury from the first Lambert Conference, is to invite every bishop not every province. He has the right to invite every bishop in the communion to his diocese, which is the diocese of Canterbury.
But it is not call Canterbury Conference, it is called Lambert Conference because the first Conference was held in his administrative headquarters which is Lambert in London, opposite the House of Parliament.The tradition is for every bishop to discuss with his diocesan council and come along with the experiences within his diocese and share with other bishops. That is the rationale behind the Lambert Conference. It is not an invitation from the Archbishop of Canterbury to the province. It is to the individual bishop and so it is not a Conference of Archbishops. Let me explain this further. In the Anglican Communion, we have four instruments: We have the Archbishop of Canterbury in his office as the chair of the communion. Secondly, we have the primate meeting when the Archbishop discusses and find a convenient time for all the primates who meet twice in a year and whenever there is a need for them to meet.Thirdly, we have the Anglican Consultative Council which is made up of a bishop,  a priest and a lay person from each of the 42 provinces. They meet once in three years, but in between, there is a standing committee of the council that meets twice in a year physically. The fourth instrument is the Lambert Conference which is the meeting of all the bishops that make up the 42 provinces. Every diocese in each of the 42 Provinces that make up the Anglican Communion. So these three provinces (Nigeria, Uganda and Rwanda)did not come, their primates would not allow them to come. We have never had all bishops in attendance since Lambert Conference started. Even the first Lambert Conference, the Archbishop of York did not come, the bishop of Ghana did not come, a good number of bishops in England which is the York Province did not make it, so  it is not new. However, Nigeria, Uganda and Rwanda, did not come because, according to them, the Archbishop has invited the bishops to the meeting. But I want to tarry by that. The rationale behind inviting everybody is to give opportunity to everybody to express his or her opinion. So bishops were invited but their partners were not invited and because of that, there are bishops from part of the communion who did not attend because their partners were not invited.You have Nigeria, Uganda and Rwanda that refused to come because bishops were invited.This conference was special because the spouses, that is the wives, husbands to female bishops had their own meeting. There were times they remained together, but for the major decisions, wives were not involved. This issue of gay support for gay in the Anglican Communion, is there any Biblical provision to it. If Lambert Conference recognised bishops who indulge in same sex marriage, does it give credence to what they are doing?I want to make this clear. The Anglican Communion of churches- there is no Anglican Church, we are a communion of churches. In sociology, we have concepts and you have difficulties when there is no shared meaning  in concepts. The Anglican Communion of Churches is not one church. The Roman Catholic is one church because they have a centralised government with the Pope as the head of the church. So they are one church. In Anglican Communion of Churches, every church is independent, but all the churches are interdependent, very important in the way we govern the church. As I stated earlier, we have four instruments that help us to govern ourselves. In the Anglican communion, we have no system or outfit to tell a particular church to be excluded. We are a church that allows every voice to be heard. When people say the Bible say this and that, I want to ask, what does the Bible say about corruption? What does the Bible say about polygamy?Nigerian Church is very corrupt, Ugandan Church is very corrupt, English Church is corrupt, American Church is corrupt. Supposing, the Americans get up and say, the Church of Nigeria, the way you change your constitution, the way you elect your bishop, is corrupt and we have evidence, so we are not going to have anything to do with you, what will you say. Will you say the Bible accepts corruption? No! However, no one and no church can impose its position on another – there is independence and there is interdependence. We share, we learned together, that is the beauty of the Anglican Communion. On the issue of homosexuality, the Bible is very clear. The passages in the Bible say, all liars, all homosexuals, all corrupt people will go to hell.In Anglican Church, we have a position on this current crisis that has engulfed every church. There is no church that is not wrestling with this human sexuality problem. The Anglican Church, has come out with a position that is very, very clear. So we have a teaching and it is in the decision we took in 1998.Of all the bishops we have in Nigerian today, I think only the Archbishop of Enugu is the only serving bishop who was at the 1998 conference and maybe one or two other. In 1998, we took a decision and we said inview of the teaching of the scripture, we uphold faithfulness in marriage between a man and a woman in life long union and we believe that abstinence is right for those who are not call to marriage. That is the position of the Anglican Church, it has not changed.Whether you are Baptist or ECWA, you cannot say that is a Biblical position…Recently, we affirmed that teaching is still valid, it has not been removed. However, in the Anglican Church, we wash our dirty linen in public because of the way we understand the theology of the church. This is our teaching and majority of Anglicans subscribed to this teaching. On the other hand, we have a few provinces – about five who have decided to move on to recognise those who cannot observe or keep our position as Anglicans, that is where we stand. In the Anglican communion, we are opened and objective. It is sad that the voices of Nigeria, Uganda and Rwanda were not heard. They are not more evangelical than Josiah. No bishop in Nigeria is more evangelical than Josiah. Yes, I am retired, but I am in the leadership of Anglican Communion of Churches by the grace of God and I know what is going on. It is this air of arrogance, it is not right.
Source link
Felony drug convictions tied to a corrupt former police sergeant have been thrown out : NPR
In Chicago, five more people had their felony drug cases exonerated in an ongoing effort tied to a former Chicago sergeant convicted of corruption. 83 people hope their cases will also be thrown out.
AUDIE CORNISH, HOST:
In Chicago today, a judge threw out five felony drug convictions tied to a corrupt former police sergeant. Courts have already vacated more than 100 other convictions tied to that same sergeant, but civil rights attorneys were hoping for many more exonerations today and want prosecutors to move faster. Chip Mitchell of member station WBEZ reports.
CHIP MITCHELL, BYLINE: Since the late 1990s, a Chicago police unit led by Sergeant Ronald Watts has been the subject of allegations it routinely fabricated drug charges against people at a south side housing complex who refused to pay extortion fees. Those allegedly framed included Clarissa Glenn and her husband in 2005. He went to prison. She got probation and had to raise their three boys without him.
CLARISSA GLENN: You're denied any kind of assistance, housing, medical, employment. I was fighting for over nine years.
MITCHELL: Fighting to get those convictions thrown out, and it didn't start to gain traction until Watson, one of the cops he supervised, were arrested in 2012 and sent to prison. In 2016, the convictions against Glenn and her husband were vacated. That led to many more, and by this past February, judges had thrown out a total of 110 convictions tied to the sergeant. In July, civil rights attorneys combined 100 more cases into a single petition hoping for one of the nation's largest mass exonerations. Today in court, though, the prosecutor heading the review of those cases said her unit needed more time and backed vacating just five convictions for now. That means 95 drug felonies tied to the corrupt sergeant will remain on the books for now, and 83 people will keep waiting for their names to be cleared. Attorney Joshua Tapfer represents most of them.
JOSHUA TAPFER: I don't know what I'm going to tell them, and I don't know what I can say about why it has taken this long. The evidence is overwhelming that there was just routine corruption going on by this absolutely rogue Chicago police unit.
MITCHELL: In a statement, Cook County State's Attorney Kim Foxx said the five exonerations constitute, quote, "a step toward righting the wrongs of the past and giving these individuals their names back." But she made no promises how long others with drug felonies linked to the sergeant will have to wait. Clarissa Glenn says it breaks her heart.
GLENN: For those other 83 people, because I was in their shoes, the court system actually basically say that you're still not innocent, we're still believing these corrupt officers, is a slap in the face, and it's hurtful.
MITCHELL: The next hearing for those waiting for exoneration is scheduled for January. For NPR News, I'm Chip Mitchell in Chicago.
(SOUNDBITE OF TOMMY GUERRERO'S "ORGANISM")
NPR transcripts are created on a rush deadline by an NPR contractor. This text may not be in its final form and may be updated or revised in the future. Accuracy and availability may vary. The authoritative record of NPR's programming is the audio record.
Source link