LA County supervisors approve proposal to give themselves power to remove Sheriff Alex Villanueva
NEWYou can now listen to Fox News articles!
The Los Angeles County Board of Supervisors on Monday directed its attorney to draft a proposed ballot measure to give the body the power to remove Sheriff Alex Villanueva following repeated clashes between both parties. 
The board voted 4-1, with Supervisor Kathryn Barger casting the lone dissenting vote. The matter would still need final passage from the board for it to be put in front of voters on Nov. 8. If passed, it would give the panel the power to remove an elected sheriff "for cause" with a four-fifths vote, Fox Los Angeles reported.
In a Monday letter to the board, Villanueva blasted the proposal, calling it "recipe for corruption." He further said it would allow "board members to intimidate sheriffs from carrying out their official duties to investigate crime."
"… It appears you are making yourselves the judge, jury and executioner for the office of the sheriff, nullifying the will of the voters. This illegal motion seeks to undermine the role of the sheriff and render the office subordinate to the Board of Supervisors. On its face, your proposed ordinance language is not a proper reading of the law and will be challenged on these multiple grounds."
ARMED GUNMAN ON PAROLE ROBS LOS ANGELES-AREA BOOST MOBILE STORE, POLICE SAY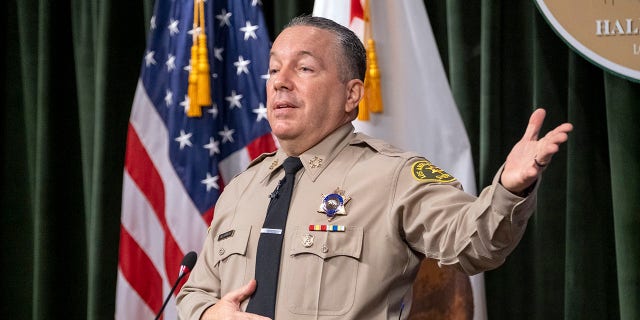 The move comes as Villanueva is seeking a second term in office amid allegations he hasn't done enough to address deputy gangs and covered up a jail incident in which a deputy allegedly kneeled on an inmate. 
He has also clashed with the board multiple times over public safety funding and rebuffing subpoenas to appear before the county's Civilian Oversight Commission.
The motion does not mention Villanueva by name, but states, "The current sheriff has been openly hostile to oversight and transparency and has tested the functionality of existing oversight structures by consistently resisting and obstructing these systems of checks and balances."
On Friday, the Republican National Committee issued a statement calling the proposal "another prime example of how Democrats like to change the rules when they don't get their way."
"Not only is Sheriff Villanueva an elected official, he's one of the few who has been willing to stand up to the board for reducing law enforcement funding and effectively endangering the lives of Angelenos," according to the RNC. "… This decision from the L.A. County Board of Supervisors would attempt to bully the elected sheriff into doing what they want and would be yet another blow to a free and fair democracy, thanks to California Democrats."
CLICK HERE TO GET THE FOX NEWS APP  
 Fox News has reached out to Villanueva.  
Source link
KPK Names Bangkalan Regent as Suspect of Corruption
8 December 2022 08:44 WIB
The Bangkalan Regent, Abdul Latif Amin Imron, underwent further investigation after being forcibly arrested in Surabaya by KPK investigators, upon arrival at the Corruption Eradication Commission building, Jakarta, Wednesday evening, December 7 2022. The KPK Investigative Team arrested the Bangkalan Regent along with five other suspects, to checked further. TEMPO/Imam Sukamto
TEMPO.CO, Jakarta – The Corruption Eradication Commission (KPK) has officially named the Regent of Bangkalan Abdul Latif Amin Imron as a suspect of corruption within an East Java government institution as investigators suspect the Regent of transacting positions for financial gain.  
"We have tracked down and named the Bangkalan Regent as a suspect," said KPK chairperson Firli Bahuri on Thursday, December 8. 
Abdul Latif will be detained for the next 20 days after undergoing further interrogation at the East Java Police Headquarters before moving to the KPK penitentiary. 
The Bangkalan Regent, the KPK chairman said, had allegedly received Rp5.3 billion bribe regarding selling positions within the government institution. Five other suspects were incriminated in the crime and have all been detained. 
MUTIA YUANTISYA
Click here to get the latest news updates from Tempo on Google News
4 hari lalu
Oligarchs Weaken Indonesia's Fight Against Corruption
Indonesia's efforts to fight government corruption are being corrupted from within parliament, backed by big business.
9 hari lalu
Lukas Enembe's Lawyer Attends KPK Summons Today
Lukas Enembe's attorney, Stefanus Roy Rening, visited the Corruption Eradication Commission (KPK) on Monday.
15 hari lalu
KPK Dismisses Rumors Lukas Enembe's Lawyer Will be Questioned in Jayapura
KPK dismisses reports that it agreed to a request made by the lawyer of the Governor of Papua Lukas Enembe to have him questioned as a witness.
15 hari lalu
KPK Names PAN Politician as Suspect in West Papua Alleged Bribery Case
KPK names a politician from the PAN faction as a suspect in the alleged bribery case related to the management of funds in Arfak Mountains, West Papua
16 hari lalu
Indonesia Police Watch Calls for KPK's Firmness in Lukas Enembe Case
IPW called for the assertiveness of KPK in investigating the Papua governor Lukas Enembe who is embroiled in a bribery investigation.
30 hari lalu
KPK Examines Papua Secretary, 9 Witnesses in Lukas Enembe's Case
KPK examined a number of witnesses in the alleged corruption case of the Papua Regional Budget that ensnared the Governor, Lukas Enembe, on Monday.
34 hari lalu
KPK Examination on Papua Governor Postponed Due to Health Issues
The Papua governor underwent an examination by a team of investigators from the Corruption Eradication Commission (KPK) in Jayapura,
34 hari lalu
State Losses from Alleged Kominfo's BTS Corruption May Hit Rp1tn
The Indonesian Attorney General Office (AGO) estimated that state losses due to alleged corruption in Kominfo's BTS project reached Rp1 trillion.
40 hari lalu
Bangkalan Regent Banned from Traveling Overseas
The Corruption Eradication Commission (KPK) has asked the Directorate General of Immigration to impose an overseas travel ban on Bangkalan Regent.
40 hari lalu
KPK Has Suspects of Alleged Bribery in Bangkalan Regency
Deputy Chief of the KPK said that the alleged bribery case in Bangkalan Regency, East Java, had entered the investigation stage.
Peru: Police arrest president after Congress votes to remove him from power | World News
Police in Peru have arrested the country's president, Pedro Castillo, after Congress voted to remove him from power.
In a tweet that has since been deleted, the National Police of Peru said officers had "intervened".
A photograph showed a man in a blue jacket sitting on a sofa – apparently Mr Castillo – but his eyes had been blacked out.
The tweet described him as "former president Pedro Castillo".
Congress voted to remove Mr Castillo and replace him with Vice President Dina Boluarte after he tried to dissolve the legislature, the AP news agency reported.
Ms Boluarte, a 60-year-old lawyer, has since been sworn in as interim president. She becomes Peru's first female leader.
Representatives voted 101-6, with 10 abstentions, to remove Mr Castillo from office for reasons of "permanent moral incapacity".
Shortly before the ballot, Mr Castillo said he was installing a new emergency government and called for the next group of representatives to develop a new constitution.
During a televised address, he said he would rule by decree and ordered a nightly curfew starting on Wednesday night.
He also mooted changes in the leadership of the judiciary, police and constitutional court.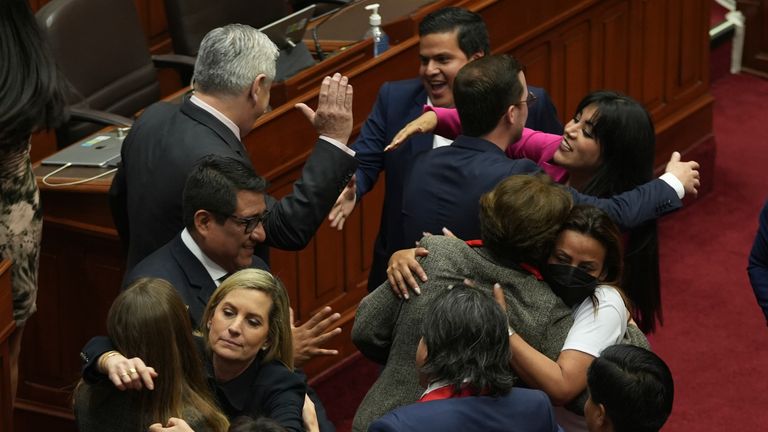 In response, the head of Peru's army resigned, along with four ministers, including those responsible for foreign affairs and the economy.
Mr Castillo took his actions as his opponents in Congress moved towards a third attempt to remove him from office.
The Ombudsman's Office, an independent government institution, said prior to the congressional vote that Mr Castillo should resign and present himself to judicial authorities.
Mr Castillo, a peasant-turned-president, has denied allegations of corruption against him, saying they are based on "hearsay statements by people who, seeking to lighten their own punishments for supposed crimes by abusing my confidence, are trying to involve me without evidence".
Federal prosecutors are investigating six cases against him, most of them for alleged corruption.
Source link
Anti-corruption groups, White House back money laundering bill in Congress
By Gram Slattery
WASHINGTON (Reuters) – U.S. anti-corruption groups are pushing Congress to attach sweeping new money-laundering rules to a year-end bill funding the government that lawmakers aim to pass in the coming weeks, according to aides and lobbyists.
The bipartisan measure, known as the ENABLERS Act, got a boost this week when the White House publicly came out in support of the bill.
"It's going to really matter that the administration makes absolutely clear that this is a genuine serious priority for them," Democratic Senator Sheldon Whitehouse, one of the bill's main sponsors, said on Wednesday.
The measure would require professionals who handle money on behalf of clients – including investment managers and some lawyers – to conduct due diligence on the funds' origins, as banks are typically required to do.
Boosters and opponents say the measure would be the most ambitious overhaul of the nation's money laundering framework in at least 20 years.
"The ENABLERS Act is the U.S. anti-corruption community's top priority right now," said Scott Greytak, director of advocacy at Transparency International's U.S. branch.
Supporters said they hope to attach the measure to a $1.5 trillion-plus "omnibus" funding bill. The initial deadline for that is Dec. 16, though lawmakers could extend it through a short-term continuing resolution, a possibility which appears increasingly likely.
Failing that, a standalone bill is possible next year, though that could be tougher in a divided Congress with a Republican-controlled House and a Democratic-controlled Senate.
Groups from Ukraine, Belarus, Georgia and elsewhere have thrown their support behind the measure, according to an October letter to congressional leaders seen by Reuters. These groups see ENABLERS as a way to cut illicit Russian capital out of the U.S. financial system.
Industry associations counter that it would create onerous requirements for small businesses who never cross paths with Russian oligarchs or narcotics kingpins. Bar associations argue that lawyers would be obligated to share potentially privileged information about their clients with the government.
Organizations that have lobbied against the bill, according to lobbying disclosures, include cryptocurrency exchange Coinbase and auction house operator Sotheby's.
Retiring Republican Senator Pat Toomey, who has expressed skepticism about the measure, said it should not be tacked onto a spending bill – a legislative shortcut – and should instead be considered on a stand-alone basis.
(Reporting by Gram Slattery; Editing by Scott Malone and Stephen Coates)
Source link