PNG poll violence is expected — the question is how much
Country braces for elections which last time round saw at least 200 people killed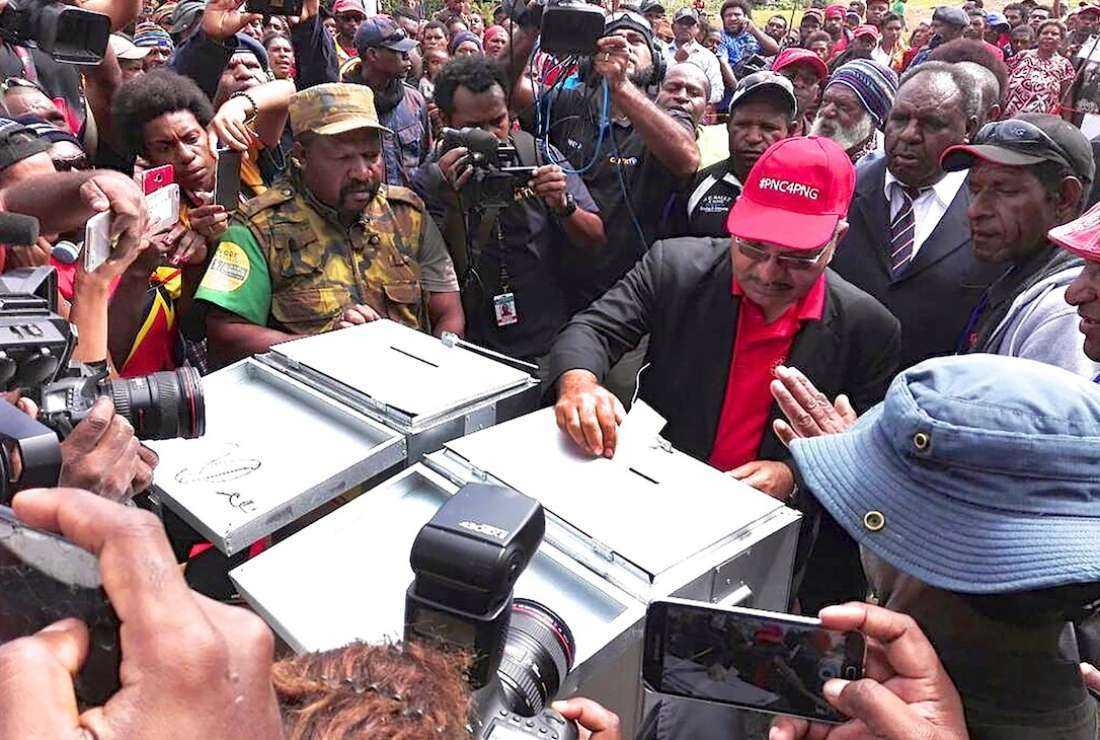 Peter O'Neill, then prime minister, votes in Papua New Guinea's general election on July 2, 2017. (Photo: Office of the Prime Minister of Papua New Guinea/AFP) 
With Papua New Guinea heading to the polls soon to elect new legislators, security remains a major concern, with authorities reporting many cases of violence. 
Corruption, poor policing, a lack of funding and inaccurate voters' lists are contributing to the chaos. 
Over 6.2 million registered voters, more than two-thirds of the country's population of 9 million, are expected to cast their votes in a general election that will run for three weeks from July 2-22. 
This time they will elect 118 MPs, up from 111 in the 2017 polls. They consist of 96 open seats and 22 provincial ones involving 2,350 candidates. Those who are elected to provincial seats will also become governors. 
In some provinces, political rivalries are running high, which has already seen politically motivated violence in the run-up to the polls.
Observers fear election-related violence will continue during next month's election and could eclipse the bloodshed seen at the last poll.
The situation is a serious concern, particularly in highland regions where the crime rate stemming from ethnic rivalries is high
In 2017, at least 200 people were killed in election-related violence, the worst in the country's history since it declared independence almost half a century ago. 
Although violence this time around is not as widespread, police expect more trouble in the upcoming weeks.
At least 29 people have died in electoral violence since campaigning began last month.
On June 19, a group of men armed with knives and slingshots attacked a candidate's family and supporters on their way to a campaign rally in Morobe province. A boy, a man and two women were reportedly injured.
This followed violence in which two men were shot and killed in a clash between supporters of two political parties in the same province.  
The situation is a serious concern, particularly in highland regions where the crime rate stemming from ethnic rivalries is high. 
To make matters worse, several candidates have been arrested for illegally possessing firearms, raising further concerns over the candidates' integrity and the democratic process in a country where ballot tampering and voter intimidation are quite common.
Police chief Daniel Manning has vowed to crack down on violence and corruption. He said thousands of police and military personnel will be deployed to secure the polls. 
The problem is that police numbers are inadequate and officers are ill-equipped and ill-prepared.
It's one of the reasons why Prime Minister James Marape requested the assistance of the Australian military. Last week 130 Australian troops arrived in the country to help election authorities and security forces distribute ballot papers to remote areas. 
Marape, leader of the Papua and Niugini Union Party (Pangu Pati), demanded candidates discourage supporters from engaging in violence as it not only harms democracy but would hamper the country's recovery efforts from the horrific impacts of Covid-19. 
Corruption remains a major issue in Papua New Guinea and often general elections are tainted by bribery, vote buying and altering ballot papers while being transported to counting stations
The pandemic plunged more people into poverty after leaving thousands unemployed. In an ordinary situation, uneducated and jobless youths are involved in various crimes, but now they can be easily be used by irresponsible candidates to achieve their goals in the upcoming election, which is also at risk of manipulation due to data inaccuracies.
This has been blamed on a lack of funding due to money being channeled to post-pandemic recovery programs and changes to the electoral system. 
With only a few days left before polls open, hundreds of thousands of eligible voters, particularly in highland regions, may not be able to vote as their names are not on the electoral roll, according to media reports. 
Despite such problems, the use of violence to win an election is never justified.
Civil society groups including the Catholic Church have renewed calls for fair and violence-free elections.  The head of the PNG Catholic Professionals Society, Paul Harricknen, urged law enforcers to ensure this.
The strict implementation of the Firearms Amendment Bill recently approved by parliament, which imposes a maximum penalty of life imprisonment for unlawfully manufacturing or possessing firearms, could help contain gun violence during and after the election. 
Corruption remains a major issue in Papua New Guinea and often general elections are tainted by bribery, vote buying and altering ballot papers while being transported to counting stations. 
There is no other power that can change such practices except the goodwill and commitment of law enforcers, the election commission and the public in general. Despite the magnitude of the challenges, it is not impossible to overcome all fears and doubts and have fair and peaceful elections.  
* The views expressed in this article are those of the author and do not necessarily reflect the official editorial position of UCA News.
Latest News
Allegations of irregularities, corruption: DSCC terminates revenue officer, 33 workers
Dhaka South City Corporation (DSCC) today (June 28, 2022) terminated the deputy revenue officer and 33 workers of two departments for their alleged involvement with irregularities and corruption.
The DSCC in an order signed by its secretary Akramuzzaman terminated Md Selim Khan, deputy revenue officer, who also worked as personal assistant of former mayor Sayeed Khokon, said a press release.
Selim, who was working as the deputy revenue officer of zone-5, was attached to the office of the secretary of DSCC for his alleged corruption and different kinds of irregularities in December last year.
In two other separate orders DSCC also terminated 17 skilled workers of the revenue department and 16 unskilled workers of the department of waste management today.
DSCC in the orders said the decision of the termination was taken in public interest.
Miami PD Officers Closer to Whistleblower Protection After Corruption Allegations Against Chief – NBC 6 South Florida
Two officers with the Miami Police Department are one step closer to whistleblower protection after coming forward with allegations of activities of corruption against Chief Manuel Morales.
During a hearing Tuesday, the city had no objection to the request to start the process for whistle blowers protection for Commander Brandon Lanier and Detective Wanda Jean-Baptiste 
The hearing is based on two letters submitted by them saying Morales was trying to control the outcome of internal affairs investigations.
It's the first step to get the federal protection under the Whistleblowers Act. 
"I think it's a matter of making sure that other members of the police department that work and serve and protect the citizens of Miami don't have to undergo the same actions and harm that they are going under for just doing their job," said Griska Mena, and attorney for the South Florida Police Benevolent Association.
The next hearing is scheduled for January 24th. NBC 6 reached out to Morales and Miami's city manager, Arthur Noriega, but have not heard back.
Previously in an exclusive interview with NBC 6, Morales denied those allegations against him and Noriega previously voiced support for the chief.
NBC 6's Willard Shepard speaks to the Miami Police Chief about allegations made by fellow officers
The two internal affairs employees want outside agencies to investigate to see if a crime has been committed after alleging that they aren't being allowed to independently do their work.
Morales said a priority for him when he took over was healing from turmoil during predecessor Art Acevedo's tenure at the department.
"It has been an uphill battle to bring everybody on board. We have made some incredible progress not only combatting firearm violence but also returning the morale," Morales said earlier in June.
Acevedo was fired in October 2021 after just six months on the job and numerous clashes with city officials.
Lanier said "…Morales has used his position to open investigations to target employees and influence the outcome of investigations." Jean-Baptiste wrote that "staff is not expected to follow rules or standard operating procedures. The corruption is growing from within."
Morales said the allegations have zero merit.
"When the truth comes out as a result of any investigation that might be deemed to be conducted into these allegations, and the facts are all out there, I will be cleared and the agency more importantly," Morales said.
Source link
Chief Investigator Questioned in Delaware State Auditor Kathy McGuiness Corruption Trial – NBC10 Philadelphia
The chief investigator in the criminal corruption case against Delaware State Auditor Kathy McGuiness tried repeatedly under cross-examination Monday to deflect responsibility for false statements he made in a search warrant affidavit and which were later reiterated in an indictment.
The testimony by Frank Robinson involved allegations that McGuiness orchestrated a no-bid communications services contract for My Campaign Group, a firm she had used as a campaign consultant when running for lieutenant governor in 2016, then deliberately kept the contract payments under $5,000 to avoid having to get them approved by the Division of Accounting.
Robinson told a judge in a sworn affidavit in the fall of 2021 that payments to My Campaign Group were split in August 2020, and again in September 2020, to keep them under $5,000, the threshold at which payments by state agencies require approval from the Division of Accounting.
In fact, before swearing to the truth of those statements, Robinson and lawyers in the attorney general's office had seen a Division of Accounting spreadsheet about two months earlier indicating that the contractor received only one payment each month, both above $5,000 and both approved by the Division of Accounting. Robinson also stated in the affidavit that the contract with My Campaign Group was the only no-bid contract of at least $45,000 entered into by McGuiness' office in which all payments were made below the $5,000 reporting threshold.
Under cross-examination by defense attorney Steve Wood, Robinson admitted, as he had done at an earlier evidence suppression hearing, that those prior statements were false.
"I have to admit that our understanding at the time was not accurate," Robinson said, adding that it "would have been good" to call the director of the Division of Accounting and seek clarification before making the assertions contained in the search warrant affidavit.
Wood suggested that the reason Robinson didn't make that call was because he already had a theory that McGuiness was splitting payments in order to avoid scrutiny of the contract payments, and that the spreadsheet was ignored because it didn't fit that theory.
While admitting that the statements were false, Robinson said they were not "intentionally false." He also tried to deflect responsibility by noting repeatedly that he was part of an "investigative team."
That team consisted of Robinson — who has more than two decades of experience as a police officer and as chief special investigator for Division of Civil Rights and Public Trust — and attorneys associated with the division.
"I can't speak to the thought process," Robinson said when asked why statements were made in the search warrant affidavit that were contrary to what was contained in the accounting spreadsheet.
Under earlier questioning by prosecutor Mark Denney, Robinson denied that he intentionally misled the court in obtaining a search warrant. He said he had misread the spreadsheet, confusing "line splits" with payments, and that other members of the investigate team were operating under that same misunderstanding.
Robinson also testified that, after several employees in her office began talking to the attorney general's office about concerns they had with her conduct, McGuiness in December 2020 asked state information technology officials whether anyone other than her had requested access to email accounts of anyone in the auditor's office since January 2019.
Officials determined that, as an agency head, McGuiness would already be aware of email monitoring requests that were "not otherwise confidential," and she would not be entitled to any information about confidential requests.
McGuiness, a Democrat elected in 2018, is responsible as state auditor for rooting out government fraud, waste and abuse. She is being tried on felony counts of theft and witness intimidation, and misdemeanor charges of official misconduct, conflict of interest and noncompliance with procurement laws. McGuiness is the first statewide elected official in Delaware to face criminal prosecution while in office.
Prosecutors allege, among other things, that the way McGuiness' office handled payments for My Campaign Group was a deliberate attempt to avoid regulatory scrutiny and amounts to illegal financial "structuring" of a contract.
Prosecutors also allege that McGuiness hired her daughter and her daughter's best friend as temporary employees in 2020, even though other temporary employees had left because of the lack of available work amid the coronavirus pandemic. Authorities allege that in hiring her daughter and exercising control over taxpayer money with which she was paid, McGuiness engaged in theft of state money and conflict of interest.
Authorities also allege that when employees in her office became aware of McGuiness' misconduct, she responded by trying to intimidate the whistleblowers, including monitoring their email accounts.
Source link