NY GOP governor candidates debate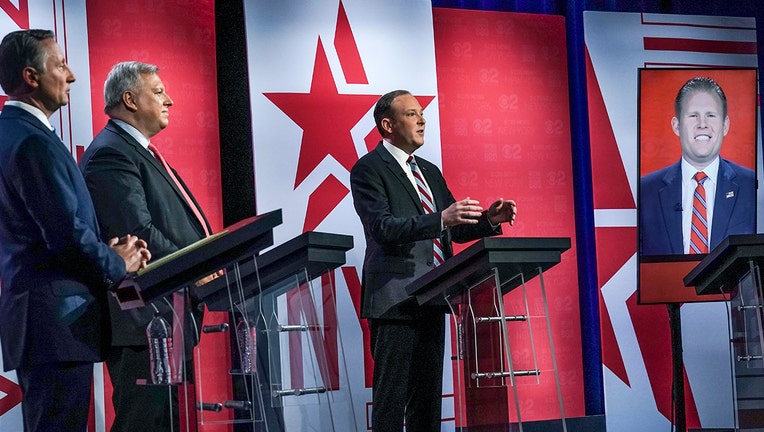 ALBANY, N.Y. (AP) – Four Republican candidates for New York governor pledged to undo years of one-party rule and focus on battling crime and improving the economy if elected to office during a televised debate Monday night.
It's an uphill battle for Republicans vying for the governor's office in New York, where registered Democrats outnumber registered Republicans by more than 2 to 1. The state's last Republican governor was George Pataki, who served from 1995 to 2006.
The field includes U.S. Rep. Lee Zeldin, former Westchester County Executive Rob Astorino, and businessman Harry Wilson. Candidate Andrew Giuliani, the son of New York City's former mayor, appeared remotely.
Giuliani, a former adviser to former President Donald Trump, said he was barred from participating in-person in the Monday primary debate because he refused to submit proof he's been vaccinated against COVID-19. He said he told debate organizers he would take multiple tests leading up to and on the day of the debate.
Giuliani said if elected, he will restore the jobs of public workers fired for not getting the vaccine. He pledged Monday to empower the police and called for a return to widespread stop and frisk policies in New York City.
In 2013, a judge ruled New York City police violated the constitution by stopping, questioning and frisking mostly Black and Hispanic people on the street en masse.
Astorino, a Republican former radio industry professional and two-term Westchester County executive, is running for governor for a second time. He's promised to release an agenda to address New York's steep job loss stemming from the COVID-19 pandemic on top of government corruption and the state's high taxes and cost of living.
Astorino said Trump "bears some responsibility" in the Jan. 6, 2021, insurrection but said it's time for the country to move on.
Zeldin, a Trump ally and an Army veteran who has represented New York's 1st Congressional District since 2015, has accused Democrats of being soft on criminals and overzealous in imposing safety protocols intended to fight COVID-19.
Zeldin touted his support from the National Rifle Association and said he wanted to repeal a 2013 state gun control law that broadened the definition of assault weapons and required universal background checks in part.
When asked if New York should ban guns from specific public places in case the Supreme Court overturns the state's concealed carry restrictions, Zeldin said: "Gun-free zones don't work. They actually become a target."
Businessman Harry Wilson, of Johnstown, entered the race this spring by launching a $12 million television advertisement campaign. He has worked for Goldman Sachs and founded a White Plains advisory firm, and also served as a U.S. Treasury Department advisor under former President Obama.
Wilson faced criticism for his Democratic ties, with Zeldin calling him a "never Trumper." But Wilson said Zeldin had asked him to run as his running mate, and vowed to use his private sector experience to end corruption in Albany.
Source link
Readers sound off on the gun debate, theocracy and MTA repairs – New York Daily News
Staten Island: I support the Second Amendment. I support limitations on the Second Amendment. These statements are not contradictory.
Legislation should be passed that states: If you have been convicted of a felony, you should not be allowed to own or possess a gun. You have lost the privilege. If you have a mental health or domestic violence issue or charge, you should not be able to own or possess a gun.
I do believe in an appeal process. Until the person is cleared, the public's well-being is paramount. Find an equitable solution.
No one aside from law enforcement or the military should be allowed to own automatic weapons. I don't care if you're a hunter. If you are and you need an automatic weapon, you're a terrible hunter. Find a new hobby and buy your meat.
Background checks should be mandatory for all sales, including personal sales and gun shows. Enough of special interest groups and corporations having an oversized say in the crafting of said legislation. For once, let's pass legislation where the singular purpose is to protect the citizens of our country. Pass it with no amendments and no riders.
I say all of this as a father, veteran and gray-haired Republican. All thoughtful citizens want this change. John Conry
Englishtown, N.J.: So let me get this straight: We are basing our current decisions re gun control on a constitutional right written some 230-plus years ago? When guns, at best, could fire one round every 15 seconds? Written by the same men who said slavery is acceptable and legal. I find this beyond sad. I fear for the future of this democracy. T. Goldstein
Staten Island: This letter is addressed to Voicer Carol Robinson: I could not agree more with your synopsis of the SCOTUS decision to reverse women's right to choose and protect their own privacy. We are truly going backward in so many ways when it comes to equality. Additionally, I concur with your fear concerning the reversal of gun safety laws. You are so spot-on to deduce that these religious overzealous justices feel fetuses have rights that people don't deserve. You are so spot-on that the "pro-life" crowd that endorses rampant access to guns because it's "constitutional" takes us down a path to being anti-life. What a set of paradoxes. Lynn Matteo
Manhattan: Islamaphobes and radical-right Republicans have been warning us for years that if we are not careful, we will soon have sharia law in this country. Well, with the overturning of Roe v. Wade by five extremist Supreme Court justices, abortion will be illegal in much of the country, even in cases of rape and incest. Even though we are not supposed to be a Christian nation, these justices, who believe that life starts at the moment of conception, are forcing that viewpoint on the rest of us. Contraception and gay marriage are perhaps next on the chopping block since they are also against these justices' so-called religious beliefs. We don't have to worry about sharia law being imposed by some Muslim nation or Muslims in this country. We now have our own comparable Christian sharia law. I'm waiting for the Taliban to congratulate us. Miriam Applebaum
Yonkers: As an addendum to Voicer J.T. Barbarese's letter warning against religious views concerning the Constitution: I would say that the most horrifying part of Rusty Bowers' testimony is that he could bear witness to Donald Trump's contempt for the laws of our land, tear up at his deep regard for our Constitution and then say that he would vote again for the very man whom he had just testified would destroy our beautiful democracy if given another chance. Excuse me? How does that work? You want this man to be held to account for appalling attempts to corrupt our system of selecting our government, but then you want him back in office? Are you barking mad, sir? Suzanne Hayes Kelly
The Daily News Flash
Weekdays
Catch up on the day's top five stories every weekday afternoon.
Manhattan: I just want to point out to every Bernie Sanders voter who sat out in protest over Hillary Clinton getting the nomination in 2016 what your inaction has wrought. We got an egomaniac who plied the office for his own wants and desires. He also stuffed the Supreme Court with a super-right-wing majority of activist justices. And now the religious right has control over the majority of America's freedoms, forcing their beliefs upon everyone. Voting truly matters. Remember that throughout the next couple of years. Steve Verhulst
Clifton, N.J.: I laugh at all the uninformed people out there who blame Joe Biden for almost everything. What everyone should be looking at is the biggest mistake ever made by the American voting public. It occurred on Nov. 8, 2016. Thus began this disgusting road to divisiveness the likes of which we haven't seen in more than 150 years. All it took was Charlottesville and the words "stand back and stand by" to add gasoline to this firestorm. And with the recent unfortunate events unfolding, it looks as though there's an onward trek toward an eventual autocracy in this country, which will ultimately doom our democracy. Just watch as the GOP (or whatever it's called now) and the fixed Supreme Court slowly whittle away our fundamental rights as citizens. And no, I am not from the liberal left. I am a registered Independent. Dan Swaluk
Valley Stream, L.I.: In the June 25 Voice of the People, there were two Voicers who brought a tear to my eye. The first person is Sally DeFelice: I want to hug you and I agree that there is too much hate. As a society, we need to agree on basic codes of decency while addressing and correcting atrocities of the past. This should not be about politics but about being decent to each other. The second Voicer, Jose Roldan, made a disgusting wish of rape on the future generations of the conservative justices is a perfect example of how disturbed our citizens have become and this "creeping shift" that Sally speaks of. Jose, I too am dismayed and angry at this overturning. I, however, have the decency, love for humanity and common sense to never even think about wishing such horror on my fellow human beings. Cut it out. Have manners. Be a good human. Rebecca Heyward
Fairfield, Conn.: I think that Andrew Giuliani looks an awful lot like Eric Trump. Coincidence? I think not. Bob Bodo
Forest Hills: I just got off a local E train at 67th Ave. in Forest Hills. On the mezzanine level, there were 10 men painting the ceiling of an area about 20 feet by 20 feet. They were so crammed together that they were barely able to move. This is why the MTA has budget woes. I'm not saying to fire these people. There is so much to do in upkeep and repairs. Give them something to do! It certainly doesn't take 10 men to paint a ceiling, just as it doesn't take 20 to change the garbage cans or change light bulbs. The corruption is magnificent. Zachary Allman
Brooklyn: I agree with Voicer Sheila Picciarelli. I cut out last Thursday's "Red and Rover" comic strip about our beloved pets and framed it. It also brought tears to my eyes. I love my baby very much. Too short a life. Carol Matovick
Manhattan: In response to Voicer Tom Rice: I am in 1,000% agreement with you regarding bike riders, E-bikes and dirt bikes not obeying traffic laws. I have written letters to the Daily News and I left a message to Transportation Alternatives two weeks ago, which has not been returned. In addition, I have made numerous complaints to the police over the years, in person and over the phone. I have pretty much given up. I feel like I am alone in this. I hope not. Douglas Leeds
Source link
DOJ CCO Certification Requirements and DOJ Compliance Mandates (Part II of III)
The new DOJ Certification requirements certainly raise a number of new issues and risks for senior management and chief compliance officers.  In Part I of this series, I outlined the specific language and the Plea Agreement standards imposed on companies that enter into a Plea Agreement with DOJ for FCPA violations.
DOJ has reiterated its support for this new Certification requirement.  Indeed, a DOJ official recently stated that DOJ expects to include these same requirements in future FCPA resolutions.  While Companies should be focused on design and implementation of an effective ethics and compliance program that includes a specific anti-corruption compliance program, companies should be mindful of DOJ's expectations as to ethics and compliance programs.
In a global marketplace, an effective compliance program is essential to detect and prevent key risk areas – such as anti-corruption, trade sanctions, export control violations and anti-money laundering violations – and to ensure a culture of ethics and compliance. The Department of Justice ("DOJ") has issued three significant compliance guidance documents. These documents include: (1) DOJ Evaluation of Corporate Compliance Programs (April 2019 and revised June 2020); (2) DOJ Evaluation of Corporate Compliance Programs in Criminal Antitrust Investigations (July 2019); and (3) A Resource Guide to the U.S. Foreign Corrupt Practices Act (Nov. 2012 and revised July 2020).
In the last twenty years, DOJ has revised its form Attachment C on several occasions to incorporate new and innovative compliance program expectations.  With DOJ's new Certification requirement, Attachment C is specifically incorporated into the applicable standard for CEO and CCO certification.
Attachment C requires a Company to implement a compliance program consisting of the following key elements:
High-Level Commitment: requires directors and senior management to provide "strong, explicit and visible support and commitment to its [compliance program]."
Policies and Procedures: adoption of written anti-corruption compliance policy and procedures, "appropriate measures" to encourage and support observance of policy and procedures by directors, officers, employees and "outside parties" acting on behalf of the Company, and specific adoption of policies and procedures addressing: (a) gifts; (b) hospitality, entertainment and expenses; (c) customer travel; (d) political contributions; (e) charitable donations and sponsorships; (f) facilitation payments; and (g) extortion and solicitation. Under this heading, companies are required to maintain a system of financial and accounting procedures, including internal controls, "reasonably designed" to ensure the maintenance of fair and accurate books, records and accounts in accordance with the standards set forth in the FCPA itself.
Periodic Risk-Based Review: Company will conduct periodic risk assessments, including interactions with government officials, industrial sectors of operation, existence of joint ventures, importance of licenses and permits in Company's operations, degree of government oversight and inspection, and volume and importance of goods and personnel clearing through customs and immigration. Company will review and update if necessary its compliance policies and procedures.
Proper Oversight and Independence: Responsibility for implementation and oversight of the Company's anti-corruption compliance program should be assigned to one or more senior corporate executives. Corporate official (CCO) shall report directly to independent monitoring bodies, and shall have an adequate level of autonomy from management as well as sufficient resources and authority to maintain such autonomy.
Training and Guidance: The Company shall implement: (a) periodic training for persons (directors, officers, employees, and where appropriate, third parties) in positions of leadership or trust, persons who are required to undergo training, and employees in positions exposed to corruption risks; (b) certifications and attestations by all such directors, officers, employees, agents and business partners; and (c) an effective system for providing guidance to ensure compliance with policies and procedures.  
Internal Reporting and Investigation: The Company shall maintain an effective system for internal confidential reporting concerning violations of anti-corruption laws and/or Code of Conduct, and for responding to, investigating and documenting such violations.
Enforcement and Discipline: The Company will implement mechanisms to enforce its Code of Conduct and compliance policies, including incentivizing and disciplining relevant conduct or misconduct.  In addition, the Company shall implement fair and consistent disciplinary procedures, and remediate any harm to prevent recurrence of any such violations.
Third-Party Relationships: The Company will institute a risk-based due diligence and compliance requirements pertaining to retention and oversight of all agents and business partners.
Mergers and Acquisitions: The Company will develop policies and procedures for mergers and acquisitions requiring that the Company conduct appropriate risk-based due diligence on potential new business entities.
Monitoring and Testing: The Company will conduct periodic reviews and testing of its Code of Conduct and anti-corruption compliance policies and procedures to evaluate and improve its effectiveness in preventing and detecting violations.
While the specific requirements set forth in Attachment C are straight-forward, the overall weight of the elements has to be considered when a CCO is presented with a requirement for certification.
Source link
Genius Sports Partners with Clue to Combat Match-Fixing and Corruption
Genius Sports, a sports data and technology company, announced its new partnership with investigation case management and intelligence provider Clue. The two companies will launch a new system to detect match-fixing and corruption, which will help official investigations.
Clue is an investigation case management and intelligence platform with solid experience working for governments, police, and private clients. Their data management software has helped combat issues like human trafficking, organized crime, and environmental threats.
Genius Sports is a leading analytic technology company that works closely with bookmakers, leagues, and media organizations and provides integrity services, data management, and video streaming. Their software enables the capture, management, and distribution of sports data. The company is listed on the New York Stock Exchange.
The New Solution Promises to Be Greater than the Sum of Its Parts
The two companies are joining forces to help improve investigations of gambling fraud and match manipulation for over 150 leagues, including the NFL, PGA, TOUR, EPL, DFB, and BWF. Organizations worldwide will benefit from the new system, which will increase prevention and detection rates for betting-related corruption. The joint project will give Genius Sports detailed information on a scale ranging from individuals to entire competitions across multiple sports and regions.
The new system will catalog relevant information and use footage from specific events, news, and blog posts, analyze the data and determine whether an event may be subject to corruption. This feat is possible via Clue's centralized digital vault, which can house and cross-reference all of Genius Sports' data. The result would hopefully prevent individuals from attempting to manipulate sporting events with criminal intent. Clue's analysts will also be able to use the platform's customized reports and dashboards to investigate potential cases of doping or hate crimes.
Both Companies Will Benefit from the Collaboration
Head of Sport at Clue, Phil Suddick, called the new partnership an "unprecedented opportunity to provide protection and intelligence to over 150 sporting leagues and federations." He added that the two organizations have taken a stand against sporting event manipulation and pooled their resources into developing a proactive platform to reduce the risk of corruption.
Director of Rights Enforcement & Integrity at Genius Sports, Simon Martyn, also expressed his excitement regarding the new project. He noted that the partnership would increase the integrity of Genius's products and give the company an edge over potential match-fixing attempts. Martyn lauded Clue's software and called them a global leader in their field, calling the new solution pivotal to his company's future integrity.
Match-fixing reports have been on the rise since the start of the pandemic. A 2021 research by sports technology company Sportradar Integrity Services showed that 655 potential cases occurred just in the first nine months of that year across various sports. It remains to be seen whether the product of Genius and Clue's collaboration will perform better than existing solutions.
Source link