Violence in North Kosovo Draws Conflicting Reactions

Kosovo Serb barricades in Zubin Potok. Photo: BIRN
Following violence in Serb-majority northern Kosovo on Wednesday, after Kosovo police conducted raids against suspected smugglers, the US called for calm, the EU criticised a "unilateral action", Serbia condemned Kosovo, and Kosovo leaders defended the police.
Kosovo police arrested eight people and issued arrest warrants for 10 more, during and after the raids against suspected smugglers. Six of the arrested people are of Albanian nationality, one is Serb and one Bosniak. Eight out of 10 people served with arrest warrants are Albanians and two are Serbs.
A Kosovo Serb from Zvecan, who police claimed had a criminal past, was shot and underwent surgery and is in care in Mitrovica North hospital.
Serbian President Vucic meanwhile met Kosovo Serbs in Raska, near the border with Kosovo, where he was asked if he would "stand behind us, and defend us".
At the meeting broadcast on Radio Television of Serbia, as well as other media, Vucic told Kosovo Serbs that "we have to be someone who will maintain to respect the agreement".
"Do not react to non-violence, but if they [Kosovo authorities] start violence, you protect your people and we will be with you," Vucic told them.
"Just keep in mind what the price is that we will all have to pay for that, and why my request is to try to avoid it, and if they [Kosovo authorities] start and continue shooting our people, then we really won't have a choice," he added.
Together with Vucic at the meeting were Defence Minister Nebojsa Stefanovic, Interior Minister Aleksandar Vulin, chief of general staff Milan Mojsilovic and Kosovo Office director Petar Petkovic.
President of parliament Ivica Dacic said earlier that "the international community has to make a key decision about what it wants in Kosovo and Metohija – war or peace".
"What is happening now is not only a mockery in the face of the entire international community, but it is also an attempt to intimidate with the ultimate goal of the military conquest of northern Kosovo, where Serbs live, with the additional goal of expelling them from Kosovo and Metohija," Dacic told Tanjug news agency.

Aleksandar Vucic (centre), Defence and Police ministers, army chief of staff and Kosovo Office Director meet Kosovo Serbs in Raska, October 13 2021. Photo: Instagram/nebojsastefanovic
The United States Embassy in Kosovo urged calm after the incidents in the north.
"The United States is concerned by responses to today's Kosovo law enforcement actions on Kosovo territory. All violence, whether directed at authorities, media, or civilians, is unacceptable and should be investigated and prosecuted to the full extent of the law. We urge calm," embassy spokesperson Eric Brassil told BIRN.
In a joint press conference with the Kosovo police director, Interior Minister Xhelal Svecla on Wednesday rejected EU claims about a "unilateral and uncoordinated action".
"We have had coordination with international actors. [NATO peacekeeping mission] KFOR was informed. If one thinks that we have to coordinate with Belgrade, I think this is a wrong approach," Svecla said.
There was "coordination with international actors and we informed them" he added, saying that "KFOR was notified beforehand".
This came after the EU High Representative, Josep Borrell, said via a Tweet that "the violent incidents in the north of Kosovo need to stop immediately. Unilateral and uncoordinated actions that endanger stability are unacceptable", adding that "all open issues must be addressed through the EU-facilitated Dialogue".
Replying to Borrell, Luan Dalipi, chef-de-cabinet for PM Albin Kurti, emphasized the need "not to portray the unfortunate violence instigated by few hooligans orchestrated by Belgrade as some inter-ethnic problem between Albanian and Serbian citizens in Kosovo".
"No one, and especially no high-level EU official, should try to make this a political or ethnic problem, and bilateral coordination is not relevant in this case, because stopping crime and illegal trading is a typical competency of a sovereign country," Dalipi added.
"Crime and contraband have no ethnicity", Dalipi added, noting that the prosecutor and the judge who authorized the action are Kosovo Serbs.
Kosovo President Osmani also claimed that "crime has no ethnicity" via Twitter, adding: "Falsely linking today's action with specific ethnic groups is deeply irresponsible, as it will only serve to increase tensions. Anyone that is against this action is siding with organized crime and is against EU rule-of-law values".
"Kosovo is challenged by crime and corruption but we are engaging to have a war against these occurrences. This action is in the sequence of the war against corruption," Interior Minister Svecla told the media.
The police director, Samedin Mehmeti, told the media that groups in the divided town of Mitrovica blocked the roads, threw hand grenades and fired firearms. "It is suspected that there was a leak of information about the operation," he said.
President Osmani on Twitter also condemned attacks on journalists by protesters in the north of Kosovo.
"This is yet another demonstration of dangers posed by Serbia's illegal & violent structures," she wrote, adding: "Journalism is the foundation of a free & democratic nation. Journalists need  to work in a safe environment."
In the police clashes with Kosovo Serb protesters in Mitrovica, Kosovo Serbs threw different explosive devices at the police and put up blockades of trucks on roads close to the technical high school in Serb-run North Mitrovica. Eight police officers were injured, according to Kosovo Interior Minister Svecla, and journalists attacked.
Police used tear gas to disperse the protesters.
Voter ID should have been settled
Movie sequels are almost always worse than the original films. Notable exceptions, such as this summer's Top Gun: Maverick, merely prove the rule. For every Empire Strikes Back, there's a Highlander 2: The Quickening, Halloween Kills, and Police Academy 4: Citizens on Patrol.
If efforts to enact a voter-identification requirement in North Carolina were a motion-picture franchise, the current box-office bomb would be titled something like Carolina ID 5: Voters Against Democracy. Its baldly implausible plot is that self-styled defenders of democracy have gone to court to overturn a voter-ID requirement added to the state constitution by a voter referendum. "Let the will of the majority prevail," warns one of the supposed protagonists, "and that will destroy democracy!"
As I have argued many times, an overwhelming preponderance of evidence shows little-to-no effect of ID requirements on voter turnout. In other words, progressives are mistaken when they claim such rules constitute voter suppression. By the same token, conservatives are mistaken when they claim voter fraud would be rampant without ID requirements. (If true, imposing such a requirement should significantly reduce the number of ballots cast. But that's never happened.)
In reality, the types of misbehavior to which voter IDs pose a barrier or deterrent — impersonation fraud, most obviously, but also residency fraud — are rare but hardly nonexistent. Although nearly all electoral outcomes involve margins far too large to be determined by fraud, a handful of illegal votes could be decisive in some local races or extreme circumstances. As long as the requirements are clearly stated and citizens without an ID receive state assistance to get one, the policy is reasonable. Its modest benefits, in the form of public confidence in elections and greater convenience for those previously lacking IDs, easily surpass its modest costs.
Such arguments should have settled the matter years ago. In 2013, the General Assembly enacted an election-law bill that included voter ID among its provisions. Republican Pat McCrory, then governor, signed it into law.
Progressive plaintiffs sued in federal court. They lost at the trial court. U.S. District Judge Thomas Schroeder concluded that however debatable the bill's merits might be, there was no evidence of discriminatory intent or other violations of federal laws or constitutional provisions.
The plaintiffs appealed. In 2016, a three-judge panel of the Fourth Court of Appeals tossed aside Schroeder's findings of fact — itself a rare and questionable act — and famously proclaimed that the bill's provisions "target African Americans with almost surgical precision."
I bet you've heard that phrase many times since. But it never had any basis in fact. And it should never have been the last word.
McCrory, House Speaker Tim Moore, and Senate leader Phil Berger assumed that the state would appeal the decision to the U.S. Supreme Court. They had every reason to expect — and subsequent decisions in other cases have buttressed their expectation — that the Supreme Court would have overturned the Fourth Circuit and allowed North Carolina's voter-ID rule to take effect.
Roy Cooper defeated McCrory to become governor. He and his Democratic replacement as attorney general, Josh Stein, surely agreed with the Republicans that the state would likely prevail on appeal. So they sabotaged North Carolina's case. They refused to appeal. Moore and Berger tried to do it themselves, using their own counsel, but the justices were apparently unsure who was representing whom and declined to accept it.
Cooper and Stein have never received the scorn they deserve for their misbehavior. Nevertheless, I also hold the U.S. Supreme Court responsible for failing to sort the matter out properly back in 2017. Fortunately, they've now done so in yet another installment in the franchise — perhaps Carolina ID 6: Disorder in the Court — by issuing this month an 8-1 decision affirming Moore and Berger's right to hire legal representation on the state's behalf in yet another voter ID case.
The justices should have accepted that argument back in 2017. It would have saved us from some truly dreadful sequels.
John Hood is a John Locke Foundation board member. His latest books, Mountain Folk and Forest Folk, combine epic fantasy with early American history.
Source link
S. Korean prosecutors grant ex-president temporary release
SEOUL, South Korea (AP) — South Korean prosecutors granted ex-President Lee Myung-bak a three-month release from prison over health concerns Tuesday after he served less than three years of a 17-year sentence for corruption.
Lee, 80, could be sent back to prison at the end of that period, barring further health setbacks, but there is also the possibility that he might be pardoned before then by President Yoon Suk Yeol, a fellow conservative who recently expressed a reluctance to keep him behind bars.
Source link
2 gunmen killed, 6 officers wounded during gunfight in Canada
Police officers gather after two armed men entering a bank were killed in a shootout with police in Saanich, British Columbia, Canada June 28, 2022. REUTERS/Kevin Light
">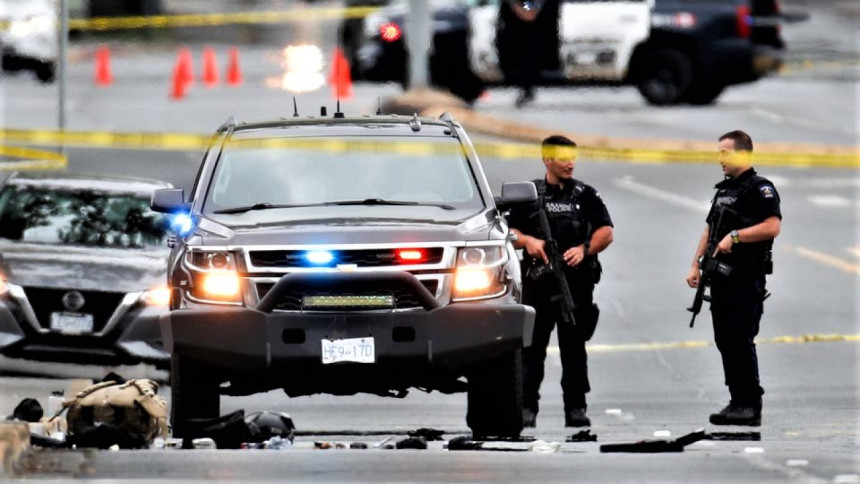 Police officers gather after two armed men entering a bank were killed in a shootout with police in Saanich, British Columbia, Canada June 28, 2022. REUTERS/Kevin Light
Canadian police shot dead two men and six officers were wounded during a gunfight at a bank in British Columbia on Tuesday, and nearby homes were evacuated after the discovery of a possible explosive device, police said.
Emergency response team members arrived on the scene at the Bank of Montreal in Saanich, on Vancouver Island, near the border with the U.S. state of Washington, around 11 a.m. (1800 GMT), law enforcement said.
"This remains an ongoing police incident with a heavy police presence in the area," Saanich police said on their website.
"Homes and businesses in close proximity to the scene of the incident have been evacuated due to the presence of a potential explosive device in a vehicle associated to the suspects."
Later, police said they were lifting a shelter-in-place order but that the block near the bank remained closed over the potential bomb.
The suspects were "heavily armed" and initial reports suggested they wore body armor, Saanich police chief Dean Duthie told a news conference.
Six officers were taken to hospital with gunshot wounds, some of whom would soon be released but others "sustained very serious injuries and have been taken into surgery," Duthie said.
Video posted on social media showed police officers and a police dog in pursuit on foot with the sound of gunshots blazing. Police have asked any witnesses to submit video evidence, CBC News reported.
"From what I know about that chaotic, tragic, dynamic, violent scene, the fact that no citizens were injured in any way is truly amazing," Duthie said.
Prime Minister Justin Trudeau said on Twitter he was "shocked and saddened" by the violence.
"I'm keeping the police officers who were injured in today's shooting – and their colleagues who also rushed towards danger to keep people safe – in my thoughts," Trudeau said.