Kosovo police clash with ethnic Serbs during smuggling raids
PRISTINA, Kosovo — Tensions between Kosovo and Serbia increased Wednesday after police in Kosovo clashed with ethnic Serbs during a police operation against the smuggling of goods. At least seven people were injured.
The violence prompted an angry response from Serbia for the international community, including NATO-led peacekeeping mission KFOR, to restore order and prevent "wider chaos."
The region is already on edge after a border dispute last month between Kosovo and Serbia over vehicle license plates threatened to spiral into violence. But Western officials intervened and KFOR forces were deployed to the area, ending the spat.
A Kosovo police statement said Wednesday's raids were held in four areas, including northern Mitrovica which is mostly populated by ethnic Serbs. It said that "criminal groups gathered in an organized way to block roads with vehicles, used liquid gas tanks, stun bombs, shot with weapons and hand grenades to hamper and attack custom and police officials committing their duty."
Police said six officers and a Serb civilian were injured during the clashes. Eight Serbs were arrested, according to police, adding that the raid was over and the situation is now calm.
Petar Petkovic, a Serbian government official in charge of Kosovo talks, said a 36-year-old Serb was shot in the back and a bullet ended up in his lungs which doctors are trying to remove.
Serb media reported dozens of others were injured in addition to the man. But it couldn't be independently verified.
Video footage showed police firing tear gas as Serbs hurled stones and other objects at officers. Police officers had to escort customs officers away from the scene to protect them. Serbs also blocked the main road with trucks, the same as last month during a tense situation to do with a spat over vehicle license plates.
A police car and at least two other cars with Kosovo license plates were burnt, according to Kosovar media.
Serbian media reported an "extremely tense" situation in the Serb-populated northern part of Mitrovica after Kosovo police raided a pharmacy and some shops in an apparent action to stop the smuggling of goods.
Prime Minister Albin Kurti called on ethnic Serbs in Kosovo "not to fall prey of some media in Serbia protecting crime, corruption and smuggling and want to politicize and turn it (the police raid) into an ethnic issue."
"Crime and criminals groupings will not be tolerated and will be fought. We shall fight and prevent smuggling," Kurti wrote on his Facebook page.
Serbian Prime Minister Ana Brnabic demanded "quick reaction" from the "international community," including NATO and KFOR because she said the situation in Mitrovica is "more than dramatic."
"This is the last moment that demands clear reaction to stop the mad policies conducted by Pristina," Brnabic said in a statement. "This kind of conduct … brings us to the edge of chaos."
Petkovic said Kurti wants to provoke "wider chaos."
Petkovic said Serbian President Aleksandar Vucic is on his way to the Serbian town of Raska that is near Kosovo, where he will hold a meeting with Kosovo Serb representatives.
"I am asking KFOR and the international community to react and stop this madness by Albin Kurti," said Petkovic. "If KFOR can't react and protect the Serb people, there are those who can."
EU foreign policy chief Josep Borrell said Brussels was "in contact with Belgrade and Pristina," adding that "All open issues must be addressed through the EU-facilitated Dialogue."
"The violent incidents in the north of Kosovo need to stop immediately. Unilateral and uncoordinated actions that endanger stability are unacceptable," he tweeted.
Kosovo, a Serbian province before it declared independence in 2008, was in a war in 1998-1999 between Serbian troops and ethnic Albanian separatists fighting for independence until a NATO air campaign pushed Serb forces away.
Kosovo-Serbia ties remain tense despite a European Union-facilitated dialogue over the past decade to normalize them.
Last month, Kosovo's government deployed special police forces to the border crossings to impose a new rule of removing Serb license plates from cars coming into the country, saying that a 10-year-old deal had expired. Kosovo's government said it was responding tit for tat to what Serbia had done for the past decade.
Protesting the new Kosovo rule, Kosovo Serbs blocked the border with trucks, and people could only cross on foot. Serbian military jets and helicopters have been flying close to the border with Kosovo in an apparent show of force.
The tensions came to an end only after bilateral negotiations were held under the auspices of a EU envoy and a U.S. senior official and NATO-led KFOR troops took control of the border areas.
——-
Llazar Semini reported from Tirana, Albania. Dusan Stojanovic and Jovana Gec contributed from Belgrade, Serbia.
Source link
EXCLUSIVE: Disquiet In Nigerian Army As Officers, Soldiers Plan One-day Protest Over Poor Equipment, Welfare, Corruption Under General Yahaya
There is disquiet presently in the Nigerian military as some officers and soldiers of the Nigerian Army are said to be planning to storm Abuja, the Federal Capital Territory, to protest over unpaid emoluments, poor working conditions and others.
SaharaReporters learnt that the officers and soldiers, mainly those prosecuting the war against insurgency in the North-East and other parts of the country, said they had perfected plans to stage a one-day protest against the leadership of the Nigerian Army.



According to the source who pleaded for anonymity, the protest was intended to expose the rot in the operations of the Nigerian Army under General Faruk Yahaya, the Chief of Army Staff.
He stated that the operations of the Nigerian Army had been marred by ethnic and religious jingoisms that favoured only a segment of the army.
"General Yahaya has done what no other Army Chief has done in the history of the Nigerian Army. He has divided the Nigerian Army along religious and ethnic lines. You are not considered an officer if you do not share a certain faith or religion, which has affected operational efficiency numerous times," a Colonel told SaharaReporters.
"Let me tell you this, the present leadership crop of the Nigerian Army is busy making retirement plans. Contracts are shared amongst themselves, monies meant for troops on the battlefront are diverted to private pockets, allowances of soldiers are not paid, and it is generally an atmosphere of delusion in the army as we speak."
SaharaReporters gathered that the army authorities were making efforts to avert what they tagged the "embarrassment of the year should the soldiers embark on the protest."
A source added at that the army authorities had issued directives to all Divisions and Commands to withdraw all passes granted to officers and soldiers and direct those already permitted to travel to return to their bases immediately. 
"All commands of the Nigerian Army have been directed to suspend the issuance of a travel pass to officers and soldiers. It was a terse statement from the Army Headquarters some days ago, with a warning to ensure strict compliance," a captain at the army headquarters also told SaharaReporters.
This fact was buttressed by the surge in the requests for passes experienced in North-East Nigeria and other areas with ongoing military operations.
A soldier currently engaged in an operation in one of the states in North West stated that the surge in requests for passes was because the bulk of the soldiers in operation had gone through exacerbating conditions in operations. 
"Our allowances are unpaid; we don't have food or water. Maybe our "Ogas" in Abuja want us to perform magic. We have not experienced such in the history of the Nigerian Army. Even the police and other paramilitary services are doing better than us. All of this started under General Faruk Yahaya," he said.
"This is a shame for the Nigerian Army. Other people have been Chief of Army Staff before him. Was this how he was treated? Our prayer is for President Buhari to sack him immediately; else there will be problems.
"The President must do something urgently. I can tell you that there is a rumble in the barracks. The soldiers are not happy. The suffering is too much, and we are now a laughing stock in the Armed Forces."
Earlier in March, their counterparts in the Nigeria Police Force said they would embark on the warning strike to protest poor working conditions, poor salaries, lack of genuine welfare benefits and outdated weapons.
A protest tagged "We are tired of negligence" was also scheduled to be held at the Eagles Square in Abuja to reiterate their demands to the Nigerian government.
The officers had condemned the continuous killing of their colleagues by armed robbers and terrorists, without adequate compensation for their families.
They had accused the Nigerian government of lying about the increment of police salary and other promised benefits and demanded improved conditions of service, particularly salary increase and provision of modern weapons as they tackle the security challenges facing the country.
Source link
Momen seeks apology, compensation from "institution" that claimed Padma Bridge corruption
Photo: Sajjad Hossain/ Star
">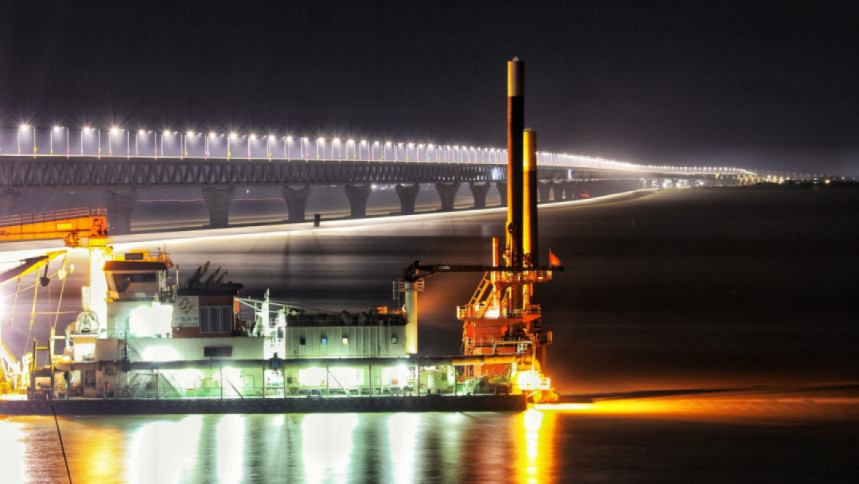 Photo: Sajjad Hossain/ Star
Foreign Minister AK Abdul Momen has sought apology and compensation from those who humiliated Bangladesh through accusing some top officials of a conspiracy of corruption in the Padma Bridge project.
"It is time for those, who defamed and humiliated us … the ones incorruptible, to seek apology and voluntarily compensate for the disservice," he said in an oblique reference to the World Bank.
The minister made the remark at a discussion marking the inauguration of the Padma Bridge at the Foreign Service Academy today.
Participating in the discussion virtually from the UK, Momen said it is not right to believe the institutions just because they are big. Many a times, they resort to trickery for various purposes, he said.
The 6.51-km bridge, which cost USD 3.6 billion, over the river Padma, is the first such mega project implemented with domestic funds after the World Bank and other global lending agencies in 2012 backtracked from funding the project following a corruption scandal involving a Canadian construction company.
Syed Abul Hossain, the then communication minister, resigned, while then secretary to Bridges Division Md Mosharraf Hossain Bhuiyan was suspended and arrested for his alleged involvement in the corruption conspiracy. Fingers were also pointed towards Prime Minister's Economic Affairs Adviser Dr Mashiur Rahman. The corruption charges then went to a court in Canada, but the allegations were not proved.
Prime Minister Sheikh Hasina later declared to construct the bridge with the nation's own fund and the project was complete and opened on June 25 this year.
"Many of our scholars danced to the tune of the foreigners. It is time for them to rethink their perspectives," Momen said.
Addressing the event, Dr Mashiur Rahman said the World Bank inefficiently worked in regards to the allegations of corruption conspiracy.
Mosharraf Hossain Bhuyian, who is now ambassador of Bangladesh to Germany, said that it was not at all a good practice that the World Bank took a major decision based on secret information.
"In fact, that was the time when I had told the World Bank that its jurisprudence was weak. That way of working can only humiliate people, not support them," he said at the event.
He also said that Prime Minister Sheikh Hasina's decision was so accurate because it was aimed at peoples' welfare, dignity of the nation and above all, driven by patriotism.
State Minister for Foreign Affairs Shahriar Alam said the LDC countries often are trapped in various forms of conditions set by the global lenders.
Bangladesh's success in implementing the Padma Bridge project would be an inspiration for other LDC countries, he also said.
Foreign Secretary Masud Bin Momen said Padma Bridge would make Bangladesh's position stronger in the regional geopolitical landscape, apart from boosting connectivity in South and Southeast Asia.
"We have implemented a number of mega projects and more are underway, but now we need to focus on mega social infrastructure that is education and health, to reap the full benefits of the projects," said Dr Selim Raihan, professor of Economics at Dhaka University.
Police Log: June 28, 2022


There are currently no active weather alerts.
error: Content is protected !!
Source link