Haibo: Traffic Cop Filmed Allegedly Taking Bribe Money from Truck Driver ▷ South Africa news
A clip of a South African traffic officer allegedly receiving a bribe has caused a bit of commotion on social media
The clip shows a man walking over to a traffic police vehicle, handing the officer cash and then walking away
People took to the comment section, most fuming while others did not understand why people were mad as it is no surprise
PAY ATTENTION: Click "See First" under the "Following" tab to see Briefly News on your News Feed!
Corruption in Mzansi is done as casually as people going to the shop to buy milk and bread. A recent clip raised people's blood pressure as bribery with traffic police is getting out of hand.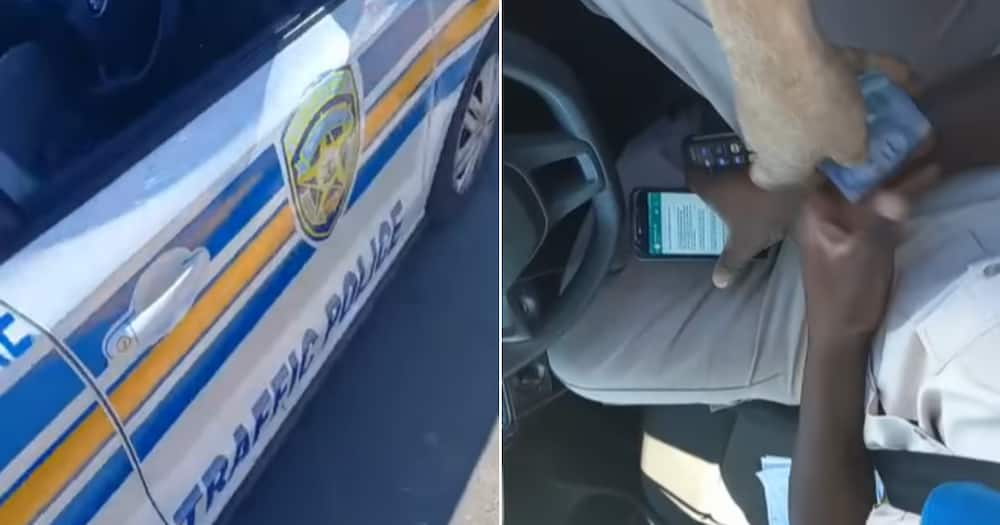 SA Long distance Truckers took to their Facebook page with a clip of what looks like a trucker bribing a traffic cop.
In the clip you see a man walking over to a traffic police car, handing the officer money, thanking him as he receives his licence back and then walking away.
Watch clip here.
Enjoy reading our stories? Download the BRIEFLY NEWS app on Google Play now and stay up-to-date with major South African news!
Seeing the clip, Mzansi citizens were furious. This is just one more person contributing to one of the biggest things that are wrong with our beloved country. Most were not even surprised as this is a daily occurrence in SA.
People took to the comment section to share their feelings:
Maria Molebogeng said:
"You are the one enabling this corruption, refuse to pay a bribe, I'm so disgusted by the traffic cop, when you see them on the road you will think they are doing their jobs but no, they are busy taking bribes. I'm reminded of the incident this morning, a traffic cop was nearly knocked by a car because she was running to stop a truck, she didn't even care there was oncoming traffic, that's how corrupt they are."
Monwabisi Mbonda said:
"Last time a traffic officer stopped me and wanted a bribe, he told me to put R200 in the car boot so no one can see and go. I put in a lousy R1 and ran as fast as I could to my car to escape. I don't have money to play. I can imagine the trauma he went through after seeing that R1. At least he can buy Nik-Naks."
Hefsiba Kalayandeke Kalazyozyo Chabalanda said:
"I don't support this at all, but if you are not wrong at anyhow you don't have to pay a bribe… There's always 2 sides of the story and we only heard your side."
Kat Smallk Mohotlheng said:
"There's always the corrupted. Don't act like a saint here. You could've argued while filming the officer so you've failed to do so showing that you are on the wrong side and chose to resolve it in cash."
Chris Fey said:
"You need to write down the serial numbers on those notes. Then hand them to the cop and call the corruption unit. He will have to explain how you know the serial numbers in his possession."
Mzansi praises Metro policeman for delivering a baby
A member of the Johannesburg Metro Police, Lebepe Evans, was a hit on social media after helping a woman deliver a healthy baby girl. The off-duty officer's generous deed was posted by Shireen Ebrahim on Facebook and says the proud guy was kind enough to help the lady, reported Briefly News.
Ebrahim posted the inspiring story on the #ImStaying page and heaped praise on the police officer, saying Evans helped the woman at Bree Taxi Rank in Johannesburg.
The social media account holder also suggested that the little baby should be named after the policeman simply because of his heroic deeds.
Source: Briefly.co.za
Allegations of irregularities, corruption: DSCC terminates revenue officer, 33 workers
Dhaka South City Corporation (DSCC) today (June 28, 2022) terminated the deputy revenue officer and 33 workers of two departments for their alleged involvement with irregularities and corruption.
The DSCC in an order signed by its secretary Akramuzzaman terminated Md Selim Khan, deputy revenue officer, who also worked as personal assistant of former mayor Sayeed Khokon, said a press release.
Selim, who was working as the deputy revenue officer of zone-5, was attached to the office of the secretary of DSCC for his alleged corruption and different kinds of irregularities in December last year.
In two other separate orders DSCC also terminated 17 skilled workers of the revenue department and 16 unskilled workers of the department of waste management today.
DSCC in the orders said the decision of the termination was taken in public interest.
Miami PD Officers Closer to Whistleblower Protection After Corruption Allegations Against Chief – NBC 6 South Florida
Two officers with the Miami Police Department are one step closer to whistleblower protection after coming forward with allegations of activities of corruption against Chief Manuel Morales.
During a hearing Tuesday, the city had no objection to the request to start the process for whistle blowers protection for Commander Brandon Lanier and Detective Wanda Jean-Baptiste 
The hearing is based on two letters submitted by them saying Morales was trying to control the outcome of internal affairs investigations.
It's the first step to get the federal protection under the Whistleblowers Act. 
"I think it's a matter of making sure that other members of the police department that work and serve and protect the citizens of Miami don't have to undergo the same actions and harm that they are going under for just doing their job," said Griska Mena, and attorney for the South Florida Police Benevolent Association.
The next hearing is scheduled for January 24th. NBC 6 reached out to Morales and Miami's city manager, Arthur Noriega, but have not heard back.
Previously in an exclusive interview with NBC 6, Morales denied those allegations against him and Noriega previously voiced support for the chief.
NBC 6's Willard Shepard speaks to the Miami Police Chief about allegations made by fellow officers
The two internal affairs employees want outside agencies to investigate to see if a crime has been committed after alleging that they aren't being allowed to independently do their work.
Morales said a priority for him when he took over was healing from turmoil during predecessor Art Acevedo's tenure at the department.
"It has been an uphill battle to bring everybody on board. We have made some incredible progress not only combatting firearm violence but also returning the morale," Morales said earlier in June.
Acevedo was fired in October 2021 after just six months on the job and numerous clashes with city officials.
Lanier said "…Morales has used his position to open investigations to target employees and influence the outcome of investigations." Jean-Baptiste wrote that "staff is not expected to follow rules or standard operating procedures. The corruption is growing from within."
Morales said the allegations have zero merit.
"When the truth comes out as a result of any investigation that might be deemed to be conducted into these allegations, and the facts are all out there, I will be cleared and the agency more importantly," Morales said.
Source link
Chief Investigator Questioned in Delaware State Auditor Kathy McGuiness Corruption Trial – NBC10 Philadelphia
The chief investigator in the criminal corruption case against Delaware State Auditor Kathy McGuiness tried repeatedly under cross-examination Monday to deflect responsibility for false statements he made in a search warrant affidavit and which were later reiterated in an indictment.
The testimony by Frank Robinson involved allegations that McGuiness orchestrated a no-bid communications services contract for My Campaign Group, a firm she had used as a campaign consultant when running for lieutenant governor in 2016, then deliberately kept the contract payments under $5,000 to avoid having to get them approved by the Division of Accounting.
Robinson told a judge in a sworn affidavit in the fall of 2021 that payments to My Campaign Group were split in August 2020, and again in September 2020, to keep them under $5,000, the threshold at which payments by state agencies require approval from the Division of Accounting.
In fact, before swearing to the truth of those statements, Robinson and lawyers in the attorney general's office had seen a Division of Accounting spreadsheet about two months earlier indicating that the contractor received only one payment each month, both above $5,000 and both approved by the Division of Accounting. Robinson also stated in the affidavit that the contract with My Campaign Group was the only no-bid contract of at least $45,000 entered into by McGuiness' office in which all payments were made below the $5,000 reporting threshold.
Under cross-examination by defense attorney Steve Wood, Robinson admitted, as he had done at an earlier evidence suppression hearing, that those prior statements were false.
"I have to admit that our understanding at the time was not accurate," Robinson said, adding that it "would have been good" to call the director of the Division of Accounting and seek clarification before making the assertions contained in the search warrant affidavit.
Wood suggested that the reason Robinson didn't make that call was because he already had a theory that McGuiness was splitting payments in order to avoid scrutiny of the contract payments, and that the spreadsheet was ignored because it didn't fit that theory.
While admitting that the statements were false, Robinson said they were not "intentionally false." He also tried to deflect responsibility by noting repeatedly that he was part of an "investigative team."
That team consisted of Robinson — who has more than two decades of experience as a police officer and as chief special investigator for Division of Civil Rights and Public Trust — and attorneys associated with the division.
"I can't speak to the thought process," Robinson said when asked why statements were made in the search warrant affidavit that were contrary to what was contained in the accounting spreadsheet.
Under earlier questioning by prosecutor Mark Denney, Robinson denied that he intentionally misled the court in obtaining a search warrant. He said he had misread the spreadsheet, confusing "line splits" with payments, and that other members of the investigate team were operating under that same misunderstanding.
Robinson also testified that, after several employees in her office began talking to the attorney general's office about concerns they had with her conduct, McGuiness in December 2020 asked state information technology officials whether anyone other than her had requested access to email accounts of anyone in the auditor's office since January 2019.
Officials determined that, as an agency head, McGuiness would already be aware of email monitoring requests that were "not otherwise confidential," and she would not be entitled to any information about confidential requests.
McGuiness, a Democrat elected in 2018, is responsible as state auditor for rooting out government fraud, waste and abuse. She is being tried on felony counts of theft and witness intimidation, and misdemeanor charges of official misconduct, conflict of interest and noncompliance with procurement laws. McGuiness is the first statewide elected official in Delaware to face criminal prosecution while in office.
Prosecutors allege, among other things, that the way McGuiness' office handled payments for My Campaign Group was a deliberate attempt to avoid regulatory scrutiny and amounts to illegal financial "structuring" of a contract.
Prosecutors also allege that McGuiness hired her daughter and her daughter's best friend as temporary employees in 2020, even though other temporary employees had left because of the lack of available work amid the coronavirus pandemic. Authorities allege that in hiring her daughter and exercising control over taxpayer money with which she was paid, McGuiness engaged in theft of state money and conflict of interest.
Authorities also allege that when employees in her office became aware of McGuiness' misconduct, she responded by trying to intimidate the whistleblowers, including monitoring their email accounts.
Source link