Poles pin hopes on Tusk to prevent EU exit – EURACTIV.com
The Capitals brings you the latest news from across Europe, through on-the-ground reporting by EURACTIV's media network. You can subscribe to the newsletter here.
---
The European news you deserve to read. Welcome to The Capitals by EURACTIV.
---
In today's news from the Capitals:
WARSAW 
On Sunday, some 200,000 people in 126 towns and cities across Poland, the rest of Europe and the world demonstrated against last week's decision of Poland's Constitutional Tribunal that ruled EU basic treaties are partially illegal. Read more.
///
BERLIN
German defence and economy ministers relinquish Bundestag mandate. Influential German conservative union CDU/CSU members Annegret Kramp-Karrenbauer and Peter Altmaier announced that they would abandon their Bundestag mandate to allow young members to rejuvenate their party. Read more.
///
PARIS
Ex-PM Philippe launches his own political party. The former French prime minister Edouard Philippe revealed the name of his right-wing party – "Horizons" – on Saturday. Philippe has, however, ruled out a run for the upcoming presidency, stating that "my objective is that in 2022, Emmanuel Macron is re-elected". Read more.
///
VIENNA
Austrian Chancellor Kurz resigns over corruption allegations. Austrian Chancellor Sebastian Kurz announced his resignation on Saturday evening over corruption allegations and a looming government crisis. Experts say that he will act as a shadow-chancellor and might return to office once cleared of the allegations. Read more.
---
UK AND IRELAND
LONDON
Migrant numbers making Channel crossing surge. The UK Home Office said that more than 1,000 migrants in over forty small boats made the Channel crossing from France to the UK in the last two days. Read more.
///
DUBLIN 
Irish foreign minister warns of 'red line barrier' in NI protocol dispute. Ireland's Foreign Minister, Simon Coveney, has accused the British government of creating a "red line barrier to progress" in post-Brexit negotiations over the Northern Ireland protocol. Read more.
---
NORDICS AND BALTICS
HELSINKI
Finland lobbies nuclear energy as a sustainable source. Following a previously secret decision, the Finnish government will lobby the European Union to declare nuclear power as a sustainable energy source. Read more.
---
EUROPE'S SOUTH
ROME
Italy mulls dismantling far-right movements. A protest against anti-COVID measures in Rome with 10,000 demonstrators resulted in the Roman headquarters of the national labour union CGIL being attacked, 38 injured police personnel, and the arrest of 12 protesters. Read more.
///
ATHENS
Austria's Kurz resignation opens media freedom debate in Greece. Austria's Chancellor Sebastian Kurz resigned after he was accused of manipulating the media to the tune of more than €1 million in public funds.  In Greece, more than €30 million of state money has been given to the media by the Greek conservative government, and everything is business as usual, the main opposition Syriza party, has said. Read more.
///
MADRID 
Spains COVID-19 rate drops to low risk prompting regions to lift restrictions. Some 21 million people in Spain are free from COVID-19 restrictions as the incidence rate in the country fell to 'low risk' for the first time in fifteen months. Read more.
---
VISEGRAD
PRAGUE
Czechia turns conservative as Babiš loses elections. Czech's voted for a conservative shift, as social democrats and the communist party failed to reach the 5% threshold following Friday's (8 October) elections. This means the ruling party led by Prime Minister Andrej Babiš are effectively ousted from the Czech Parliament. Read more
///
BUDAPEST
Second round of Hungarian opposition primaries starts after capital mayor's surprise withdrawal. The second round of the opposition primaries began on Sunday (10 October)  and will run until next Saturday. European social-democrat and federalist MEP Klára Dobrev will face off Christian conservative independent mayor Péter Márki-Zay to lead the opposition against Viktor Orbán in the 2022 parliamentary polls. Read more.
///
BRATISLAVA
Difficulties linger in accessing legal abortion in Slovakia. As many as a third of all hospitals and medical facilities surveyed refuse to provide legal abortions on the grounds of conscientious objection, according to a study by the feminist organisation Possibility of Choice. Read more.
---
NEWS FROM THE BALKANS
SOFIA
Bulgaria mulls 2040 for the end of coal. The government is considering three possible deadlines for the closure of coal-fired power plants – by 2035, 2038 or 2040, Energy Minister Andrey Zhivkov has announced, as quoted by Bulgarian National Radio (BNR). Read more.
///
BUCHAREST
No end in sight for Romania's government crisis. Romania has an interim government and an awful situation in its hospitals due to the COVID-19 pandemic. However, there seems to be no quick fix for the political crisis. Read more.
///
ZAGREB
Riot officers suspended in Croatia over violent pushbacks of migrants. Police Director Nikola Milina said three police officers, identified as some of those in video recordings involved in violent pushbacks against illegal migrants, have been suspended, and further disciplinary steps would be taken. Read more.
///
BELGRADE 
Epidemiologist warns COVID situation in Serbia worst in Europe. Serbia is one of the states hardest hit by the virus since the pandemic broke out, said the country's leading epidemiologist, Dr Zoran Radovanović. Read more.
///
SARAJEVO 
US to hold corrupt actors in BiH accountable. The United States will step up communication with its European partners to ensure the introduction of effective sanctions for people from Bosnia and Herzegovina involved in corruption, the US Embassy in Sarajevo has announced. Read more.
///
SKOPJE
Openness Index: Government of North Macedonia first in Western Balkans. According to the latest Openness Index, which ranked the governments and parliaments in four countries from the Western Balkans – North Macedonia, Serbia, Montenegro, and Bosnia and Herzegovina, the Government of North Macedonia was ranked first on the list, while the country's Parliament was ranked third, meta.mk reported. Read more.
///
PRISTINA
Kurti calls for EU funds to be linked to progress. Kosovo's Prime Minister Albin Kurti on Saturday called for the EU to condition disbursement of EU funds on upholding the rule of law and fighting corruption. Read more.
///
TIRANA
Albania declares state of energy emergency amid energy crisis. Prime Minister Edi Rama on Friday declared a state of energy emergency due to the ongoing energy crisis. Read more.
---
AGENDA:
EU/Brussels: EU and Britain begin talks on Gibraltar.
Luxembourg: EU agriculture and fisheries ministers meet in Luxembourg / ECJ hears appeal by Poland, Hungary linking EU recovery funds to the respect of rule of law
Germany: SPD, FDP and the Greens hold talks to form a coalition after the tight German election outcome.
Austria: President Alexander van der Bellen to swear in incumbent Austrian Foreign Minister Alexander Schallenberg as new chancellor after Kurz' resignation / European Fundamental Rights Forum takes place in Vienna.
Estonia: Alar Karis takes over as the country's president.
Sweden: Nobel Economics Prize to be announced in Stockholm.
Portugal: Government is set to submit its 2022 budget bill to parliament.
Czech Republic: Commission VP for Values and Transparency Vĕra Jourová in Prague to speak at the 25th Forum 2000 Conference.
Croatia: The "Railways for the Future" conference, organised by EURACTIV's partner Hanza Media will discuss investment in the rail sector, with keynote from Croatia's Transport and Infrastructure Minister Oleg Butković.
Romania: President Klaus Iohannis holds consultations with political parties on forming a new government.
Serbia: Jubilee session of the Non-Aligned Movement, dedicated to the 60th anniversary of the Movement's founding, to be attended by more than 100 foreign delegations, including some 40 foreign ministers.
***
[Edited by Sarantis Michalopoulos, Alexandra Brzozowski, Benjamin Fox, Daniel Eck, Zoran Radosavljevic, Alice Taylor]
Momen seeks apology, compensation from "institution" that claimed Padma Bridge corruption
Photo: Sajjad Hossain/ Star
">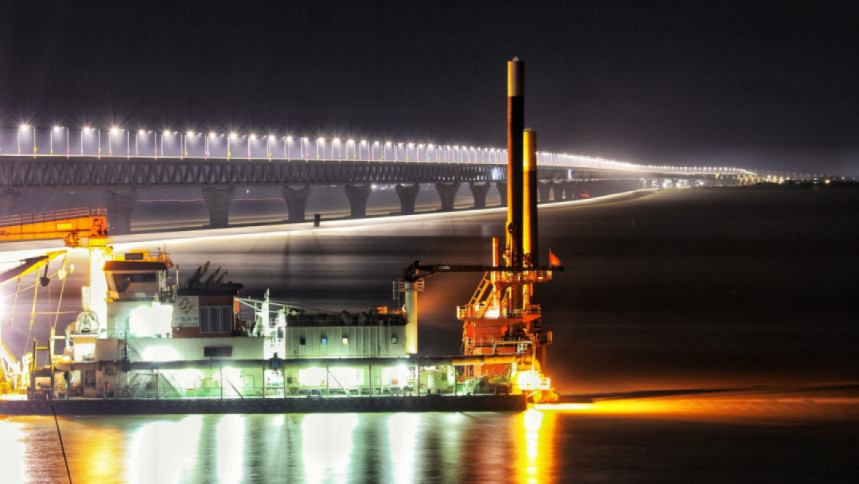 Photo: Sajjad Hossain/ Star
Foreign Minister AK Abdul Momen has sought apology and compensation from those who humiliated Bangladesh through accusing some top officials of a conspiracy of corruption in the Padma Bridge project.
"It is time for those, who defamed and humiliated us … the ones incorruptible, to seek apology and voluntarily compensate for the disservice," he said in an oblique reference to the World Bank.
The minister made the remark at a discussion marking the inauguration of the Padma Bridge at the Foreign Service Academy today.
Participating in the discussion virtually from the UK, Momen said it is not right to believe the institutions just because they are big. Many a times, they resort to trickery for various purposes, he said.
The 6.51-km bridge, which cost USD 3.6 billion, over the river Padma, is the first such mega project implemented with domestic funds after the World Bank and other global lending agencies in 2012 backtracked from funding the project following a corruption scandal involving a Canadian construction company.
Syed Abul Hossain, the then communication minister, resigned, while then secretary to Bridges Division Md Mosharraf Hossain Bhuiyan was suspended and arrested for his alleged involvement in the corruption conspiracy. Fingers were also pointed towards Prime Minister's Economic Affairs Adviser Dr Mashiur Rahman. The corruption charges then went to a court in Canada, but the allegations were not proved.
Prime Minister Sheikh Hasina later declared to construct the bridge with the nation's own fund and the project was complete and opened on June 25 this year.
"Many of our scholars danced to the tune of the foreigners. It is time for them to rethink their perspectives," Momen said.
Addressing the event, Dr Mashiur Rahman said the World Bank inefficiently worked in regards to the allegations of corruption conspiracy.
Mosharraf Hossain Bhuyian, who is now ambassador of Bangladesh to Germany, said that it was not at all a good practice that the World Bank took a major decision based on secret information.
"In fact, that was the time when I had told the World Bank that its jurisprudence was weak. That way of working can only humiliate people, not support them," he said at the event.
He also said that Prime Minister Sheikh Hasina's decision was so accurate because it was aimed at peoples' welfare, dignity of the nation and above all, driven by patriotism.
State Minister for Foreign Affairs Shahriar Alam said the LDC countries often are trapped in various forms of conditions set by the global lenders.
Bangladesh's success in implementing the Padma Bridge project would be an inspiration for other LDC countries, he also said.
Foreign Secretary Masud Bin Momen said Padma Bridge would make Bangladesh's position stronger in the regional geopolitical landscape, apart from boosting connectivity in South and Southeast Asia.
"We have implemented a number of mega projects and more are underway, but now we need to focus on mega social infrastructure that is education and health, to reap the full benefits of the projects," said Dr Selim Raihan, professor of Economics at Dhaka University.
Police Log: June 28, 2022


There are currently no active weather alerts.
error: Content is protected !!
Source link
Paramount+ streaming TV series 'Mayor of Kingstown' films in Erie
The McLusky family's saga of power, corruption and crime is currently unfolding on Erie's east bayfront. 
"Mayor of Kingstown," a Paramount Plus drama series starring two-time Academy Award nominee Jeremy Renner, brought its production to the waterfront near Lampe Marina and the East Avenue boat launch on Monday. 
A crew from production company King Street Productions Inc. is expected to be in town through Wednesday filming various scenes, including one involving a helicopter that uses a spotlight to search the waters of Presque Isle Bay.
That detail is among the information included in the special events permit King Street Productions obtained from the city of Erie on June 20.  The city provided a copy of the permit to the Erie Times-News after the newspaper requested it.
The production company was charged $24,110 for the permit, which also accounts for a number of Erie police officers and firefighters being on set for safety/security reasons, said David Rocco, the city of Erie's special events and licensing coordinator.  
The Erie-Western Pennsylvania Port Authority, which owns Lampe Marina, gave the production company permission to shoot there, Rocco said.  
The U.S. Coast Guard and the Federal Aviation Administration are also aware of the "Mayor Of Kingstown" shoot, according to city officials. 
"They started shooting Monday and the permit allows them to use those locations on Monday, Tuesday and Wednesday," Rocco said. "This is a pretty big production. I've been with the city 17 years and it's the first permit I've issued in the city for a major television production."
Bayfront events:Here's a list of things to do on Erie's waterfront this summer
The crime drama follows the McLusky family of Kingstown, Michigan, and focuses on America's prison system.  
A Paramount Plus description of the series states: "Mayor of Kingstown follows the powerful McLusky family, power brokers in Kingstown, Michigan, where the business of incarceration is the only thriving industry. Tackling themes of systemic racism, corruption, and inequality, the series provides a stark look at their attempt to bring order and justice to a town that has neither."
Renner, the series' star, is also known worldwide for his portrayal of master archer and marksman Clint Barton, also known as "Hawkeye" in the Marvel Cinematic Universe's films and television shows.
Emmy winner Kyle Chandler and two-time Oscar winner Dianne Wiest are also part of the show's cast. The show was created by Taylor Sheridan, who also launched the popular Paramount drama "Yellowstone" starring Kevin Costner.
"Mayor of Kingstown" debuted in November on the Paramount Plus streaming service and finished its initial 10-episode season in January. Production started on the show's second season in December, with some shooting taking place in various Pittsburgh-area locations.
Private security guards hired by the production company declined to allow a reporter access to the Lampe Marina set on Monday, and representatives of King Street Productions could not be reached for comment.
According to King Street Productions' special event permit,  "Mayor of Kingstown Season 2 will be filming in the city on 6-27-22 through 6-29-22. The filming will be done in the area of Lampe Marina and the East Avenue Boat Ramp (This area is considered their base of operations).  Some of the filming will also be done off-shore from boats."
The permit also states that "Filming will also be done overhead by a helicopter that will be based at the Presque Isle, US Coast Guard Erie Stations Landing pad. Note: in one scene, the Helicopter will be giving chase at speed and coming from the north, cross over the open lake water and cross over land around the East Avenue Boat Ramp.  It will turn around and head back across the lake. This scene will take place very late at night or early in the morning. The helicopter will be shining a big spotlight towards the ground during this time and may alarm citizens so please be aware!"
Rocco said the production could wrap up as early as Tuesday.
"If they don't do any shooting on Wednesday, we will readjust their bill accordingly," Rocco said.
Contact Kevin Flowers at kflowers@timesnews.com. Follow him on Twitter at @ETNflowers.