Israel's Netanyahu Attacks Justice System as Trial Begins – NBC New York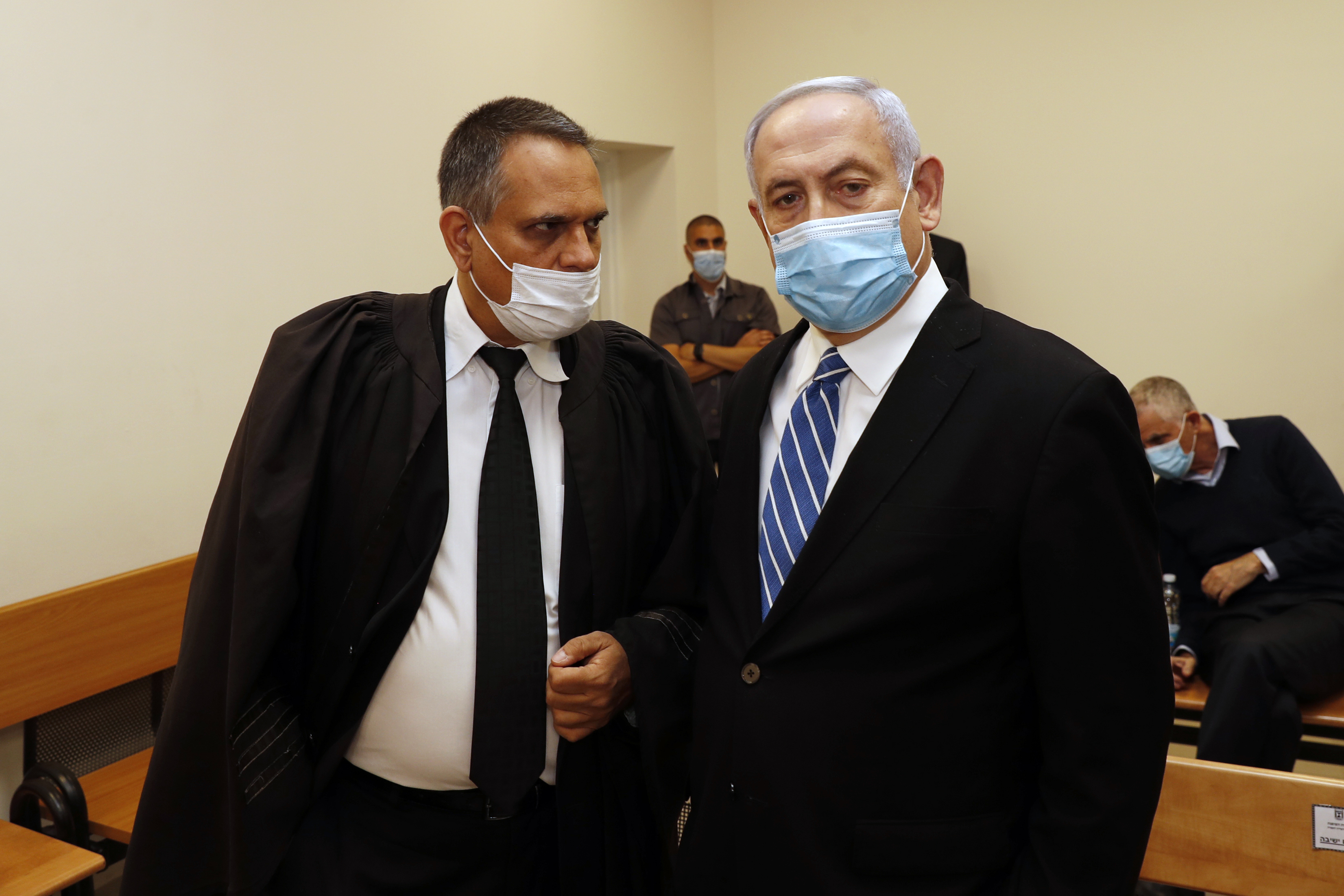 To the sounds of his impassioned supporters chanting outside, a defiant Israeli Prime Minister Benjamin Netanyahu strode into a Jerusalem courtroom Sunday to face corruption charges in a long-awaited trial that has overshadowed three inconclusive elections and deeply divided the country.
As he entered the courthouse to become the country's first sitting prime minister to go on trial, Netanyahu launched into a lengthy tirade against the nation's justice system in which he accused police, prosecutors, judges and the media of a deep state-type conspiracy aimed to oust him against the will of the people.
"I stand before you with a straight back and head raised high," he said, surrounded by leading Cabinet ministers of his Likud party. "The objective is to depose a strong, right-wing prime minister, and thus remove the nationalist camp from the leadership of the country for many years."
The standoff, and Netanyahu's own fiery rhetoric, looked to worsen the nation's deep divisions just after Netanyahu swore in what he called a "unity" government with a former rival. Critics have said Netanyahu's repeated attacks on the legal system risk irreversible damage to citizens' faith in state institutions.
Outside the courthouse, hundreds of supporters rallied in his defense, packing a narrow street while waving Israeli flags and banners denouncing what they called a corrupt prosecution seeking to topple a leader of historic proportion. Others gathered at his official residence to demonstrate against what they called a "crime minister" and carried posters calling for his resignation. They faced off across police barricades with more of the prime minister's backers.
Netanyahu faces charges of fraud, breach of trust and accepting bribes in a series of corruption cases stemming from ties to wealthy friends. He is accused of accepting lavish gifts and offering to grant favors to powerful media moguls in exchange for favorable coverage of him and his family. He denies the charges, which come after years of scandals swirling around the family.
Netanyahu entered the Jerusalem courtroom wearing a blue surgical mask, following public health restrictions due to the coronavirus pandemic. He refused to sit until TV cameras left the room, and remained in the front row throughout the session.
During the proceedings, the lawyers and judges also wore masks, with the three-judge panel sitting behind a glass divider. In a hint of what could lie ahead, his lawyer said the defense would need several months to study the hundreds of reams of evidence and to build its legal team.
Netanyahu did not speak during the one-hour session, rising just once to confirm he understood the charges. He will not be required to attend future hearings during a case that legal analysts expect to stretch over several years. The next hearing was scheduled for July 19.
Before the session, Netanyahu said police and prosecutors had conspired "to stitch up" a case against him, and said the evidence was "contaminated" and exaggerated. He called for the court proceedings to be broadcast live on TV to ensure "full transparency."
"While the media continues to deal with nonsense, with these false, trumped up cases, I will continue to lead the state of Israel and deal with issues that really matter to you," he said, including efforts to resuscitate the economy and prepare for a possible second wave of the coronavirus.
Netanyahu is not the first prime minister to go on trial. His predecessor, Ehud Olmert, went to prison for corruption but resigned long before the trial.
Netanyahu's fitness for office was the key issue in the three deadlocked elections over the past year. After vowing never to sit with an indicted prime minister, Netanyahu's challenger, Benny Gantz, agreed in March to form a power-sharing coalition with his rival, in part to prevent another election.
Gantz, who has made the defense of the legal system one his hallmarks, said he was sure Netanyahu would receive a fair trial.
"I repeat and emphasize that my colleagues and I have full faith in the justice system and law enforcement," he tweeted.
Their new government was sworn in just last week for Netanyahu's fourth consecutive term. Netanyahu held his first Cabinet meeting with the new government just hours before heading to court. Neither he nor any of his ministers addressed the looming trial.
Netanyahu and his allies have spent months lashing out at the law enforcement system, and a new round of attacks could test the new government.
Dozens of Netanyahu supporters outside the court in east Jerusalem wore masks and T-shirts depicting Netanyahu as a martyr and held posters lambasting the attorney general who indicted him.
"We won't allow an image of Netanyahu being humiliated," said Ran Carmi Buzaglo, one of the protesters. "The only reason that they forced him to come here, even though the law allows him to be absent, is to show an image of him in the defendant's chair."
Attorney General Avichai Mandelblit, who recently filed a police complaint following anonymous threats against him, vowed that the case will be handled like any other — "in a professional, business-like manner and within the courtroom halls."
"We will continue to act without fear, even against the preposterous attempts to associate non-professional interests to law enforcement agencies," he said.
Several of Netanyahu's Likud Cabinet ministers, including the newly appointed internal security minister who overseas the police, came to the court to back him.
Opposition leader Yair Lapid said that Netanyahu's "wild and inciteful outburst" at the courthouse was "final proof that a criminal defendant cannot continue to be prime minister."
In a sign of the tensions, the prosecutor in the case left the courtroom accompanied by a state-issued bodyguard because of threats against her.
Under the coalition deal, Netanyahu will remain prime minister for the next 18 months, and "alternative prime minister" for the 18 months after. He will not be legally required to step down during what is expected to be a lengthy trial.
___
Associated Press writer Ilan Ben Zion contributed to this report.
Source link
Judge Eyes Shorter Sentence for Ex-NYC Jails Union Boss – NBC New York
The former union boss for the nation's largest correction officers' union might have gotten too harsh a prison sentence when he was ordered to spend nearly five years behind bars for corruption convictions, a judge said.
U.S. District Judge Alvin K. Hellerstein, who sentenced Seabrook to four years and 10 months in prison in early 2019, said in a ruling Friday that the length of Norman Seabrook's prison term deserves a second look. He noted disparities in the sentence given to Seabrook, who is Black, and co-conspirators who are white.
But he also said in a written ruling that the former head of the New York City Correction Officers' Benevolent Association did not deserve a new trial after his 2018 conviction on conspiracy and honest service wire fraud charges.
Prosecutors said he accepted $60,000 in bribes in 2014 to funnel $20 million in union funds to a risky hedge fund. All but $1 million was lost. Seabrook has said there was no evidence he ever intended to "lose a dime" of union members' money.
Seabrook, 62, is scheduled for a July 2025 release from the Beckley Correctional Center in Beckley, West Virginia. He was arrested in June 2016 after he'd been a powerbroker in New York City for more than two decades, representing guards in the city's 10,000-inmate jail system.
In October 2021, Seabrook asked Hellerstein to grant him a new trial on several grounds including ineffective assistance of counsel and unjust rulings against him, which Hellerstein said in his Friday ruling all fall "well short of the mark."
But Hellerstein said Seabrook's claims that his sentence was disproportionately harsher than the sentences his co-conspirators received "may possess merit."
The judge noted that one co-conspirator, Murray Huberfeld, who is white and was originally sentenced to 2 1/2 years in prison after pleading guilty to defrauding his own investment company, was ultimately given seven months in custody after the 2nd U.S. Circuit Court of Appeals decided that the amount of financial harm his crimes had done needed to be measured differently that it had when he received the sentence of over two years.
"The result is a significant disparity of sentences, an appearance of arbitrariness, and potential disrespect of the community because of the appearance of racial differentiation," Hellerstein wrote.
Source link
Tesla Should Accept That It Violated Labor Laws If Elon Musk Is Serious About Inviting the UAW to Organize Workers, Union Chief Ray Curry Says – NBC New York
Tesla should accept that it violated labor laws if Elon Musk is serious about inviting the UAW to organize workers, union chief Ray Curry said.
Curry said that such an action would be a "good faith effort" and "demonstrate a commitment to the workers of the facility" in Fremont, California.
"The UAW stole millions from workers, whereas Tesla has made many workers millionaires (via stock grants). Subtle, but important difference."
If Tesla CEO Elon Musk is serious about welcoming organizing efforts of the company's U.S. workforce, the automaker should rehire a fired employee and stop attempting to overturn a ruling that it violated federal labor laws, said an automotive union leader.
United Auto Workers President Ray Curry said that such actions would be a "good faith effort" and "demonstrate a commitment to the workers of the facility" in Fremont, California.
In 2018, Musk tweeted a comment that was found to have violated federal labor laws after Tesla had already fired a union activist, Richard Ortiz. The National Labor Relations Board ultimately ordered Tesla to rehire the employee and to have Musk delete the tweet, which they saw as threatening workers' compensation.
Tesla is appealing the administrative court's decision, however.
Curry spoke on Tuesday during an Automotive Press Association webinar. His remarks followed more provocative tweets by Musk earlier in the day. The CEO, who has a following of 79.5 million on Twitter, wrote: "The UAW stole millions from workers, whereas Tesla has made many workers millionaires (via stock grants). Subtle, but important difference."
The Detroit-based union is under federal oversight through a court-approved monitor as part of a settlement between the UAW and the government following a multiyear corruption probe that sent 15 people to prison, including two recent UAW presidents and three Fiat Chrysler executives.
The investigation uncovered years of bribery and kickback schemes involving millions of dollars and several top union leaders.
Earlier this month, Musk said on Twitter that he was "inviting" the UAW to try and organize employees at his company's plant in Fremont. "Tesla will do nothing to stop them," he wrote.
Curry said the union "definitely would welcome that opportunity, but clearly know that there's some current appeals that are out there."
"A key piece out of all of this is not the whim of a tweet or anything else, an exchange between the UAW and Tesla, it's about the workers in those locations having a voice inside of their workplace. That's the most important part of this whole process," Curry said.
Musk's open invitation to the UAW on March 3 followed Musk earlier in the day tweeting a YouTube video that he says "helps explain why former UAW members who work at Tesla are not huge fans of UAW." The clip was published in 2010 by the World Socialist Web Site channel on YouTube.
In the video, workers at the NUMMI plant, which would later become the Fremont Tesla plant, are seen complaining that a union member was prevented from recording a UAW meeting in the local union hall.
Tesla didn't respond to a request for comment.
Accused Bitcoin Launderer Heather Morgan in Plea Talks With Prosecutors, Court Documents Say – NBC New York
Federal prosecutors said they were in plea negotiations with a New York woman recently arrested with her husband on charges of trying to launder $4.5 billion worth of bitcoin stolen in a hack.
The talks were cited in a request by prosecutors asking a judge to postpone by 40 days a hearing for Heather "Razzlekhan" Morgan, in U.S. District Court in Washington, D.C.
Morgan was arrested with her husband "Dutch" Lichtenstein on Feb. 8 in their Manhattan apartment.
Prosecutors allege that the couple illegally tried to hide the source of almost 120,000 bitcoin stolen during the 2016 hack of the Bitfinex cryptocurrency exchange.
Federal prosecutors on Monday said they were in plea negotiations with a New York woman recently arrested with her husband on charges of trying to launder $4.5 billion worth of stolen bitcoin cryptocurrency.
The talks were cited in a request by prosecutors asking a judge to postpone by 40 days Friday's scheduled status hearing for the woman, Heather "Razzlekhan" Morgan, in U.S. District Court in Washington, D.C.
Prosecutors said in a court filing that the postponement would "facilitate … plea discussions between the parties," as well as give them time to assemble and share evidence that could be used against Morgan with her attorneys.
Morgan, 31, was arrested with her husband, 34-year-old Ilya "Dutch" Lichtenstein, on Feb. 8 in their Manhattan apartment. The arrests were on the same day the Justice Department has said it seized more than $3.6 billion worth of bitcoin that was part of the alleged laundering scheme.
Prosecutors allege that the couple illegally tried to hide, through a complex series of transactions, the source of almost 120,000 bitcoin stolen during the 2016 hack of the Bitfinex cryptocurrency exchange. Neither of the defendants is charged with the hack itself.
At the time of the hack, the stolen bitcoin was worth $70 million. But the value of bitcoin has soared since then.
Morgan's lawyers do not oppose the postponement of her hearing, according to Monday's filing by the U.S. Attorney's Office for the District of Columbia.
Prosecutors disclosed in court on Feb. 28 that they were discussing a possible "resolution" of Morgan's criminal case to avoid a trial.
But until Monday, they had not publicly used the words "plea discussions" to describe those talks with her lawyers.
Morgan's lead attorney did not immediately respond to a request for comment on the filing.
It is common for prosecutors and defense attorneys to discuss possible plea deals in criminal cases, and for those discussions to lead to postponements of court hearings.
However, Morgan's case is unusual for the relatively short time between her arrest and the disclosure of plea talks.
Morgan, an aspiring rapper and entrepreneur, is free on a $3 million bond.
Lichtenstein has been in jail since his arrest and has been denied bail.
Netflix last month announced that a series on the couple will be directed by Chris Smith, who was executive producer of the company's Covid pandemic smash hit "Tiger King."
Source link