Ellsworth Police Log Week of Oct. 7
ELLSWORTH — A three-vehicle collision on Route 1A on Sept. 27 that injured three people has now resulted in a fatality, according to Police Chief Glenn Moshier. Robert Gallant of Old Town died of his injuries Oct. 1 at Northern Light Eastern Maine Medical Center after undergoing multiple surgeries, according to authorities.
Gallant, who was 80, was the driver of a pickup truck struck by a sedan that crossed the centerline near Christian Ridge Road. A passenger in the sedan was also taken to Eastern Maine Medical Center with serious injuries and was listed in stable condition. Gallant's passenger was taken to Northern Light Maine Coast Hospital for minor injuries and released.
Mental health and well-being
Officers on Sept. 24 responded to a well-being check request on a local resident who had made "off statements" over the phone, police said. Officers found the person in Lamoine. The person was then taken by ambulance to Northern Light Maine Coast Hospital.
Police responded to an overdose on Sept. 29 and found those involved had already administered naloxone (NARCAN), an opioid overdose remedy. The person who overdosed refused to be taken to the emergency room.
Assault
Police are investigating an assault that was reported on Sept. 28.
Man eating dinner
Officers checked on a "suspicious male" at a local business Oct. 1. The man was just eating dinner.
Helping hand
Police on Sept. 23 checked on a woman walking on State Street with a suitcase who appeared to be under the influence of intoxicants. She reportedly did not have a ride to Bangor. Officers found her a ride and advised her to wait away from the roadway.
Harassment
Police warned a man for harassment on Oct. 2.
Moved along
Officers on Sept. 27 spoke to the owner of a camper van parked at a local business that wanted it to "move along." The driver was headed to Walmart to spend the evening.
Not car thefts
A vehicle towed after being abandoned was initially reported as theft, but is a civil issue, police stated on Sept. 25.
A local man reported his car stolen from his apartment building parking lot on Sept. 29. Later, he found his car up the road in a local business's parking lot.
Police received a call from a person who thought he saw a car theft take place near KFC on Sept. 29. Police found that no car theft report came in from that location.
Fraud
Police received a fraud case on Sept. 25, with the complainant deciding what steps to take next.
Agency assists
Police on Sept. 28 were asked to speak with a local resident regarding a fatal car accident in Glenburn but could not find the person.
Police were asked to conduct a bail check on a local man in the Adult Drug Court program on Sept. 27. No violations were found.
Inappropriate behaviors
Police are investigating information received regarding reported "inappropriate behavior" on Sept. 29.
Police on Oct. 1 checked a local business where a woman was reportedly having a problem with other shoppers. She was all set by the time officers arrived.
Officers responded to youths fighting at Knowlton Park on Oct. 1. The fight was broken up by the time officers arrived, and police told the youths to leave the park.
Officers responded to a report of a suspicious person lying on the ground on Oct. 1. There had been a verbal domestic incident, and the person lying on the ground was intoxicated, police discovered.
Thefts
Police are investigating a stolen vehicle case that was reported on Sept. 29.
Police are investigating a report of clothing taken from a vehicle on Sept. 29.
Officers are investigating a Sept. 29 report of a vehicle burglary.
Police received a theft report from Walmart on Oct. 3.
Arrests and summonses
Vicki Ayotte, 47, of Dedham was arrested on a warrant on Sept. 30.
Amanda Fitzsimmons, 40, of Ellsworth was charged with operating a vehicle with a suspended license on Oct. 1.
Isaac Griffith, 45, of Hancock was arrested on a charge of operating a motor vehicle without a license on Oct. 1.
Devon Martin, 33, of Ellsworth was arrested on a charge of domestic violence assault on Sept. 28.
Kimberly Martin, 58, of Ellsworth was arrested on a charge of domestic violence assault on Sept. 28.
Heather O'Berne, 36, of Bangor was arrested on a charge of unlawful possession of schedule drugs on Sept. 28.
Ricky Skillings, 44, of Steuben was arrested on charges of violating conditions of release and operating a motor vehicle after his license was revoked on Sept. 24.
Richard Ramp, 21, of Ellsworth was issued a summons for violation of a protective order on Sept. 23 and arrested on two warrants for failure to appear in court on Sept. 28.
Ashton Warf, 32, of Bangor was arrested on a charge of unlawful possession of schedule drugs on Sept. 28.
Source link
Video of biker "making away without paying" Padma Bridge toll goes viral
Toll plaza authorities deny this happened
Photo: Screengrab of the video
">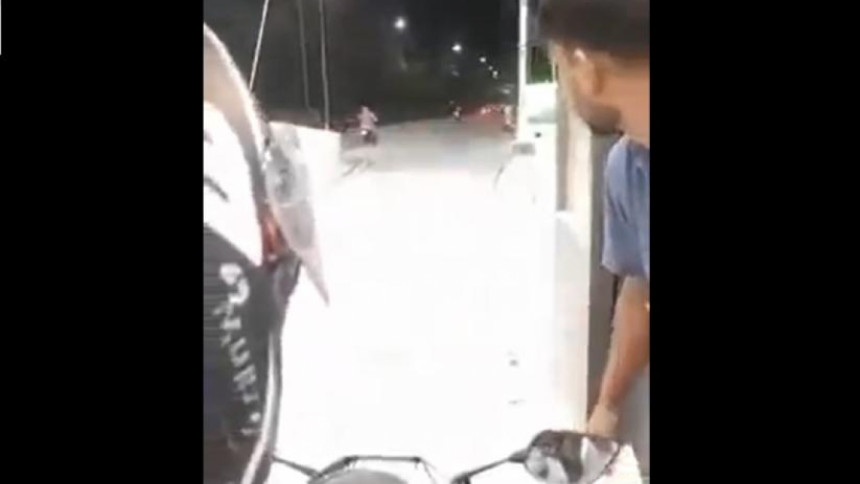 Photo: Screengrab of the video
A video of a motorbike making away without paying toll at Padma Bridge has gone viral on social media.
This correspondent, however, could not confirm whether the incident happened at Mawa Toll Plaza in Munshiganj or Shariatpur's Jazira Toll Plaza. The authorities of the two toll plazas have denied that this incident happened.
In the video, it is seen that on the night of June 26, 2022, the motorbike approached the toll plaza booth. The toll collector was ready to give the token to the biker, but the latter sped away without paying.  
The toll plaza staff could not stop the biker as he was inside the booth. There were no security guards to stop the motorcycle either.
Seeking anonymity, a toll collector working at Mawa Toll Plaza said that on June 26, when Padma Bridge was opened to traffic, there was a rush of motorbikes. Many bikers were gathering in front of the toll plaza. Staff members were having a difficult time getting them to stop to pay toll.
Tofazzal Hossain, supervising engineer of Bangladesh Bridge Department at Mawa Toll Plaza, told The Daily Star that there is no scope to enter the bridge without paying toll. On the first day, there was a lot of pressure of motorbikes, "but I was in the toll plaza, and I didn't see any speed away without paying. If anyone tries to cross the bridge without paying toll, they are immediately caught by the security personnel."
He said work is underway to install CCTV cameras at Mawa Toll Plaza.
Abul Hossain, supervising engineer of Bangladesh Bridge Department at Jazira Toll Plaza, said that on June 26, bikers paid toll with much enthusiasm. Many of them took pictures of paying toll and uploaded those on Facebook.
The two officials claimed that entering the bridge without paying toll, as being claimed in the viral video, is not true.
How mercenary hackers sway litigation battles
Deeply impressed
A few weeks after hacking for ViSalus, Sumit Gupta registered BellTroX Infotech Services Private Ltd in May 2013, Indian business records

show

. Gupta was only 24, but Moser remembers a sharply dressed, self-assured young man at the other end of his Skype calls.
"If you want this information," Moser recalled him saying, "I can get it."
Carrying the motto "you desire, we do!" BellTroX was headquartered in west Delhi and openly advertised "ethical hacking" services online. On one business development website, Gupta

wrote

that the "clients I am seeking" include "private investigators" and "corporate lawyers."
The hackers' office resembled a low rent call center, former employees said. Conversation was discouraged, personal phone use was forbidden and surveillance cameras monitored every keystroke, they said.
By 2016, BellTroX employed dozens of workers, according to the former employees and online resumes reviewed by Reuters. A month's salary could be as low as 25,000 rupees (then worth about $370), according to two former workers and company salary

records

.
Gupta, as BellTroX co-owner, could charge from a few thousand dollars per account to up to $20,000 for "priority" targets, said Chirag Goyal, a former BellTroX executive who split from Gupta in 2013 and has since launched several tech startups in India.
Goyal said repeat customers comprised much of BellTroX's income. "In this industry, genuine work comes only from recommendations," Goyal said. Reuters was unable to determine the total annual revenue of Gupta's firm.
Before launching BellTroX, Gupta had worked for Appin, an Indian company that initially made its name in cybersecurity training franchises and mainstream IT security work.
By 2010 a division of Appin began hacking targets on behalf of governments and corporate clients, according to six ex-employees, a former U.S. intelligence official, private detectives and Appin

surveillance proposals


seen

by Reuters.
Matthias Willenbrink, a German private investigator and former president of the World Association of Detectives, said he received one such spy proposal from Appin around that time.
Willenbrink said he would not normally use hackers and worked with Appin only once, amid a high-stakes inheritance dispute in 2012 for a wealthy German businessman. The client, who Willenbrink declined to name, wanted to know who was trying to blackmail him anonymously.
Willenbrink was tasked with identifying the culprit. He said he paid Appin about $3,000 to successfully get into the target's email account. "I was deeply impressed," said Willenbrink, who solved the case. "They sent me all their communications in three days."
The Indian hackers were recruited in big name lawsuits too.
Around the time that Willenbrink was hunting the blackmailer, Israeli private detective Aviram Halevi hired Appin for a "considerable amount" to hack a Korean businessman amid a legal dispute over the rights to distribute KIA Corp cars in Israel, according to a

court ruling

issued last year in Tel Aviv.
The judge overseeing the case ordered Halevi to pay compensation and destroy the hacked data. Halevi, who admitted to hiring the Indian hackers in

an affidavit

, declined to comment. A KIA spokesperson also declined to discuss the case. An attorney for the Korean victim didn't return emails.
Several India-based cyber defense training outfits still use the Appin name – the legacy of a previous franchise model – but there's no suggestion those firms are involved in hacking. Appin itself largely disappeared from the internet after the publication of a 2013 cybersecurity

research report

which connected it to alleged hacking.
Rajat Khare, Appin's co-founder and the former head of several Appin companies, including the Appin Security Group, did not respond to messages seeking an interview. His attorney denied any wrongdoing and said Khare "will not comment on a company he left ten or so years ago."
As Appin's reputation grew, so did its competition. Gupta was part of a cohort of Appin alumni who left the firm around 2012 to found similar companies.
"If you want this information, I can get it."
Another Indian spy firm registered within a few months of BellTroX was CyberRoot Risk Advisory Private Ltd, based in the Delhi suburb of Gurugram, two former employees and two private investigators familiar with the matter told Reuters.
Appin, BellTroX and CyberRoot have shared computer infrastructure and staff, according to

court records

and cybersecurity researchers. LinkedIn, Google and Mandiant researchers who reviewed Reuters' data said it shows a mix of hacking activity linked to the companies between 2013 and 2020.
CyberRoot has not responded to messages seeking comment. There was no trace of CyberRoot or BellTroX at the addresses listed for the firms when a Reuters reporter visited recently. Neighbors said they were unfamiliar with the companies.
When Reuters contacted Gupta two years ago, he denied wrongdoing. He was no spy, he said, although he acknowledged he helped private detectives with their IT. "It's not a big deal to provide them a little technical support," he said. "Downloading mailboxes can be a part of it."
In 2017, one of those mailboxes found its way into a $1.5 billion international legal battle.
Hacking the 'real truth'
That June 11, an explosive email landed in the inbox of international arbitrators weighing the fate of lucrative Nigerian oil fields.
The

message

, entitled "The real truth about Pan Ocean Oil vs Nigeria," seemed to torpedo the Nigerian government's case in a lawsuit that pitted it against the heirs of Italian businessman Vittorio Fabbri over control of the Pan Ocean Oil Corporation Ltd.
Fabbri had bought the company in 1983, allowing him to pump crude oil in a block of Niger Delta fields known as OML-98. A power struggle later saw him frozen out of the company in favor of local management. After he died in 1998, his heirs fought to regain control, eventually accusing government officials of supporting efforts to oust them.
In 2013 the Fabbris took the fight to the Washington-based International Centre for Settlement of Investment Disputes, which arbitrates legal fights between investors and governments. Patrizio Fabbri, Vittorio's son, told Reuters it was a bid to pull the litigation out of slow-moving Nigerian courts and extract $1.5 billion in compensation.
The mysterious June 11 email appeared to promise victory for the Fabbri side. Attached were documents from Nigeria's legal team addressed to the managing director of Pan Ocean, asking him to reimburse the government's legal fees. "I wish to remind you of the outstanding fees due to my firm," one of the documents

said

, requesting that "a sizeable portion" be "paid immediately."
The Fabbris saw the request as a key admission because their case hinged on proving that Pan Ocean and the Nigerian government had colluded to deny the family control of the company.
Bizarrely, the email appeared to have been sent to the arbitrators by Oluwasina Ogungbade, an attorney for the Nigerian government. The lawyer seemed to be sabotaging his client's case. Patrizio said he was thrilled to learn of the apparent admission.
"Wow," he recalled thinking. "Finally somebody in Nigeria is honest."
In interviews with Reuters, Ogungbade declined to address the documents' authenticity but did say he never sent them to the tribunal. Instead, he said, hackers stole the documents, created a fake email in his name and used it to send the material to the arbitrators.
An October 2017 Nigerian police report reviewed by Reuters backs his account,

saying

"there is a strong suspicion that some unknown suspect(s) were the authors" of the message.
Pan Ocean and Nigerian officials did not respond to messages seeking comment.
The Indian hacking records reviewed by Reuters fill the gaps in the story.
Gupta's BellTroX made repeated attempts to hack Ogungbade's account. Also targeted were more than 100 employees of Pan Ocean and other lawyers for the Nigerian government, according to the Indian hit list and other data gathered by cybersecurity researchers.
Shortly after, BellTroX created a WikiLeaks-style website titled Nigeriaoilleaks.com, promising to expose corrupt Nigerian politicians and sharing a larger cache of stolen Pan Ocean emails for download.
Over Ogungbade's objections, the tribunal

accepted

the files sent under his name, although it warned that it "may decide to give the documents little or no weight" if their provenance remained in doubt.
In 2020 the tribunal ruled against the Fabbri family, finding that the government wasn't a party to the takeover; the stolen emails were barely mentioned in

the judgment

.
Still, Ogungbade believes the leaks convinced arbitrators to deny the Nigerian government most of its legal costs. While Reuters couldn't independently verify that claim, the government was awarded just $660,000 of the $3.8 million it had sought.
Reuters wasn't able to learn who commissioned the hack. Patrizio Fabbri said he had "nothing to do" with it. His family's Nigerian lawyer, Olasupo Shasore, said he and colleagues were "all confounded" by their sudden stroke of luck.
Such high-stakes court cases can feature multiple third parties, including litigation financiers, with an interest in the outcome. Two of the tribunal's arbitrators – Boston University professor William Park and arbitrator Julian Lew – did not respond when contacted by Reuters. The third, former Kenyan High Court judge Edward Torgbor, declined comment.
Torgbor had aired concerns about the leak, however. In a 2018 minority opinion he

warned

that accepting documents of "dubious character" posed a "grave risk" to the tribunal's integrity. "How does the Tribunal discover or uncover the 'real truth' from an unknown person whose own identity and probity are under cover?"
As India's mercenary hacking industry grows, lawyers around the globe are increasingly grappling with similar questions.
WeWork, Wirecard
As Reuters contacted victims of the Indian spy campaign, targets involved in at least seven different lawsuits have each launched their own inquiries.
One of the most prominent was WeWork co-founder Adam Neumann, who hired New York's Seiden Law Group after learning from Reuters that he and other company executives' email accounts were targeted by the Indian hackers starting in August 2017, according to four people familiar with the matter.
The hacking attempts against Neumann unfolded as WeWork prepared to announce a $4.4 billion investment from Japan's SoftBank, a giant infusion for a startup then burning through capital.
By the time Neumann learned of the hacking in 2020, the partnership had collapsed and he was suing SoftBank after being ousted from WeWork. SoftBank executives were quizzed by Neumann's lawyers about the hacking in depositions just weeks before he received a roughly $500 million settlement from the Japanese investment giant, according to four people familiar with the matter. The executives denied any knowledge of the spying, the sources said.
Reuters was unable to determine who hired the Indian hackers to spy on Neumann or his colleagues. Representatives for Neumann and SoftBank did not return messages. WeWork said the hacking attempts were blocked but did not elaborate. The Seiden Law Group confirmed it had been hired by Neumann to investigate a cybersecurity issue; it declined further comment.
Private eyes alleged to have worked as middlemen between their clients and the Indian hackers are coming under increased pressure as victims and law enforcement push for answers.
One of them is former Israeli policeman Aviram Azari, who was arrested by the FBI in 2019. He recently

pleaded guilty

in New York to wire fraud, identity theft and hacking-related charges after hiring Indian spies to target "a large number" of people, including New York hedge fund employees, prosecutors said in a

court filing

.
Authorities have released few

other details

about Azari's scheme, but four people familiar with the matter say he hired BellTroX to carry out the hacking. Azari's lawyer, Barry Zone,

told Reuters

in April that the private eye was prosecuted in relation to his work for the now-defunct German financial firm Wirecard. Zone has not responded to follow-up emails.
Former Wirecard boss Markus Braun was arrested in June 2020 following revelations that 1.9 billion euros were missing from the company's accounts. The firm collapsed shortly thereafter.
Braun's legal team declined to comment on Wirecard's relationship with Azari or BellTroX. Braun has been accused of fraud and market manipulation, charges he denies. His trial is ongoing. Five lawyers for other former top Wirecard executives didn't return messages.
The hit list seen by Reuters shows BellTrox heavily targeted short sellers, reporters and financial analysts who had voiced skepticism of Wirecard's business practices before it went bust. In several instances, these hacks coincided with legal threats made by Wirecard.
Azari had other customers, U.S. prosecutors alleged in their filing, saying the Israeli also worked on behalf of numerous undisclosed American clients. "There are thousands of potential victims," the filing

notes

. Azari is due to be sentenced later this year, when he faces a prison term of at least two years plus expulsion from the country, prosecutors have said.
Yet the publicity around Azari's arrest has not deterred India's mercenary hacking industry. As recently as December, security researchers at Facebook

said

BellTroX-linked spies were still trying to penetrate the private files of unidentified attorneys across the world.
Jonas Rey, whose Geneva-based company Athena Intelligence is investigating Indian hacks on behalf of several victims, believes some officials in Delhi turn a blind eye to the country's hack-for-hire market.
Asked about the hacker-for-hire industry, an official with India's Ministry of Justice referred Reuters to a cybercrime hotline, which did not respond to a request for comment. Delhi police did not return repeated messages seeking comment on Gupta or his hacking business.
He

remains

a fugitive from U.S. justice. ViSalus, the company that Gupta worked for in 2013, is currently

challenging

an up to $925 million class action judgment for placing unsolicited robocalls. Ryan Blair, ViSalus' CEO,

left

the firm in 2016.
Blair's former director of security, Carlo Pacileo, now runs a fitness retreat deep in the mountains of Japan's Shikoku Island. Nathan Moser, the former private eye, is working on his mental health at a Utah rehabilitation facility following his time in Iraq and Afghanistan.
Reflecting on the Gupta episode recently, Moser said private eyes face immense pressure because they work in "a results-based industry."
"Hacking is the easiest way to get results," he said.
After Patriot Front arrests in North Idaho, meet the new 'Conflict Entrepreneurs'
It's not every day you see a Pacific Northwest law enforcement official make such a statement. Get used to it. You'll see something similar again soon, likely many similar things.
The 31 members of the white supremacist group calling itself Patriot Front who were arrested last week at a northern Idaho Pride Day celebration may seem, at least at first blush, to be little more than a handful of neo-Nazi losers and cranks, White men who hate the idea that the United States is a nation of ethnic and religious diversity. But it would be a mistake to dismiss these dangerous men as anything less than what they are, domestic terrorists.
Patriot Front's "manifesto" states the group's aspirations in language that would please the old Aryan Nation's bigot, Richard Butler. "A nation within a nation is our goal. Our people face complete annihilation as our culture and heritage are attacked from all sides."
The leader of the group – its membership is estimated at a few hundred young men spread across the country – is a Texan named Thomas Ryan Rousseau. Rousseau first came to prominence in Charlottesville, Virginia, in August 2017 when some of his followers participated in the infamous "Unite the Right" rally.
Not long after that shameful racist gathering – then-President Donald Trump excused the violence as a protest against removal of Confederate monuments even as one life was lost as torch bearing marchers chanted anti-Semitic slogans – Rousseau said: "America our nation stands before an existential threat. The lives of your children, and your children's children, and your prosperity beyond that, dangle above a den of vipers. A corrupt, rootless, global, and tyrannical elite has usurped your democracy and turned it into a weapon, first to enslave and then to replace you."
Trump's comment that at Charlottesville there were "some very bad people … but you also had people that were very fine people, on both sides" was widely condemned, but also entirely excused by most Republican politicians. Since Charlottesville, Patriot Front and similar groups – the Proud Boys and Oath Keepers, for example, who led the January 6 attack on the Capitol – have grown more aggressive and more violent.
These radical, rightwing groups have become, as political scientist Barbara F. Walters has written, "conflict entrepreneurs," who exist to create the kind of confrontation, provocative and potentially violent, that was barely avoided in Coeur d'Alene.
Walters, in her recent book "How Civil Wars Start and How to Stop Them," writes alarmingly of the United States nearing the point where radical right groups engage in sustained violence, often marked by assassination attempts, ambushes and attacks on police or the military. They seek chaos, Walters believes, to destabilize a fractious and already troubled democratic system.
Walters and other scholars have documented the rise of such groups and their tactics around the world and contend the U.S. is entering a period of sustained rightwing violence, something the FBI has issued warnings about for years. Think of the sectarian "troubles" in Northern Ireland that fractured that divided land for a generation, or the tribal violence in Rwanda, or the still raging civil war in Syria.
Only a failure of imagination based on a clear-eyed understanding of what rightwing terrorism is capable of prevents most Americans from understanding the depth of this threat.
Patriot Front has demonstrated in Philadelphia, leafleted in Vermont and the campus of the University of West Virginia and led anti-immigrant protests in California. In Brooklyn a year ago, members vandalized a George Floyd statue and defaced a mural in Richmond commemorating Black tennis great Arthur Ashe. Patriot Front members have been involved in anti-abortion rallies, as well.
The group's national reach and level or coordination is obvious given that those arrested in northern Idaho came from at least 11 states and just happened to show up packed into a rented U-Haul truck wearing hoods and carrying shields and apparently some weapons. The objective was clearly to provoke a confrontation, create chaos, grab headlines and then slink out of town.
So, what should Idaho officials be doing about these dangerous radicals? First, take them seriously – absolutely seriously. No longer ignore them. Do not fail to name what they are doing or denounce what they profess to stand for. This demands a full-on mobilization of state and local law enforcement and aggressive prosecution.
Instead, Idaho Gov. Brad Little issued a mealy-mouthed statement extolling everyone's right to peaceful protest and praised the police response. Little did not deplore the white supremacist agenda of Patriot Pride. The governor did not link the radicals to a growing national movement to disparage members of the LGBTQ community. And Little did not summon the courage to be outraged by members of his own party cheering on white supremacists and hate spreaders.
As Rebecca Boone of the Associated Press reported, "a lawmaker from the northernmost region of the state, Republican Rep. Heather Scott, told an audience that drag queens and other LGBTQ supporters are waging 'a war of perversion against our children.'" That is an outrageous, untrue and dangerous accusation that deserves only censure.
The non-response by Idaho conservatives is a big tell. Little and most Republicans are afraid of the radical right because they realize they constitute the growing racist and hateful wing of the GOP. They will come to rue their inaction because inaction will foster more hate.
Consider this: One of those arrested in Coeur d'Alene came all the way from Alabama. Doug Jones, a former Alabama senator and one-time prosecutor who finally brought to justice the racist Klan murderers of four little Black girls in a Birmingham church in 1963, issued a stern warning during an interview with the Idaho Capital Sun.
"There's a reason they felt like they could do this. There's a reason that a guy from Alabama went all the way out there," Jones said. "There are gay pride events going on all over the country. Why did they pick Idaho? It's because of a conservative government that they felt like they could do it and they would be part of the community as opposed to being an outlier. And … I believe all people in Alabama and Idaho are much better than that, and they believe in decency, civility and giving everybody equal opportunities."
Maybe. We should hope so. But it's equally possible the opposite is true. It was once said that "Idaho is too great for hate," but hate now seems to be the state's brand and Republican elected officials are empowering the hate.
Source link